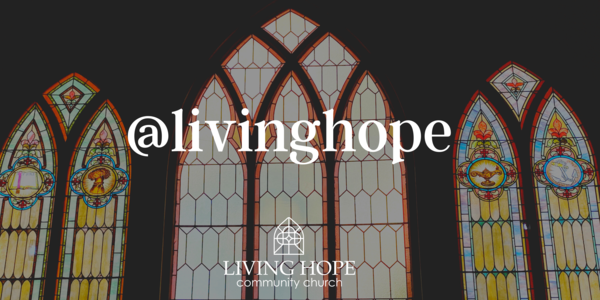 @living hope
Weekly news from the Living Hope Community Church, April 9, 2022
This Sunday at Living Hope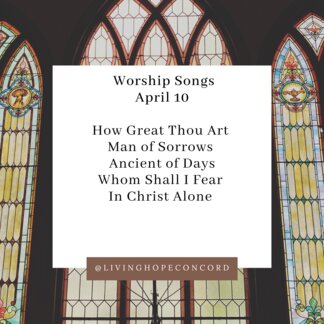 Call to Worship & Prayer
Song: How Great Thou Art
Song: Man of Sorrows
Song: Ancient of Days
Message: Fixing the Family Mess - Matthew 1 - Pr Jonathan
Song: Whom Shall I Fear
This Sunday's Message : Fixing the Family Mess - Matthew 1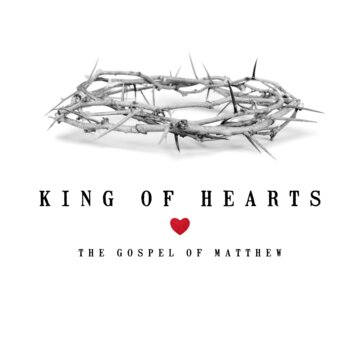 To prepare our hearts for this Sunday....
We've been studying Matthew 1 and the Genealogy of the King of Hearts.
Like the majority of families, Jesus' family tree was a mess.
Jesus came from a long line of outsiders, outlaws, scoundrels, and sinners.
One author wrote, "When he entered into the world, he entered into the messiness of the human family, even in his own family. In fact, he was the only member of this family who never brought shame upon the family. Instead, he took upon himself the shame of every person in the family tree"
The King of Hearts took on the shame of His family tree and your family tree so that you could be a part of a new family of hope.
In Matthew we are learning first of all that Jesus is the creator of hearts and deserves the right to be the King of Hearts.
This implies that as a church we can joyfully obey the great commandment to love God and love others (Matthew 22:36-40) and the great commission to disciple his precious sheep in the way he taught us (Matthew 28:18-20).
As we slow down to learn from Jesus we discover that the essence of true Christian spirituality is to love well. This requires that we experience connection with God, with ourselves, and with other people. Nothing else is more urgent for the church than these two commands from the King of Hearts.
We have seen in history and our own experience that a church can be good at raising the Theological IQ of it's disciples but make a mess of building their relational/family one.
Transmitting "information" to the masses is much less stressful for pastors, teachers, and blog writers than getting involved in the messy relational issues and attitudes of people's lives. Jesus only took on 12 broken disciples at a time and the church has thought it could produce disciples like Henry Ford but not gonna happen.
You hear people say, "He was a great Christian but a lousy person".
Jesus would not allow for this in his church. He said to his disciples, "Follow me and I will make you fishers of men" This is to say, follow me, and I am going to teach you how to first remove the log out of your own eyes so you can see clearly to help people become truly human again. You will learn how to reach the heart of humanity and bring transformation to my church"
And as we learn from the way Jesus taught his disciples in the book of Matthew, he did teach them the important theory of the Kingdom but it was useless for them if it didn't change their hearts, words, attitudes and deeds.
As we will learn from the Gospel of Matthew, the essence of true Christian spirituality is to love well. This requires that we experience connection with God, with ourselves, and with other people. To prepare our heart for this Sunday's message, check out these 10 Symptoms of Unhealthy Christianity from Peter Scazzero
"The only thing that counts is faith expressing itself thru love" Galatians 5:6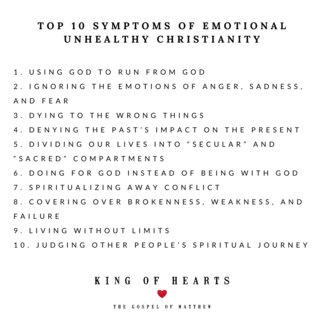 Annual Church Business Meeting April 10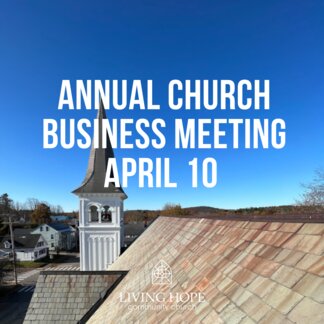 On April 10 after our morning service we will have a business meeting for members of Living Hope Community Church. If you are not a member you are welcome to stay and listen.
Members will vote on our new budget as well as several other important items for our continued church renovation projects for 2022.
If you would like to read a copy of the budget please see Deacon Gary Darby.
May 1 Communion Meal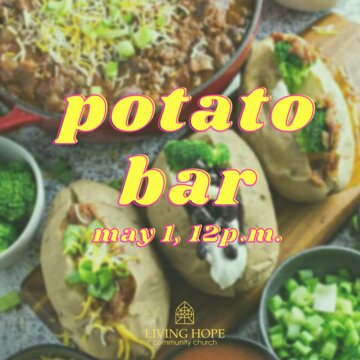 New Online Giving
If you would like to give online you can visit our website and there is a link where you can give using your checking account or bank debit card. It is very easy and a secure platform to give at Living Hope.
You will also see the "deacon fund" listed if you would like to give to that on going initiate to help those in need. We recently helped someone going through deep financial difficulties with food and heating oil. Please give to the deacon fund.
Here is a link to the giving: GIVE LIVING HOPE
Upcoming Events
Download
Every Friday at 11am Pr David Doyle conducts a verse by verse Bible Study through Zoom.
Friday, April 15th  •  11 am – 12 pm (EDT)
Download
Sunday, April 24th  •  10:00–11:30 am (EDT)
Following Christ our Shepherd King and Living Hope.
Our address is: 31 Summer St, Penacook, NH 03303, USA