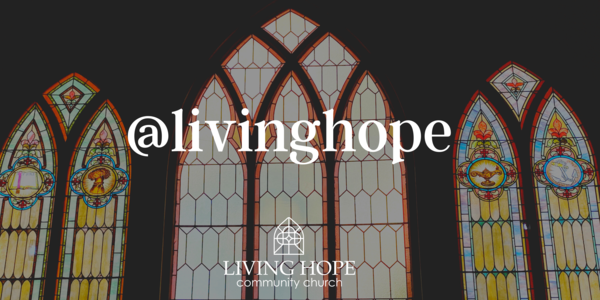 @livinghope
Weekly news from the Living Hope Community Church, June 18, 2022
This Sunday Worship at Living Hope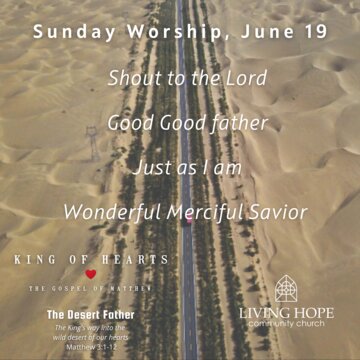 This Sunday's message: The Desert Father Matthew 3:1-12
Join is this Sunday at 10am as we celebrate Father's day and learn about John the Baptist, the greatest "Desert Father" of all times.
While John's ascetic lifestyle, simple clothing and radical diet attracted thousands to hear him speak some had a hard time accepting his message of repentance, faith in Jesus, and water baptism.
John's and Jesus' message was simple and strait forward. Repent. And true repentance requires that we slow down, get alone, and think honestly about our ways. This is not easy for human beings. True repentance requires solitude, the furnace of transformation, for us to hear the voice of God through the Word of God.
In slow down repentance we come to know ourselves thoroughly and the love of God deeply. Repentance delivers us from the illusions of the false self so that we might put on the new self created in the image God.
Some of us could use 40 days of solitude and simplicity in the desert like Jesus took before he begin his public ministry. It would do our hearts well to get alone with the King of Hearts.
Jesus said of John the Baptist, "Truly, I say to you, among those born of women there has arisen no one greater than John the Baptist. Yet the one who is least in the kingdom of heaven is greater than he (Mt 11:11).
John is great not because of his monastic lifestyle but because he shows us the simple pathway into the heart of the Father through God's Son the King of Hearts.
Through repentance and rebirth the King of Hearts gladly makes his way into the wild parched desert of our own hearts. It's there that we will find Eternal life, more joy in our labors and rest in our hearts.
Great Song to prepare our hearts: The Isaiah Song
https://www.youtube.com/watch?v=QTZj5FJMuMI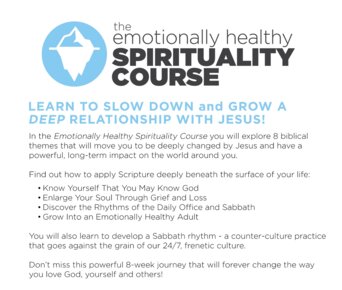 Check out our signup to order your own copy of some wonderful tools we will be using over the next years at our church.
This two part series (8 lessons each) will be transformational in your life. Part 1 teaches us to be loved by God. Part 2 calls us to a deeper love for others.
It can be done alone as a self study with access to pastoral care if needed or with a group. We will have many different groups forming in the months ahead.
You can watch in intro video here:
https://www.youtube.com/watch?v=JmOeEaDTK-E
Here is a testimony video:
https://www.youtube.com/watch?v=Qrk4wbEEbpA&feature=youtu.be
July 24 Cookout at the Smith's House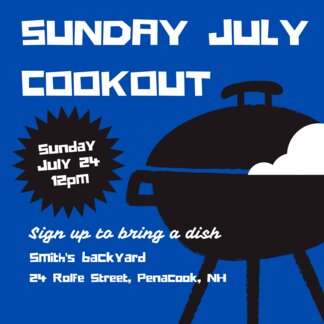 Online Giving
If you would like to give online you can visit our website and there is a link where you can give using your checking account or bank debit card. It is very easy and a secure platform to give at Living Hope.
You will also see the "deacon fund" listed if you would like to give to that on going initiate to help those in need. We recently helped someone going through deep financial difficulties with food and heating oil. Please give to the deacon fund.
Here is a link to the giving: GIVE LIVING HOPE
Upcoming Events
Download
Every Friday at 11am Pr David Doyle conducts a verse by verse Bible Study through Zoom.
Friday, June 24th  •  11 am – 12 pm (EDT)
Download
Sunday, June 26th  •  10:00–11:30 am (EDT)
Following Christ our Shepherd King and Living Hope.
Our address is: 31 Summer St, Penacook, NH 03303, USA