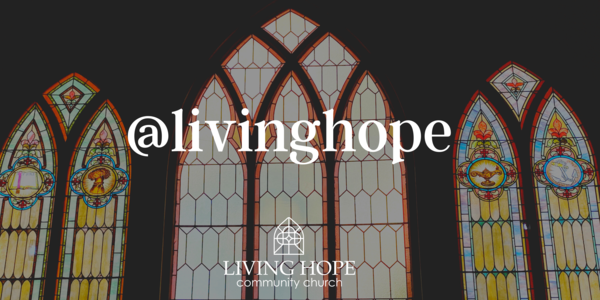 A place of new beginnings
Weekly news from the Living Hope Community Church, October 15, 2022
This Sunday at Living Hope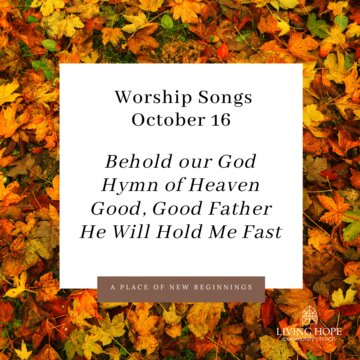 Call to Worship - Matt Stonis
Song: Behold our God
Welcome: Pr Jonathan Hutchins
Scripture Reading and Prayer: Matthew 4:1-11 Pr Jonathan
Song: Hymn of Heaven
Song: Good, Good Father
Sermon: "The Testing of the King of Hearts" Matthew 4:1-11 - Pr Jonathan
Song: He Will Hold Me Fast
Closing Prayer and Benediction: Matt Stonis
Sunday Sermon in Matthew 4:1-11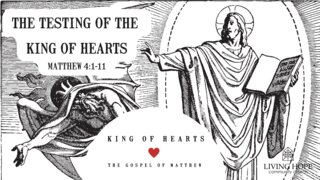 This Sunday we continue in our Matthew "King of Hearts" series studying Matthew 4:1-11.
‌After Jesus was baptized to fulfill all righteousness, he is filled with the Holy Spirit to begin his ministry and the Father's voice thunders from heaven saying, "This is my beloved Son in who my soul delights". He is worthy!
‌
And now full of the Spirit Jesus is led into the wilderness to be tested by the devil.
‌
The age old strategy of the enemy is to put a wedge between Jesus and his Father. Twice he chides and questions, "If you are the son God then..."
‌
In the end, Jesus submits himself to the Father's love and the Devil flees in anger. The heart convinced of the Fathers love and acceptance is no match for the deceptive lies of the Devil.
‌
Jesus was tempted to trade the father's love for pleasure, popularity and power the same way Adam and Eve, Israel, and you and I are tempted every day.
‌
From Jesus we learn how fight off the enemy and send him away in defeat.
‌
If we would love and minister from a pure heart in a fallen world we must resist ungodly PLEASURES with the word and prayer, reject the thirst for POPULARITY by serving others in love, and then lay aside the pride of POWER so that we can become leaders who are led by the KING OF HEARTS.
November 6 - Thanksgiving Meal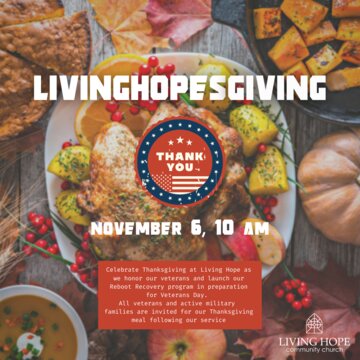 Don't forget to sign-up this Sunday for our Thanksgiving meal on November 6. We will have a special service for Veterans and active service members and their families in our community.
We will be launching our new REBOOT Recovery ministry in the month of November. Nick Robison, a combat veteran and our Reboot leader will be preaching the word this Sunday.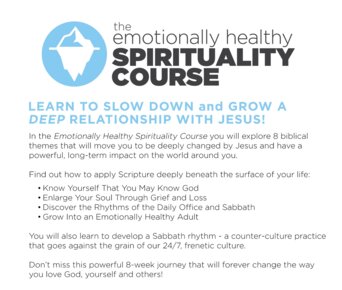 Check out our signup to order your own copy of some wonderful tools we will be using over the next years at our church.
This two part series (8 lessons each) will be transformational in your life. Part 1 teaches us to be loved by God. Part 2 calls us to a deeper love for others.
It can be done alone as a self study with access to pastoral care if needed or with a group. We will have many different groups forming in the months ahead.
You can watch in intro video here:
https://www.youtube.com/watch?v=JmOeEaDTK-E
Here is a testimony video:
https://www.youtube.com/watch?v=Qrk4wbEEbpA&feature=youtu.be
Online Giving
If you would like to give online you can visit our website and there is a link where you can give using your checking account or bank debit card. It is very easy and a secure platform to give at Living Hope.
You will also see the "deacon fund" listed if you would like to give to that on going initiate to help those in need. We recently helped someone going through deep financial difficulties with food and heating oil. Please give to the deacon fund.
Here is a link to the giving: GIVE LIVING HOPE
Upcoming Events
Download
Every Friday at 11am Pr David Doyle conducts a verse by verse Bible Study through Zoom.
Friday, October 28th  •  11 am – 12 pm (EDT)
Download
Sunday, October 30th  •  10:00–11:30 am (EDT)
Following Christ our Shepherd King and Living Hope.
Our address is: 31 Summer St, Penacook, NH 03303, USA