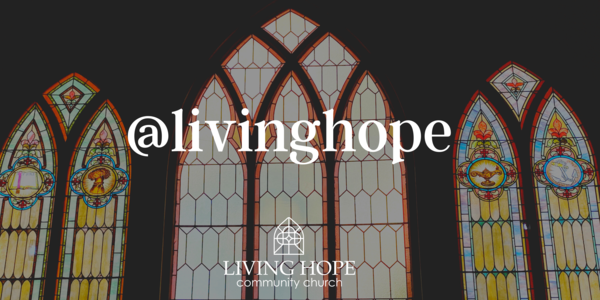 A PLACE OF NEW BEGINNINGS
Weekly news from the Living Hope Community Church, October 29, 2022
The Word brings the Harvest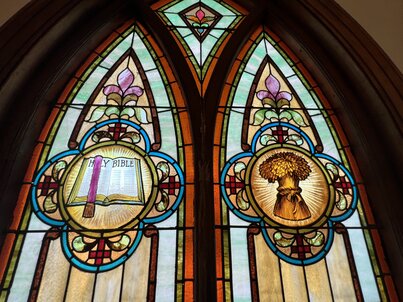 Happy Saturday Living Hopers,
This past week I spent two full days working some more on our stain glass repair.
It's a slow tedious work but by God's grace I was able to get 10 holes fixed. There are a few remaining very high up and I hope to get to those fixes before the snow flies.
As I worked, I had the music cranked up in our church sound system and the hours flew by as I worshiped the Lord and drank coffee throughout the day. I had time to pray for you and to meditate and pray over our community as I watched them walk and drive by through the day through the cracked windows. I see the needs and my eyes affect my heart (Lamentations 3:51).
Interestingly, a group of 6 teens saw me working through the glass and came in the church to see what was happening. I gave them a tour and rang the bell for them. They were very kind and interested in our church.
While I was up fixing one of the long yellowish windows (which was the most difficult color to find. Only from a place in Nashua and just one small piece was all they had) I couldn't help but notice again the open Bible next to the bundle of wheat. As a student of the Word of God I love that scene.
The founding Methodist knew the supernatural power of the Holy Scriptures to create new life in this community back in the early 1800's when this church was founded. The Word of God has fueled this church for over 100 years.
Although many churches these days are setting aside God's word for fables, afraid to speak the truth for fear of being shamed and censored by the world, we can rest assured that we are in good hands to be faithful to our Father and his word. The Word brings life and a rich harvest in due time (I Timothy 4:1-16).
This Sunday in our message we will be in Matthew 4:12-17. John the Baptist is censored and arrested for speaking the truth of God's Word but Jesus, in the power of the Spirit, holds nothing back.
King Jesus is the Light in the Darkness.
King Jesus is the incarnate Word.
King Jesus is the Harvest reaper.
For the Word and the Harvest,
Pr Jonathan & Patty
This Sunday at Living Hope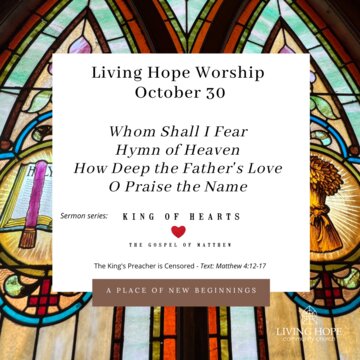 Call to Worship - Matt Stonis
Song: Whom Shall I Fear
Welcome: Pr Jonathan
Scripture Reading and Prayer: Matthew 4:12-17 - Pr Jonathan
Song: Hymn of Heaven (Song of the Month)
Song: How Deep the Father's Love
Sermon: "The King's Message is Censored" Matthew 4:12-17
Song: O Praise the Name
Closing Prayer and Benediction: Matt Stonis
The King of Hearts Matthew Series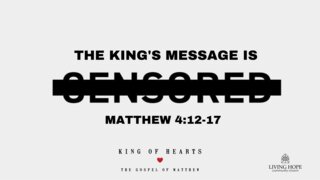 This Sunday we are in Matthew 4:12-17.
The name of the message is "The King's Message is Censored"
Last time we studied Matthew 4:1-11 where the King of Hearts was tested by Satan in the desert for 40 days and nights.
As he returns from the desert to his home town he finds out that John the Baptist has been arrested because he speaks the truth about King Herod's personal sinful lifestyle.
In Kingdom of God politics there is no room for our personal lives and public lives to be separate issues.
Thousands of people in Jerusalem have been getting right with God. John the Baptist is calling for all men and women, right up to the top levels of public government, to think about their ways and return to their Creator, pointing them to the coming Messiah.
But even though the authorities attempt to censor the heart cutting message of the good news (that also contains some bad news) by arresting John the Baptist, Jesus pushes the mission forward with great power and boldness in the Holy Spirit.
There are multitudes of people setting in utter darkness that need to see the light of Christ and find peace and rest for their darkened souls.
In perfect obedience and love for the Father and the nations, Jesus begins his ministry of preaching in Matthew 4:17 all the way up until we arrive at Matthew 16:21 where his message becomes his martyrdom.
While John the Baptist sets in a dark cell, Jesus is the light in the darkness calling the nations to, "Repent for the Kingdom of God is at Hand"
The King of Hearts has come to call the wild at hearts to find rest.
"Come to me, all who labor and are heavy laden, and I will give you rest. Take my yoke upon you, and learn from me, for I am gentle and lowly in heart, and you will find rest for your souls. For my yoke is easy, and my burden is light."
Mt 11:28–30
November 6 - Thanksgiving Meal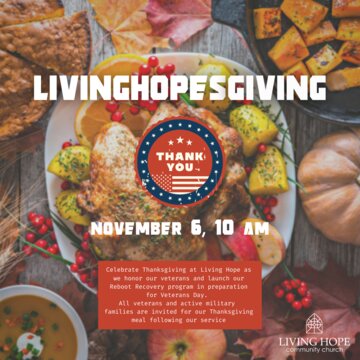 Don't forget to sign-up this Sunday for our Thanksgiving meal on November 6. We will have a special service for Veterans and active service members and their families in our community.
We will be launching our new REBOOT Recovery ministry in the month of November. Nick Robison, a combat veteran and our Reboot leader will be preaching the word this Sunday.
Online Giving
If you would like to give online you can visit our website and there is a link where you can give using your checking account or bank debit card. It is very easy and a secure platform to give at Living Hope.
You will also see the "deacon fund" listed if you would like to give to that on going initiate to help those in need. We recently helped someone going through deep financial difficulties with food and heating oil. Please give to the deacon fund.
Here is a link to the giving: GIVE LIVING HOPE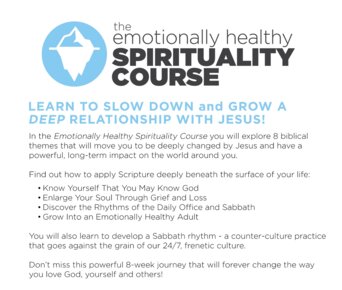 Check out our signup to order your own copy of some wonderful tools we will be using over the next years at our church.
This two part series (8 lessons each) will be transformational in your life. Part 1 teaches us to be loved by God. Part 2 calls us to a deeper love for others.
It can be done alone as a self study with access to pastoral care if needed or with a group. We will have many different groups forming in the months ahead.
You can watch in intro video here:
https://www.youtube.com/watch?v=JmOeEaDTK-E
Here is a testimony video:
https://www.youtube.com/watch?v=Qrk4wbEEbpA&feature=youtu.be
Upcoming Events
Download
Every Friday at 11am Pr David Doyle conducts a verse by verse Bible Study through Zoom.
Friday, November 25th  •  11 am – 12 pm (EST)
Download
Sunday, November 27th  •  10:00–11:30 am (EST)
Following Christ our Shepherd King and Living Hope.
Our address is: 31 Summer St, Penacook, NH 03303, USA