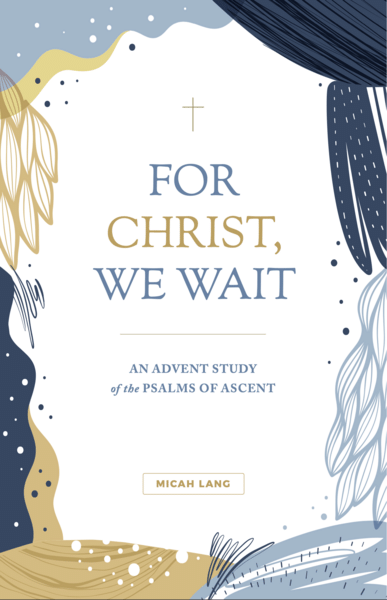 Living Hope Advent Reading
Adore God for He is Worthy - December 22
Adore God for he is worthy
READ
1 Come, bless the LORD, all you servants of the LORD, who stand by night in the house of the LORD! 2 Lift up your hands to the holy place and bless the LORD! 3 May the LORD bless you from Zion, he who made heaven and earth!
PSALM 134
CONSIDER
We have reached the pinnacle of the Songs of Ascent. As the pilgrim ascends to the top of the holy mountain, as he walks into the temple of the Lord, as he comes to the end of his journey, all he can do is worship. This short psalm is the ultimate end of our very lives: to bless the Lord and call others to do the same.
The psalmist is so undone by the glory and beauty of God, he turns to God's people and calls them to worship. He says, "Come, bless the Lord, all you servants of the Lord" (134:1). He directs his attention to those who know God and serve him. His encouragement is simply this: come and worship. Come, bless the Lord! The priestly singers in the Mosaic law would worship him day and night in the house of the Lord (1 Chr. 9:33; 23:30). It seems that these are the servants the psalm is addressing. He calls them to lift their hands to the holy place (134:1). In other words, come and worship God in the splendor of his holiness. Worship where he has come to dwell, in his holy sanctuary.
The psalmist finishes his song with the reminder that God blesses his people. He wishes that the Lord would bless his servants with the same power that he made all of creation with (134:3). This blessing comes from Zion, the holy mountain. This is yet another reason for the necessity of such continual and extravagant worship: God has continually and extravagantly blessed us and we are happy in him.
Truly, the coming of Jesus Christ is the fulfillment of this psalm. First, all Christians have been made priests to God and are his holy servants through the New Covenant in Christ's blood (1 Pet. 2:4-5). Second, Christ came as Immanuel (God with us) and God has made his dwelling with his people through Christ (Jn. 1:14). His presence is no longer confined to a physical temple. We are his temple through Christ! Third, Christ's mediation of a new covenant is the fulfillment of the picture that Zion presented (Heb. 12:22-24). The spiritual reality of these Old Testament pictures is eternal and pervasive. We no longer need to ascend a physical mountain. We live for a heavenly city, which has come down in Jesus Christ. Fourth, in Christ we have received the most extravagant of God's blessings. He has blessed us in Christ with every spiritual blessing in the heavenly places (Eph. 1:3). Truly, what the psalmist got a glimpse of, we now know in its fullness.
Lord, help us if we come to Christmas and find any joy without its ultimate source and end being Jesus Christ. He is the reason why we sing. He is the reason we know the joy of God's blessing. Let every moment of happiness and rejoicing be a reminder that Christ has come and, in his coming, he brought all of heaven's blessing with him. Come, bless the Lord! Adore your great God, for he is worthy of it.
Oh come, let us adore him.
PRAY
Heavenly Father,
I praise you for your extravagant blessing toward me. I worship you for your unfathomable grace. I adore you for your steadfast love. Thank you for giving me a reason to rejoice. As happy as I may be at times, I am never happy enough. I have never once expressed joy that is worthy of the blessing you have given me. May this Christmas be one that comes closer to experiencing and expressing the true joy available to me in Christ. May not one moment be absent of your presence and your goodness. Help me adore you and only you.
For Christ and in Christ's name, Amen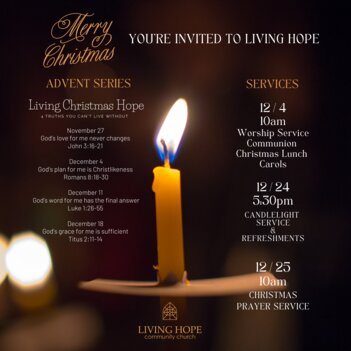 Following Christ our Shepherd King and Living Hope.
Our address is: 31 Summer St, Penacook, NH 03303, USA