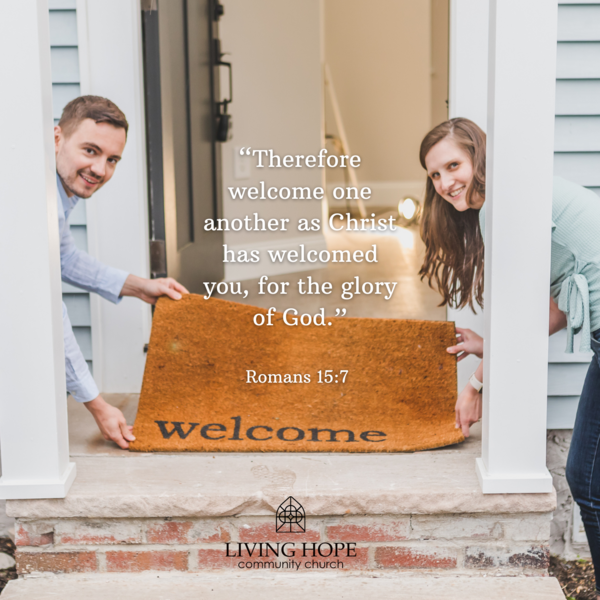 Welcoming New Members
Living Hope is a Welcoming hope
Good morning Living Hopers,
I just want to say thank you for welcoming Don and Karen Walker this Sunday as our newest members of Living Hope. Your love for each other is exemplar.
This morning in my devotions I read Jesus' admonition to his new disciples to be careful to accept other Christians they will encounter on their journey in the same way the Father and Son accept each other.
"Whoever receives you receives me, and whoever receives me receives him who sent me. The one who receives a prophet because he is a prophet will receive a prophet's reward, and the one who receives a righteous person because he is a righteous person will receive a righteous person's reward. And whoever gives one of these little ones even a cup of cold water because he is a disciple, truly, I say to you, he will by no means lose his reward.""
Matthew 10:40-42
So often we struggle with this in the church.
When someone new comes into church we are quick to judge and very slow to embrace. Conflict adds insult to injury and soon enough we are at odds with our brothers and sisters.
Peter, years after pentecost still had this problem with accepting others and God had to send him a very clear vision. In the end he confesses:
"Truly I understand that God shows no partiality, but in every nation anyone who fears him and does what is right is acceptable to him." Acts 10:34-35
We loved hearing a little of Don and Karen's testimony of salvation but if you were out of the service Don wrote a 3 part testimony and said I could share it. I included some photos of Don and Karen.
Love to All,
Pr. Jonathan & Patty
The Strange Spiritual Journey of Don Walker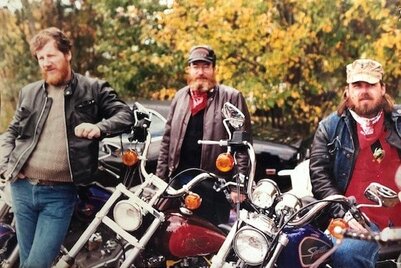 The Strange Spiritual Journey of Don Walker
Part 1- An Introduction, of Sorts.
I'm not sure why I'm compelled to set this all down. Maybe it's a last gasp attempt at making my life, finally, relevant. Maybe it's vanity. Maybe it's something else- Yet unknown. I'll take the time to ponder that later. For now, here is this.
For the minor part, some may find this interesting. For the most part, the majority will not. And yet, in my own mind's eye, I believe I've led an interesting life. Granted, I don't believe I'm anyone special. I never have. But I've done a lot of stuff, been a lot of places, and considered many things. In the area of what we would call faith, I have been all over that terrain thoroughly, and I have arrived at the place I now occupy.
For the record- I am a Christian; a believer in, and a follower of, Jesus of Nazareth. I believe He is the only begotten son of God, born of a virgin, sent to us as the living sacrifice for our sins, that we might be restored to a right relationship with our Father- if we believe. I know that I, in my weakened human estate, am unable to save myself. I needed a mediator, a Savior, One who would pay for the sins I committed. Jesus, the Christ, my Savior did that for me. I am unashamed to claim Him, and to call Him my Lord.
My spiritual journey began as a small child. I was raised as an Episcopal, attending church at Saint John's Episcopal Church in Saugus, Massachusetts. Some of that has clung to me over the years- my love of High Church pomp and circumstance, the beautiful organ music, and the choir/congregation singing the old Reformation Hymns that were the strength of the Protestant Movement at it's beginning. I still return to my Book of Common Prayer, 1928 edition to read and recite some of the prayers. In fact, I have added a copy of the Book of Common Prayer, 1662 edition, which is the original one.
I went to church with my father, who would stop by his mother's house in Saugus to pick her up and bring her with us. Nana, Mildred Montrose (Young) Walker, was born in Halifax, Nova Scotia. Her family, Jung (Anglicized to Young) from Bavaria, Germany, were among the original resettlers of 1751 Nova Scotia. Since they were given land by the King of England, and were Protestants already, they were required to become attendees of the Church of England. And that's where my family connection originally comes from.
Growing up in the church required that I attend services and go to school for Episcopal Catechism and Bible knowledge. I even was an Acolyte- think Choir Boy in the Catholic Church. I led the procession into the church a few times- carrying the cross or one of the flags. And a few times I was the one who lit the candles at the beginning of service and snuffed them out at the end. Sadly, like most young kids, this wasn't relevant to me- at the time. I made my 1st Communion and was Confirmed in the Faith. Once I filled those requirements, I asked to not attend church any longer. Since I met the requirements, my father said yes- you can be done. And that was that.
Part 2- An Open Mind Catches All Kinds of Stuff!
Growing up in the 50's and 60's was a very interesting time. Folks were seeking answers to age old questions and exploring new and interesting concepts of religion, hidden history, aliens, new ways of thinking…… I was no different than anyone else of that time.
I was a voracious reader of history and the lives of famous people. I also enjoyed scientific and mechanical books- especially about rocket ships and new contraptions. I would stop at the Lynn Library and take out 5 to 7 books a week. I'd read whole books in a single night, reading well into the wee hours, just before dawn. I'd sleep for a few hours, then get up and prepare to ready for school. I was very high strung as a kid, and had too much nervous energy to be normal. By todays standards, I'd be coded and on meds!
Some of my first explorations into religions, philosophy, alternative thinking started when I picked up a few books about Eastern Religions. I read a biography about the Buddha, I read the IChing and A Separate Reality by Carlos Castaneda- to start with. Then came the alternate histories and alien visitations. I began in this area with books on Betty and Barney Hill- supposedly abducted by aliens here in New Hampshire. I read several books on the lost continents- Atlantis, Mu and Lemuria. In particular, Mu and James Churchward interested me, and I read all of his books. Chariots of the Gods by Erich von Daniken was another. Any of the works out there, I probably read it. From "Steal This Book" by Abby Hoffman, to "The Electric Kool Aid Acid Test" by Tom Wolfe. Here and there, I would fit in books about Malcolm X, the Black Panthers, The Weather Underground, and other quite radical works. I even read "Mein Kompf" by Adolf Hitler, and "The Communist Manifesto" by Friedrich Engels and Karl Marx.
I also read all the alternative comics of the time; The Fabulous Furry Freak Brothers, Mister Natural, R Crumb and Zap- of course. Entertaining, but hardly enlightening. When one is not grounded in faith, one is prone to wonder without any particular destination in mind or view.
The only religion I considered in these times was when I was stationed in Thailand, and was exposed to Buddhism. I was stationed at U-Tapou Royal Naval Air Station in the mid 1970's. Close by was the town of Bonchon, Thailand. There was a local Buddhist teacher of old by the name of Lum Paw E (as best as I can spell it in English). I wore a silver chain, with his silver medal hanging from it, and tried to practice what I learned of Buddhism. I could never find the "inner peace" that every Buddhist spoke about. Even fellow Americans stationed with me trying to achieve "enlightenment" couldn't help. So, I took up Thai Boxing instead, and gave up the spiritual quest.
Part 3- Finding Faith.
The vast majority of my life was geared to working and family- huge emphasis on work. Looking back, I can see how miserable I really was. I loved the work of my job, but the constant harassment of the time made me a bitter man. I tried not to bring any of that home, but invariably, it does arrive. And if ever someone deserved Sainthood for putting up with that, it is my wife, Karen. That dear woman did everything around the house, without any help from me. I was just too miserable to see how much I imposed on her. I'm a different man now and try always to see how I can help and serve her. She deserves nothing less than all I can give her.
I was driving home from work in Concord, down route 393, heading home to Barnstead. This was in the summer of 1988, to my best recollection. Right after the last exit (route 106), the thought of dying occurred to me- out of the blue. I was thunderstruck to the core of my being. I had to pull over because I couldn't breathe and my heart was racing a mile a minute. I was lightheaded and dizzy. It took a few minutes to collect myself and start for home again.
Over the course of time, about some months, I was talking with a fellow carrier. His name was Jim Gordon. He was a Born-Again Christian- Pentecostal. He witnessed to me, bought me an NIV Student Bible, and we would meet up to read it a few times. He encouraged me to read it on my own, which I did. And I started at the beginning. Jim would ask me where I was in reading every once in a while, and would share what he got from that text when he read it. In the Spring/Summer of 1989, on the workroom floor of the Concord Post Office, Jim Gordon led me in the prayer that changed my life.
I wanted to attend church so that I could learn more about God. My wife and I lived in Barnstead at the time. We started to attend the Church of God in the neighboring town of Pittsfield. About 6 months later, my wife answered an alter call, and accepted Christ as her Savior. Tho we liked attending church, we were unsettled there. The speaking in tongues did not sit right with me. We had a Pentecostal evangelist visiting once who jumped around the stage, up on furniture, speaking in tongues, and yelling about us not being "Knick-Knack" Christians. This greatly unnerved me and I spoke to a fellow carrier at work who was very levelheaded. He invited me/us to check out Trinity Baptist Church in Concord. And that is how we found our 1st church home.
For me, the Christian Faith is one of absolute truth. As I have said, I've been many places and considered many things. It is my belief, based upon personal knowledge, experiences, and a long time of thought and reflection, that the Christian Faith is the only correct path to God. I can confirm with certainty, that the only way to heaven is belief in the finished work of Jesus on the cross. I can attest that the Bible is the work of God and perfect in every part. And I testify that Jesus is Lord, to the Glory of God; crucified, buried, risen and coming again!
There is no name under heaven by which we can be saved!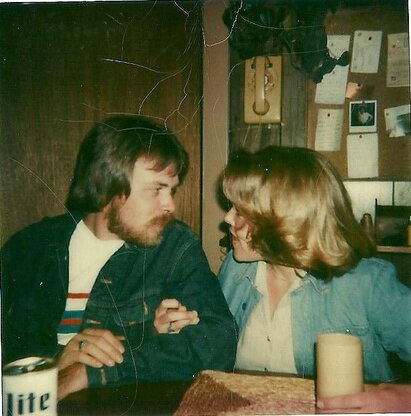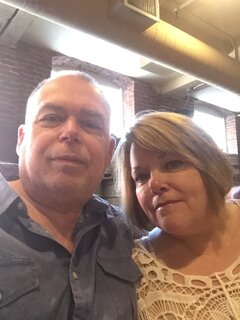 Following Christ our Shepherd King and Living Hope.
Our address is: 31 Summer St, Penacook, NH 03303, USA