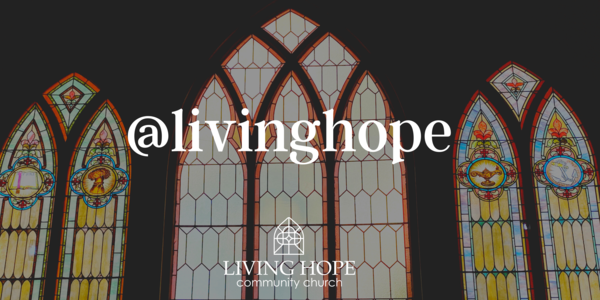 Learning to Listen Like Jesus
Weekly news from the Living Hope Community Church, February 10, 2023
Are you a good listener?
Dear Living Hopers,
If you haven't gone through the EHS courses (Part 1 and 2) at Living Hope I challenge you to begin the journey this year.
There is no rush to go through these courses. You will find that slower is faster. This course is deeply moving and transformational. Some in our church have already gone through part one and have been blessed.
In part 2 of our EHS course we focus on the godly disciplines of building Christ centered relationships.
I really struggle with being a good listener. So often I finish people's sentences before they even have time to think or respond. So often I find myself not practicing the presence of people, giving them my full undivided attention, and that hurts them.
When I do this I am also not practicing the presence of God no matter how spiritual I might think I am. Our love for people reveals our love for God.
I love what Henri Nouwen writes,
"Therefore, to care means first of all to be present to each other. From experience you know that those who care for you become present to you. When they listen, they listen to you. When they speak, you know they speak to you. And when they ask questions, you know it is for your sake and not for their own. Their presence is a healing presence because they accept you on your terms, and they encourage you to take your own life seriously and to trust your own vocation"
Take a few minutes to watch Session 5 - Listen Incarnationally. I really learned some practical tools for fighting sin and loving others.
If you want access you need to use this code: MR7XNFQCZM3Q
Link to Video:
https://watch.studygateway.com/videos/emotionally-healthy-relationships-session-5-listen-incarnationally
Looking forward to being with you all this Sunday. Many are traveling this week and we are praying for safe journeys.
Love & Prayers,
Pr Jonathan
This Sunday at Living Hope - 10 a.m.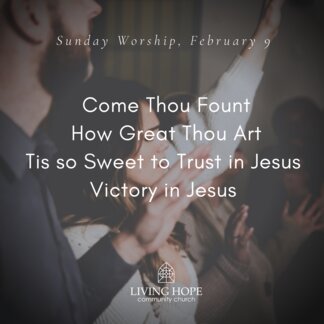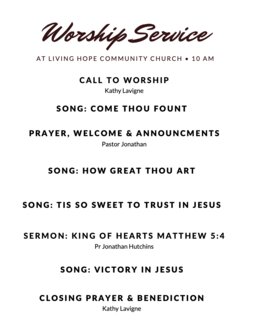 Sunday Sermon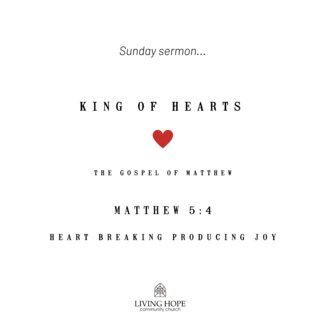 Join our church!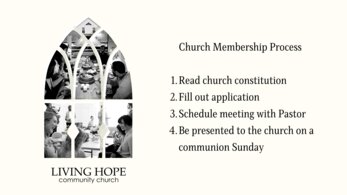 If you are interested in church membership there are copies of our new constitution and applications in the back. Let us know if you have any questions.
Online Giving
If you would like to give online you can visit our website and there is a link where you can give using your checking account or bank debit card. It is very easy and a secure platform to give at Living Hope.
You will also see the "deacon fund" listed if you would like to give to that on going initiate to help those in need. We recently helped someone going through deep financial difficulties with food and heating oil. Please give to the deacon fund.
Here is a link to the giving: GIVE LIVING HOPE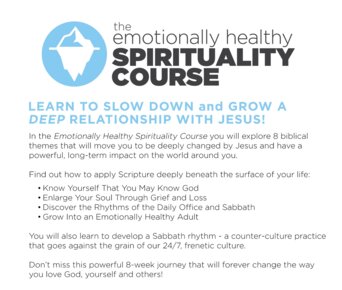 Check out our signup to order your own copy of some wonderful tools we will be using over the next years at our church.
This two part series (8 lessons each) will be transformational in your life. Part 1 teaches us to be loved by God. Part 2 calls us to a deeper love for others.
It can be done alone as a self study with access to pastoral care if needed or with a group. We will have many different groups forming in the months ahead.
You can watch in intro video here:
https://www.youtube.com/watch?v=JmOeEaDTK-E
Here is a testimony video:
https://www.youtube.com/watch?v=Qrk4wbEEbpA&feature=youtu.be
Upcoming Events
Download
Every Friday at 11am Pr David Doyle conducts a verse by verse Bible Study through Zoom.
Friday, February 17th  •  11 am – 12 pm (EST)
Download
Sunday, February 19th  •  10:00–11:30 am (EST)
Following Christ our Shepherd King and Living Hope.
Our address is: 31 Summer St, Penacook, NH 03303, USA