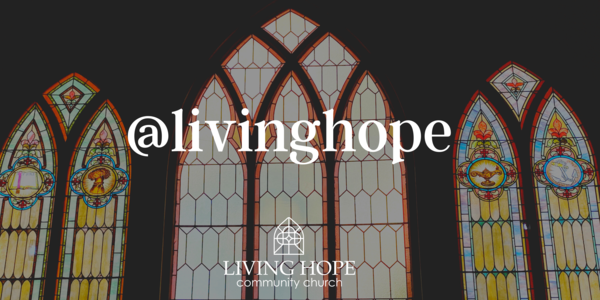 Faith that He is and He will
Weekly news from the Living Hope Community Church, February 23, 2023
A morning prayer for faith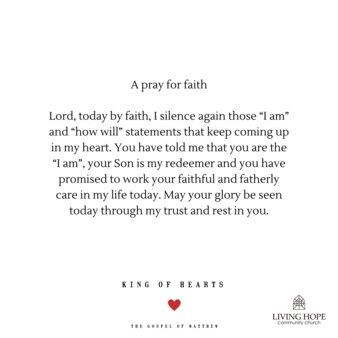 Good morning Living Hopers,
This morning Patty and I read in Exodus 6 and Luke 9.
Jesus asked Peter an important question. One he knew that would lead to a deep rest in his soul. He asked, "Who do the crowds say that I am?" , then he gets more personal, "But who do you say that I am?". Peter confesses that Jesus is "Christ the God".
But we all know too well from experience that confessing is one thing and really believing deep in our hearts is our lifelong journey.
My own worrisome "I AM ___" and "HOW WILL____?" statements this morning should act as the "check engine" light of my faith.
So often I catch myself using these two statements like Moses did.
The Lord said to Moses, "I am the Lord; tell Pharaoh king of Egypt all that I say to you." But Moses said to the Lord, "Behold, I AM of uncircumcised lips. HOW WILL Pharaoh listen to me?" (Exodus 6:29-30)
I often say, yes Lord, I know who you are but I am ______ and how will_____?
Here is my prayer of repentance and faith....
A prayer for faith
Lord, today by faith, I silence again my "I am" and "how will" statements. You have told me that you are the "I am", your Son is my redeemer and you have promised to work your faithful and fatherly care in my life today. May your glory be seen today through my trust and rest in you.
Love to all,
Pr Jonathan
This Sunday at Living Hope - 10 a.m.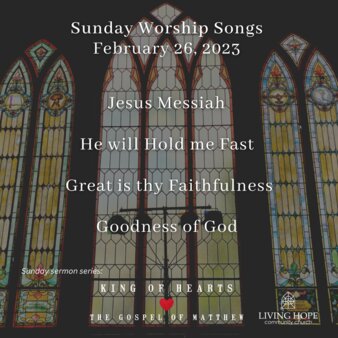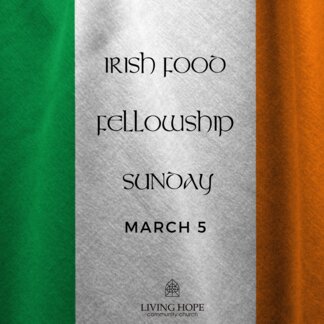 Join our church!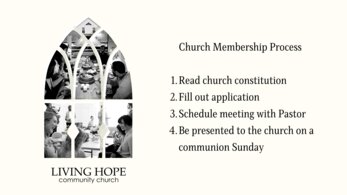 If you are interested in church membership there are copies of our new constitution and applications in the back. Let us know if you have any questions.
Online Giving
If you would like to give online you can visit our website and there is a link where you can give using your checking account or bank debit card. It is very easy and a secure platform to give at Living Hope.
You will also see the "deacon fund" listed if you would like to give to that on going initiate to help those in need. We recently helped someone going through deep financial difficulties with food and heating oil. Please give to the deacon fund.
Here is a link to the giving: GIVE LIVING HOPE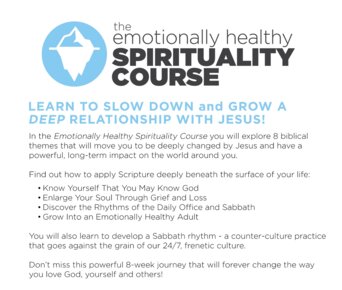 Check out our signup to order your own copy of some wonderful tools we will be using over the next years at our church.
This two part series (8 lessons each) will be transformational in your life. Part 1 teaches us to be loved by God. Part 2 calls us to a deeper love for others.
It can be done alone as a self study with access to pastoral care if needed or with a group. We will have many different groups forming in the months ahead.
You can watch in intro video here:
https://www.youtube.com/watch?v=JmOeEaDTK-E
Here is a testimony video:
https://www.youtube.com/watch?v=Qrk4wbEEbpA&feature=youtu.be
Upcoming Events
Download
Every Friday at 11am Pr David Doyle conducts a verse by verse Bible Study through Zoom.
Friday, March 3rd  •  11 am – 12 pm (EST)
Download
Sunday, March 5th  •  10:00–11:30 am (EST)
Following Christ our Shepherd King and Living Hope.
Our address is: 31 Summer St, Penacook, NH 03303, USA