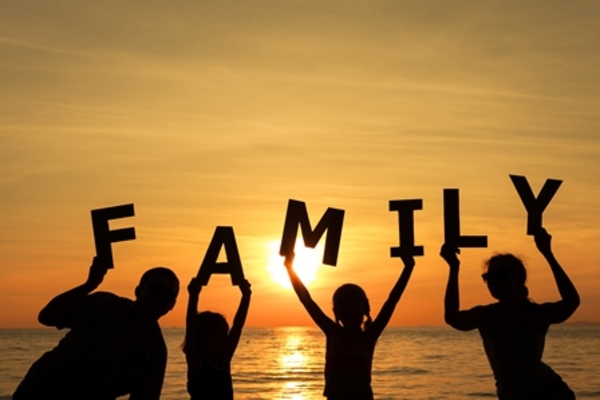 Family
What is family to you? Here is one possible definition from Health Resources & Services Administration: "Two or more people living together that are connected by birth, marriage, or adoption." The worldly discussion of family tends toward numbers and socioeconomic status. For instance, the U.S. Census Bureau supplies this statistic: In a 2018 study, it was found that the average family consists of 3.14 persons. Is this family? I think there is more to it and strongly believe God wants us to search and know His take on family.
As Christians we have the blessing and responsibility to take the conversation of family back to the Bible, which takes us back to Creation. God ordained the institution of marriage in the beginning. A man is called to leave his father and mother and stick like glue to his wife. One man - one woman – for life. From this union it is God's design that they answer the commission to become family. Not only is marriage a God-Thing, Family is God's idea too; structured to bring honor, love, and respect to one another. Our closest earthly relationships should flourish into a testimony of devotion and love for our Creator.
As with so many things (and dare I say all things), we have stepped away from God's idea for marriage and family. With distorted views of purity and love, today's society continues a downward spiral. Bible-based teaching and behavior is rejected and thought to be intolerant and judgmental. We are experiencing an all-out attack on All Things Family! Family is: Love – Relationship – Honor – Respect – Obedience – Grace – Kindness. Yet, the world has managed to take this list of qualities and turn them to a self-centered tone. If they are offered at all, they are generally offered conditionally, certainly not loving like Jesus!
Some family situations among us include children while others do not. Moreover, we have adoptive, blended, foster, and single parent families. From one end of the spectrum to the other each circumstance has its own story, and many include heartbreak. The reality is we all have the potential for heartbreak as we live outside of the Garden. Our greatest need is for God's restorative love and the power of His saving grace. Our families face the same need…to be restored to our Heavenly Father, because He is the perfect Father. The work of redemption leaves us humbly recognizing our brokenness but living beyond its defeat. Families, intact or otherwise, can be broken, but God through the blood of Jesus offers healing and wholeness.
What is family? Could it be one of the most meaningful ways to experience what God is all about? Is it not primarily about Loving God and Loving people? Might the focus of family be connecting with those around you in your own home, your community of faith, and where ever you may live life? I do believe one thing for sure--Family is a journey! God's Best for my family is what I desire. How about you?
Sincerely,
Ministry Emphasis for May: Library
This month we would like to thank those who have been working hard to remodel and organize the Marion church Library.
Your work looks wonderful and provides an excellent resource to the families of the Marion church! Marion Library resources
include both the Marion Church Library and Right Now Media (which you might think of as an on-line library). To the right of
the stage in the sanctuary is the Marion Church Library, which contains a large number of books on a wide variety of topics
(including marriage, family and parenting) which you can check out and take home any time. Each book in the Library contains
a card in the front page. Simply sign your name and put the date on the card then place the card in the basket on the library table
and take the book home. When done with the book, place the book in the return basket in the library.
To use the on-line library, simply visit: https://marioncog7.org/rightnow-media and choose the sign up option that's easiest for
you!
EYE ON THE CALENDAR FOR MAY:
Worshiping God | Serving Others | Sharing Jesus
Our address is: 7478 Stayton Rd SE, Turner, OR 97392, USA