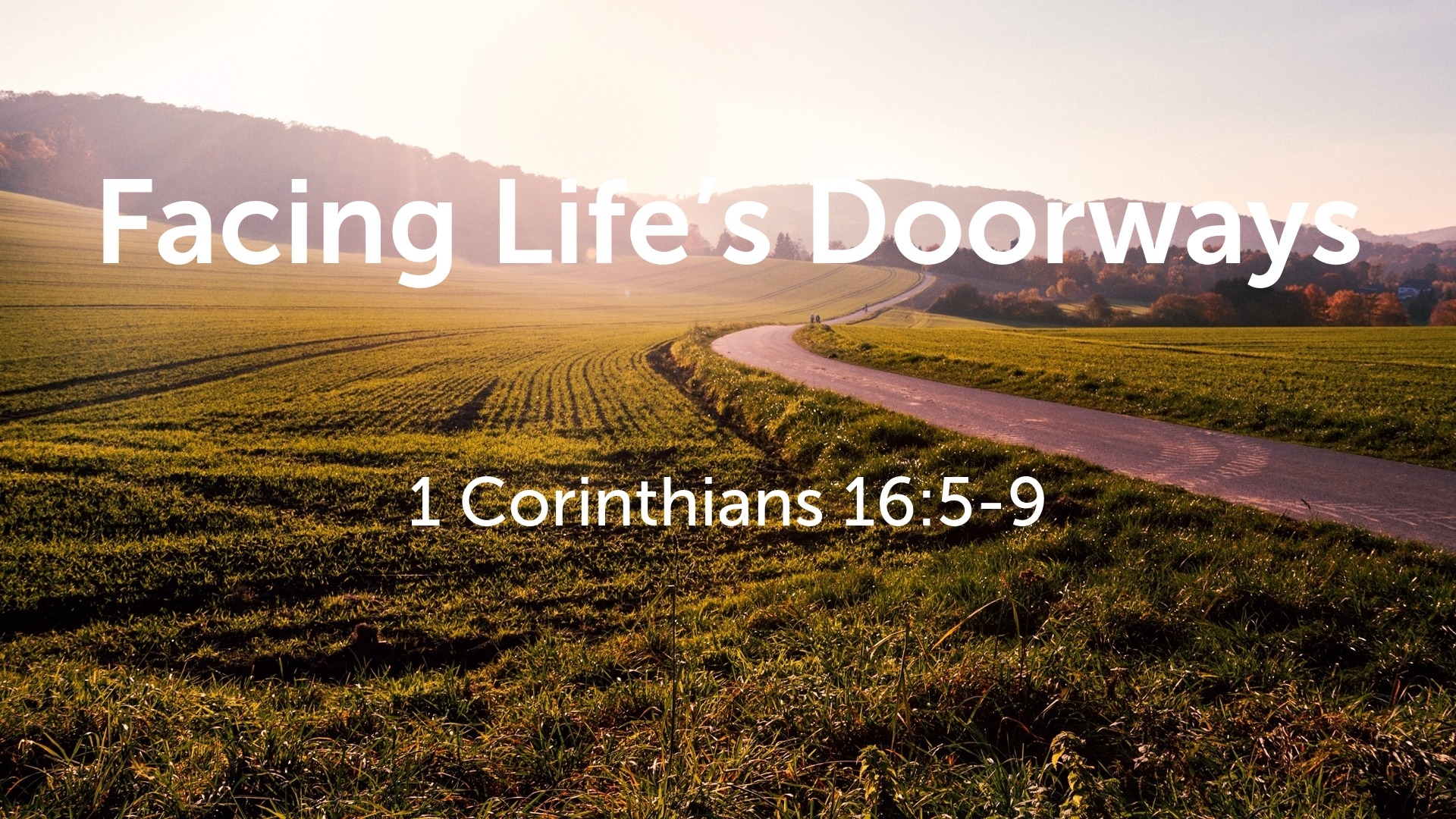 Maineville Baptist Church
Facing Life's Doorways
Order of Service
Morning Service:
68 WORTHY IS THE LAMB THAT WAS SLAIN
23 WORTHY OF WORSHIP
Welcome & Announcements
85 HOLY HOLY HOLY
Scripture Reading: Matthew 25:1-13
364 I WILL SING OF MY REDEEMER
Sermon: Facing Life's Doors
494 HAVE THINE OWN WAY LORD
Afternoon Service:
239 IN CHRIST ALONE
271 NO NOT ONE
Sermon: Negative Reactions
284 BENEATH THE CROSS OF JESUS. (1&3
The Open Door
The story is told of a girl who turned her back on her widowed mother who had worked so hard to bring her up, and left home without telling her mother where she was going. Night after night the mother waited for the girl, but she did not come back. In her perplexity and sorrow the mother went to her pastor to ask his help. He suggested that she have some pictures taken of herself and bring them to him, which she did. Then he asked her what message she wanted to send her lost girl. In tears the mother said, "All I want to tell her is 'Come back.' " "Write that on each picture," said the minister, and then he proceeded to send these pictures to places of amusement in other large towns which he felt the daughter was most likely to frequent. He requested that the picture be posted on the bulletin board where it could be easily seen. One night, the daughter came to one of these places and was attracted by something familiar about the picture on the bulletin board. Little did she imagine that it could be her mother's picture. She came closer to it, and there it was—her own mother, looking much older than when she had left. Then she saw what was written on it, "Come back," and knew it was addressed to her. She could not proceed with her plans for that night. With a heart burning with remorse, she went back to her room, packed her clothes, and took the first train home. Arriving in the early hours of the morning, she was surprised to find the door of the little apartment open; in she went. There was her mother in tears, not sleeping, but sitting up, praying for her prodigal daughter. She threw her arms around her, and the first thing she asked when she could speak was, "Mother, why did you leave the door open?" "Oh, Louise, the door has never been closed since the day you left. I left it open all the time expecting your return. I didn't want you to find it shut when you came back."
AMG Bible Illustrations. (2000). AMG Publishers.
Door of Transformation (Humor)
A family from a remote area was making their first visit to a big city. They checked in to a grand hotel and stood in amazement at the impressive sight. Leaving the reception desk they came to the elevator entrance. They'd never seen an elevator before, and just stared at it, unable to figure out what it was for.
An old lady hobbled towards the elevator and went inside. The door closed. About a minute later, the door opened and out came a stunningly good-looking young woman.
Dad couldn't stop staring. Without turning his head he patted his son's arm and said, "Go get your mother, son."
Citation: Owen Bourgaize; Guernsey, United Kingdom
PreachingToday.com (2003) More Perfect Illustrations
Let us get to know you!
Please take a moment to send us your information so that we may stay connected with you. Your information is carefully managed and protected.
How did you hear about us?