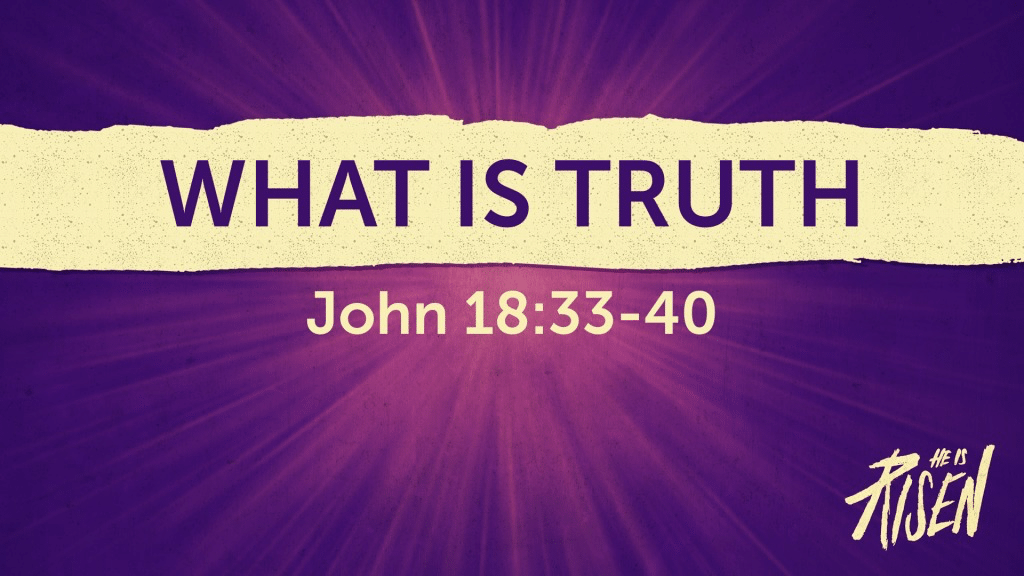 Maineville Baptist Church
Resurrection Sunday: What is Truth
Order of Service
Opening Hymn: 51 ALLELUIA ALLELUIA
325 CHRIST AROSE
Opening Prayer, Announcements
323 CHRIST THE LORD IS RISEN TODAY
Scripture Reading: John 18:33-40
32 CROWN HIM WITH MANY CROWNS
Sermon: What is Truth
Invitation: 476 I SURRENDER ALL
The Lord's Supper Observance
Departing Hymn: 627 WHAT A DAY THAT WILL BE
There never was a story before or after quite like this one. The drama of all dramas. It was one whose impact did not need television, mass advertising or a coordinated effort by any worldwide organization for government to propagate it. No, the story would be written in a book.

The most burned book and banned book of all the history of the world. Yet that same Book could not be stopped - it is the most copied, printed, and memorized book in the world as well. That is the Bible and it's most epic and most important story and it is the one that brings us together today.

It is not a story that lends or shares its glory with any other. It is not a story that needs to be restated, revamped, reinvented or made-over in anyway to be effective in todays culture.

I hear the mantra of today that we have to change the music and methods to reach this generation - we have to adapt the message - change the way we communicate to reach them. I challenge you today, there needs not be a change in message, the messenger or the method - we simply need to know, love, live, and preach the truth.

In this passage we have read today - we have an important question. It came from the Roman ruler of the land of Judea at the time, his name was Pilate. While we know that he was a wicked man - we see glimpses of character within him to. Small areas where light seems to shine in on him.

Pilate is somewhat of an enigma in the Word of God, like many other political leaders and kings, where they knew God was real - they had respect to Him, they honored Him, even as Pilate, who knew he had power over Christ, at the same time, knew that Christ was something - but he did not want to research it further.

His own wife told Pilate, because of a dream in that night said, have nothing to do with this man.

Yet Pilate asks this question: WHAT IS TRUTH! Let's Pray.

Truth has been wounded in our society. Truth has been muddied. Truth has been widdled down, chizzeled down and wasted away. It is watered down.

Truth has become relative to whatever a person believes within themselves. People can't find it or at least don't know where to find it.

We here things like: Fake News.

Well, that's not my truth, that's your truth.

But that has taken on another level. People are not content with you allowing them to have their own truth - you must now assent to their truth as well - or you are an evil biggot - especially concerning the transgender craze.

Men state they are women and women say they are men. It is on its way to becoming a crime to disagree with them, or to refuse to agree with their truth.

In 2018 Gallup polls said that 64% of Americans believe God exists, down from 80% in 2005.

https://news.gallup.com/poll/268205/americans-believe-god.aspx

Today less that 30% of people in America believe that there is Absolute Truth.

Pilate asked, WHAT IS TRUTH?

We have to preach and teach, and live the truth in our lives so people can understand it.

Pilate could not see it because he was blinded to a couple of things.

I. TRUTH IS THE

WORD

OF

GOD

The promise that what God us can be trusted. That what He has given to man - is truth

Now they have known that all things whatsoever thou hast given me are of thee.

God's Word is truth. Man has sought without success to destroy God's Word. It will live forever. The reason man seeks to destroy God's Word is because it convicts man of his sin and shortcomings.

Heaven and earth shall pass away, but my words shall not pass away.

The world is full of Great men and women and their words at times will be significant. But most of their words are soon forgotten. However, God's Word shall remain forever - it is such a powerful Book that it cannot be contained.

All things fade and pass. God's Word will never fade. It shall endure all the tests of time. It is the largest-selling book in the world.

For all flesh

is

as grass, and all the glory of man as the flower of grass. The grass withereth, and the flower thereof falleth away:

But the word of the Lord endureth for ever. And this is the word which by the gospel is preached unto you.

LAMED. For ever, O LORD, thy word is settled in heaven.

For verily I say unto you, Till heaven and earth pass, one jot or one tittle shall in no wise pass from the law, till all be fulfilled.

If God's Word comes with the promise that is from God and that is full of power, that permanent, to last forever, and is perfect, then why do we doubt it. And greater than that - then why do we disobey it, ignore it, act as if it is of no concern, or of no application upon our lives.

II. TRUTH IS

KNOWING

THE

FATHER

When we know the Father we are going to know truth. Mankind is looking for truth without the Father and the result of that is sin and debauchery

Every good gift and every perfect gift is from above, and cometh down from the Father of lights, with whom is no variableness, neither shadow of turning.

In hope of eternal life, which God, that cannot lie, promised before the world began;

Pilate could not understand that

III. TRUTH IS IN BEING

GUIDED

BY THE

SPIRIT

Everything that the Spirit of God does is truth.

John 14:17

calls Him the "THE SPIRIT OF TRUTH." That being so, we need to understand that The Holy Spirit leads us in truth, guides us in truth, teaches us truth, and shews us truth.

Howbeit when he, the Spirit of truth, is come, he will guide you into all truth: for he shall not speak of himself; but whatsoever he shall hear,

that

shall he speak: and he will shew you things to come.

The Holy Spirit guides us in the right way.

We must learn what it means to be led by the Holy Spirit

This

I say then, Walk in the Spirit, and ye shall not fulfil the lust of the flesh.

The world cannot conceive (understand) the Spirit, nor can they receive the Spirit, since they are not spiritually minded.

Even

the Spirit of truth; whom the world cannot receive, because it seeth him not, neither knoweth him: but ye know him; for he dwelleth with you, and shall be in you.

But when the Comforter is come, whom I will send unto you from the Father,

even

the Spirit of truth, which proceedeth from the Father, he shall testify of me:

Remember, He is the Spirit of Truth. The Holy Spirit knows right from wrong—allow Him to lead you. Follow His leading.

IV. TRUTH IS IN

BELIEVING

ON JESUS CHRIST

And the Word was made flesh, and dwelt among us, (and we beheld his glory, the glory as of the only begotten of the Father,) full of grace and truth.

The Word (Jesus) became flesh. Note: full of grace and truth.

Jesus saith unto him, I am the way, the truth, and the life: no man cometh unto the Father, but by me.

Note the three characteristics of our Lord (1) The Way, (2) The Truth, (3) The Life.

Jesus said He was going away to prepare a place for His people, if it were not so, He would have told them.

There is much to be said for Jesus Christ being the truth, but one of the most amazing things it does for us is a very powerful thing. That is that it sets you free.

Lies, half-truths, deceits, false advertising - all of it is to restrict you and hold you back. Christ never wants to hold you back from the truth - because that is what makes man free.

And ye shall know the truth, and the truth shall make you free.

Knowing the Truth (Christ), and the Truth sets men free.

The proof that He is the Son of God. He came to declare it and exemplify it with His life.

People don't die for a lie. They don't give there life for something that is not true or they do not believe in. That is one of the great proofs of Believers through out history is that they would often go to a mission field or a situation to witness for Christ often knowing that it would cost them their lives.

Pilate therefore said unto him, Art thou a king then? Jesus answered, Thou sayest that I am a king. To this end was I born, and for this cause came I into the world, that I should bear witness unto the truth. Every one that is of the truth heareth my voice.

Christ came to bear witness of the truth, that He is the Son of God. He did this by dying on the cross 2000 years ago for our sin.

Oh Pilate, that Jesus Christ who was in your prescence and would shortly die, He did it for you. He told you THIS IS THE TRUTH, THAT HE IS THE TRUTH. Yet Pilate still asked the question, "WHAT IS TRUTH?"

V. TRUTH DOES NOT MATTER IF IT IS NOT

RECEIVED

AND

APPLIED

In other words, it won't make a difference in your life - it won't be beneficial the way it was intended to be beneficial unless you received and believe it, and apply it to you.

The affects of an airplane and the truths and laws of aerodynamics will not matter unless you believe them by getting on a plane.

Can I remind you that you don't have to understand the laws of aerodynamics to be benefited by them, you must believe and trust and get on the plane.

I believe Pilate new the truth. But Pilate refused to admit the truth, receive the truth, and apply the truth to his life.

There are others in the Bible that had much of the same attitude - Agrippa was one of them, who was also a governor who hear Paul speak. He said:

Then Agrippa said unto Paul, Almost thou persuadest me to be a Christian.

Oh, may that not be our epitaph. May you and I not go down into eternity for saying almost I became a Christian, almost I believed. I was this close.

There is not second place in heaven. Heaven is first place, our only entrance is by the blood of Jesus Christ. It is only applied as we have come to a point in our lives when we repent of our sin and our way - and Believe on Christ Jesus as our Lord and Savior.
Truth
Men occasionally stumble over the truth, but most of them pick themselves up and hurry off as if nothing happened.
Winston Churchill.
He is Risen!
One Sunday morning a pastor was dressing for church and had the radio on listening to a local church service. Suddenly he heard to minister say, "It's Easter, and it doesn't make any difference if Christ be risen or not..."
Shocked, A.H. Ackley shouted, "It's a lie! He is risen!"
His wife said, "Why don't you write a song about it?"
Reading in the gospels again "He is risen," and feeling God's presence, he began writing. His words have been sung in churches every Easter since: "I serve a risen Savior, He's in the world today, I know that He is living, whatever men may say...He Lives!"
Let us get to know you!
Please take a moment to send us your information so that we may stay connected with you. Your information is carefully managed and protected.
How did you hear about us?