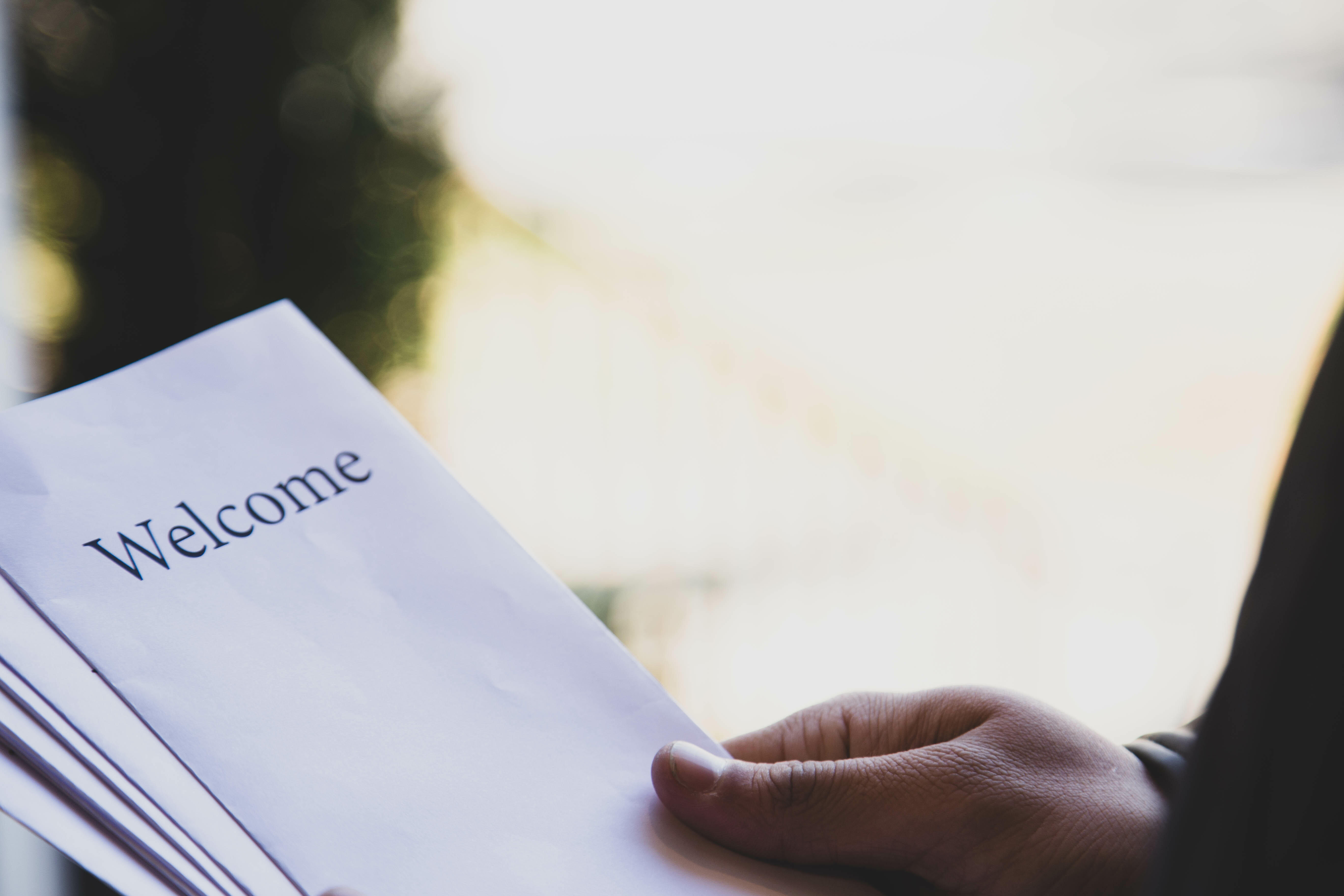 Maineville Baptist Church
2022.08.07 The Blessing in the Trial
Welcome
Thanks for reading the digital bulletin. Let us prepare our hearts for God's word today. The focus of the sermon this morning is discovering the blessing within the trial. We are fortunate to have a God that not only is present within the trial but helps us bear it.
If it is your first time being with us, please know that we are very thankful that you are here. Our prayer is that God would touch your life today and meet your needs.
If there is something we can do for you please don't hesitate to let Pastor Mark Sage, Pastor Jon, or one of the ushers know. Pastor Sage's mobile phone is: (513) 716-2315 Email: pastorsage@gmail.com
Order of Service
11 am Service
103 O HOW HE LOVES YOU AND ME
79 TO GOD BE THE GLORY
WELCOME AND ANNOUNCEMENTS
527 HAVEN OF REST
SCRIPTURE READING: Judges 2: 8-15
670 BE STRONG IN THE LORD
SERMON: " The Blessing in the Trial" - Pastor Mark Sage
INVITATION: 492 PASS ME NOT, O GENTLE SAVIOR
DISMISSAL
1 pm Afternoon Service
553 COME, THOU FOUNT OF EVERY BLESSING
120 LORD, YOU'VE BEEN FAITHFUL
SERMON: "FIXING CHURCH CULTURE: TO LOVE OR NOT TO LOVE"
INVITATION: 491 IS YOUR ALL ON THE ALTAR
DISMISSAL
Sermon: " The Blessing in the Trial"- Pastor Mark Sage
When you consider the Greatest Generation – those who lived, worked, and toiled, sweat, sacrificed, fought and died for freedom and against tyranny. A generation that learned early that if you wanted to eat you had to work. Nothing was given to you; you had to go to work and work hard and not complain. Today's generation hates work – they say that's not my thing – I don't like that – I wouldn't be caught dead doing that. I'll let the government or someone else pay my bills.

If they do have a job and the boss scolds them, or says something negative – they quit. While our forefathers suffered abusive working conditions and yet were thankful for that job. What is the difference.

I want to challenge you this morning that the great difference is that one generation faced adversity while the other one has never known it and therefore, has not been strengthened –

In our passage today, we have read about the children of Israel, after the Exodus from Egypt, after the 40 years of wondering in the wilderness and after the 25 year conquest and settlement of the land of Canaan, the Promised land to the children of Israel – all of this time had passed, two generation had passed – and Joshua had past.

Now there was left a generation – that had not faced the adversity of what their parents and grandparents faced. As a result – they were missing the blessings through adversity.

This morning, I hope that I can help you to look at what is going on in your life, what you are going through and look at it for what it is truly is and what it does not necessarily mean – and either way – what your response should be.

I. Trials are

appointed

of God

Look at

1 Thess 3:2-4

, there are going to see a couple of very important verses we need to take hold of.

And sent Timotheus, our brother, and minister of God, and our fellowlabourer in the gospel of Christ, to establish you, and to comfort you concerning your faith:

That no man should be moved by these afflictions: for yourselves know that we are appointed thereunto.

For verily, when we were with you, we told you before that we should suffer tribulation; even as it came to pass, and ye know.

Now, no one ever said that it was fun; no one ever said that during the trial we enjoy the trial itself. After-all, it is trial.

But remember what

Proverbs 24:10

teaches us:

If

thou faint in the day of adversity, thy strength

is

small.

Trials are going to come your way – and I can tell you that if your strength is small you and not in the right place, you will faint – give up – give in – not finish the course that God has set for you.

I've seen it many times. People become Christians, they gain their knowledge of Christianity from the Christmas story and presents, and niceties at church, and movies and televangelists that say it will all work out smoothly if you will just be faithful – and it will in heaven, but not necessarily here on earth.

Some of you may have seen the movie "FLYWHEEL". And it is an okay story – but it is not truthful. In it several men and women are depicted as doing right against the odds and on the other end, because of there honesty, they were blessed than the dishonest in the later end. That is just not the always the case – now God may bless you when do right – but we don't do right to be blessed, we do right because it is right no matter the consequences.

I was called to preach, hadn't gone to Bible college yet, we were newly married, we were struggling. I mad 6.50 an hour in Albuquerque running an office at a Counter top store, and I got a job at ABF trucking working nights, on top of my day job. It was a temp entry level, but it paid $14 an hour. In two days, I made as much money as the other job. The only thing was, I had to be on call all nights and weekends.

Well, before you know it, I got called in to work for a Sunday morning. I was the junior church preacher, the pastor had given me that job, I was 23 years old, I was over men that were in their 50's, I did not take it lightly and I wanted to put God first. I told him no sir, I cannot on Sunday morning. I said I'll come in later, but I have to preach at church they are counting on me. Do you know what, was there a happy ending, no, they let me go that week. Life only got tougher, financial strains were there. Nothing seemed to be working out. It was a short time later that we surrendered to missions and went to bible college, I had no job prospects, I had to rent a house in the bad part of town, we had debt, we were in college. It was tough.

I felt about this big, a failure, not supporting my family well. Probably the greatest thing I learned in those years after the Marines and being newly married and having a young family, is that life isn't easy and you need to work a lot sometimes. But I learned that if I kept God first, he always took care of us.

It wasn't easy, but we always survived, always paid our bills, always made it. It was the way that God appointed for us, but it was not the easiest or most enjoyable way.

II. Trials are

beneficial

to your life

If you would turn with me to

1 Peter 5:8-11

.

What made the Israelites so strong in Moses' generation, hardship. What made Joshua's generation strong, hardships. What is that made the Greatest Generation be strong, trials and war. What was it that made those at Selma thankful for their country compared to todays generation – oppression.

Adversity makes you stronger, it is a universal truth in life. So it teaches it in the Bible as well.

Be sober, be vigilant; because your adversary the devil, as a roaring lion, walketh about, seeking whom he may devour:

Whom resist stedfast in the faith, knowing that the same afflictions are accomplished in your brethren that are in the world.

But the God of all grace, who hath called us unto his eternal glory by Christ Jesus, after that ye have suffered a while, make you perfect, stablish, strengthen, settle

you

.

To him

be

glory and dominion for ever and ever. Amen.

It is through adversity that God makes us stronger, more useable for his glory.

A. Trials will

perfect

you

We might say perfected or mature.

B. Trials will

strengthen

you

Strengthen here means to make you stronger.

C. Trials will

settle

you

Settled on a firm foundation which is Jesus Christ.

Where do we ultimately go if we are mature believers, set in the right place, strengthened day by day – we become more settled in God's Word, strengthened by his fellowship and his Holy Spirit.

When a believer is perfected, stablished, strengthened and settled, - he is much more profitable for God.

This type of Christian does not give excuses; this type of Christian goes the extra mile; this type of Christian does not complain of his circumstances and is able empathize with someone who is going through a hardship as well.

This Christian can pick up the Word of God and teach a class if needed; or pick up a broom and sweep; or change a diaper in the nursery even if not scheduled, or shovel some snow, or provide a need; or go to the Lord in prayer; or witness for Christ without fear; or give a tract out without worry.

He can do anything God wants him to do.

A bar of steel is worth five dollars. When it is wrought into horseshoes, it is worth ten dollars. If made into needles, it is worth three hundred and fifty dollars; if wrought into penknife blades, it is worth thirty-two thousand dollars. And if it is wrought into springs for watches, it is worth two hundred and fifty thousand dollars.

What a drilling the poor bar must undergo to be worth a higher value. But the more it is manipulated, the more it is hammered, and passed through the fire, and beaten and pounded and polished, the greater the value.

Those who suffer most are capable of yielding most; and it is through pain that God can get the most out of us.

Encyclopedia of 15,000 Illustrations: Signs of the Times.

III. Trials bring us

closer

to Christ

Trials identifies us with Christ. He went through so much for us – surely it is should be our joy to go through the trial that he has appointed, that makes me stronger, that I might draw closer to Him.

That I may know him, and the power of his resurrection, and the fellowship of his sufferings, being made conformable unto his death;

Think about it, it is not the victory that usually causes us to rely on God, sure – we might thank God, but we do not rely on Him when all goes well.

It is in the hard time, the difficult time, that draws me closer to him; and his the prolonged struggle, develops my relationship with Him that compels me to go to Him each day and throughout the day.

IV. God uses trials to

direct

us

Adversity is appointed of God, adversity makes me stronger and matures me, adversity draws me closer to Christ, and adversity keeps me where I should be doing what I supposed to do.

God uses adversity to keep us guided into his perfect will. He uses it strengthen us and mature us and to get us to see what is important and what is not. When we are young we have the whole world before us and we want to experience it all because feel like we can do anything.

But life has a way of maturing us – to focus on the truly important things. Whereas once I may have been young and had wrong priorities, it is when is old that they can look at life and say what is important and what is worth the sacrifice.

There is an old Greek story of a soldier under Antigonus, who had a disease that was extremely painful, and likely at any time to destroy his life. In every campaign, he was in the forefront of the hottest battle. His pain prompted him to fight in order to forget it. His expectation of death at any time made him court death on the field of battle, nothing would stop him because by his estimation, he was already dead.

His general, Antigonus, so admired the bravery of the man, that he had him cured of his malady by a renowned physician. But from that moment the valiant soldier was no longer seen at the front. He avoided danger instead of seeking it, and sought to protect his life instead of risking it on the field. His tribulation made him fight well. His health and comfort destroyed his usefulness as a soldier.

Encyclopedia of 15,000 Illustrations: Signs of the Times.

Perhaps you are here and you are not a Christian, and you say, "Well, what would make want this life then." Along with that adversity, we have a friend that sticketh closer than a brother, a Saviour who loves us through thick and thin; a Lord that gave himself for us that we might have redemption form HELL TO HEAVEN.

It is the conviction of the Holy Spirit that caused me to come to Christ when presented with the truth that I was on my way to hell. That is why man gets saved. It is not because the Christian life is great; it is because He believes God's Word and that heaven and hell are forever. That is why he believes.
A Gold Doorstop
In 1799, Conrad Reed discovered a seventeen-pound rock while fishing in Little Meadow Creek. Not knowing what it was made of, his family used it as a doorstop for three years. In 1802, his father, John Reed, took it to a jeweler who identified it as a lump of gold worth about $3,600. That lump of gold, which was used as a doorstop for three years in North Carolina, is one of the biggest gold nuggets ever found east of the Rockies.
Until its composition was determined, its value was unknown. Even so, until the composition of our faith is determined, its strength is unknown. God allows trials in our lives, not to hurt us, but too strengthen and prove us.
Faith Does Not Preclude Trials
"Faith for my deliverance is not faith in God. Faith means, whether I am visibly delivered or not, I will stick to my belief that God is love. There are some things only learned in a fiery furnace."— Oswald Chambers
Let us get to know you!
Please take a moment to send us your information so that we may stay connected with you. Your information is carefully managed and protected.
How did you hear about us?