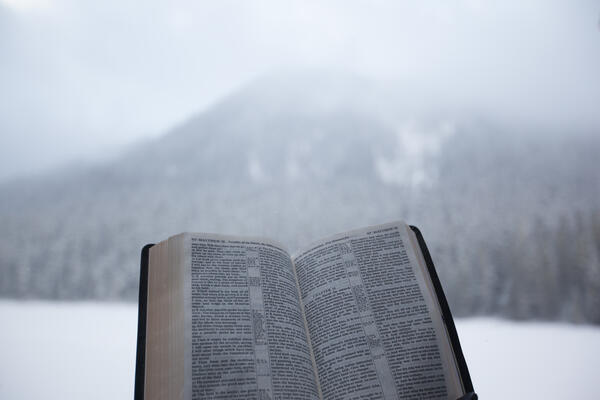 End of the Year Update
Activities, Updates, and Thoughts for the Winter Season
GOD HAS SUPPLIED!
So quickly we get sidetracked this time of year with things that are of little importance and neglect the most important things. We need FOCUS & BALANCE to be the Christian's God wants us to be. We need to be balanced in our walk with God, with our family, with our church, our providing for our families and participation in our community while keeping our eyes on Christ.
While we enjoy the holidays may it also be a time of not just "status-quo" but of continued growth in Christ. It would be terrible for us at the time of year when we celebrate the birth of the Messiah and look at making commitments to change for the better - that we actually backslide. Praise The Lord - GOD HAS SUPPLIED what we need for an abundant life in HIm. It all started with His precious birth.
Here are some recent messages (if you missed them) that can help you to grow and be balanced at this time of the year. If you need anything, please let me know.
Pastor Mark Sage - pastorsage@gmail.com / Mobile (513) 716-2315
"Christmas Balance"
https://amber-embed.faithlife.com/shares/2mc9KdqxgpiGFlnL
"Worshipping Christmas or Christ"
https://amber-embed.faithlife.com/shares/VgxULJlrVXkY9ES9
"Balancing the Christian Life"
https://sermons.faithlife.com/sermons/787385-balancing-the-christian-life
"The God of the Possible"
https://sermons.faithlife.com/sermons/784223-the-god-of-the-possible
New Midweek Bible Study Series
Tomorrow, December 8th, we are starting a new Midweek Bible Study Series entitled: The Kingdoms of Israel and Judah. We are going to take a look at why God allowed the kings to reign and do a study on each of the kings to see what we can learn from them. Some nights we will look at more than one king while other kings will take several lessons.
Romans 15:4
4 For whatsoever things were written aforetime were written for our learning, that we through patience and comfort of the scriptures might have hope.
Nerf Wars
Friday, December 17th from 6:30 - 8:00 pm is Nerf Wars. Everyone is welcome, but especially the young ones. It is a fun time for all involved. Everyone is required to either wear glasses or safety glasses to protect their eyes.
We will have several rounds Zombie attack as well as Capture the Flag and VIP.
The cost is $3 per person for the pizza and soda.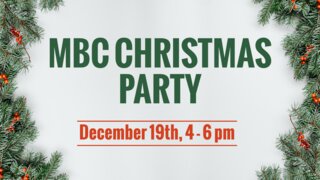 MBC Christmas Party
Everyone is invited to our 2021 MBC Christmas Party on Sunday, December 19th from 4-6 pm. Feel free to invite friends and family to enjoy the time with us. Here is everything going on:
White Elephant Gift Exchange
The adults and teens will be participating in this. You bring a gift (from your home or buy ($20 limit). Then you wrap it, and it is put on the table. We will have a drawing as to the order of who gets to pick the first gift. The second person will pick the next gift or if they choose, they can take a gift that has already been opened.
Children's Gift Exchange
This year each of the children can bring a gift ($5-10). We will have the girls and boys gift exchanges separate. It will be anonymous – so we will just pass them out and let all open them at once. There will be a special gift bag to the children from the church as well.
Christmas Potluck Meal
We encourage our members to bring their favorite Christmas dish, snack, finger food and / or dessert for our dinner. It is always interesting to see what people bring.
Christmas Competitions
We will be giving away two prizes away: one for the most "Christmassy" dessert/snack as well as a prize for the most delicious dish. There will also be a special prize to the most "Christmassy" dressed person.
Christmas Recipe Ring
We are collecting Christmas recipes for whatever dish you bring; you can submit it early to Shannon at secretary@mainevillebc.org if possible or give to Ms. Stephanie before or at the party. The week after the Christmas Party, we will have them made up on a ring for everyone to enjoy.
Christmas Ornament Craft
Bring a 4x6 picture of you or your loved one you would like to make into an ornament. There will be a table set up and some simple instructions, examples, and someone will be there to help for the first 30 minutes or so.
There will be several other games and activities along with some other prizes. Looking forward to seeing you all there.
Vision Sunday
January 16th will be our Vision Sunday. We will have normal morning services where we will unveil our Theme for 2022. Then we will have a catered lunch which will go into a presentation time for what we are looking for God to do in 2022. There will be a special activity for the younger children during the presentation. Plan to attend and be a part of what we are trusting God to do in 2022.
Missions Month
Looking ahead, keeping mind that our Missions Month in March 2022 is coming up:.
March 6 - Missions 101
March 13 - Veteran Missionary B.J. Schultz will be reporting and preaching.
March 20th - New Missionary Shane Dice and his family will be here presenting their burden for England.
March 27th - Evangelist Robert Ross will be with us to close out the missions coreference.
News & Thoughts
Parking Lot Fund Raising Project Presentation from Sunday. Please pray that God will help us with this project!

Parking Lot Project Presentation
Watch "Parking Lot Project Presentation" on Faithlife TV, the premier video library for everyone—students, kids, families, and Bible enthusiasts.
tv.faithlife.com
What a blessing this morning to read in my devotions this verse:
Micah 5:2 "But thou, Bethlehem Ephratah, though thou be
little among the thousands of Judah, yet out of thee shall he come forth unto me
that is to be ruler in Israel; who goings forth have been from old, from
everlasting."
This small town about six miles southwest of Jerusalem is today a
very small city of 25,000 (Hamilton Township is bigger than that) and at the
time of Christ it is estimated to have had a population of only about 300. Yet that very small town of old is one of the most famous cities of all time, known by the world, musical scores written and sung with it as the subject, and prophesied in God's Word as the Messiah's birthplace, and indeed, the place that our Savior, Jesus Christ, was born.
Outside of Rachel, Jacob's wife being buried there; Ibzan, one of the Judges of Israel being from there, the story of Boaz and Ruth, and Herod's atrocities in slaying the infants there, it has no other mention in the Bible. But oh, the importance of it. Bethlehem means "house of bread" and Ephratah means "fruitful." Certainly, God knew what this town would mean to Israel and to the world. For it is the birthplace of king David and more importantly – it is the birthplace of the King of kings, and Lord of Lords, Jesus Christ. Outside of that, there is nothing else of noteworthy significance - but what else does it need to be dear to our hearts. That place of Christ's nativity! It is the place where "the Word became flesh" and yet He and his family had to flee as quickly as they arrived - but would forever be known as the Lord's birthplace.
Is there application for us outside of that? I believe in God's Word there is always application! God says in Romans 15:4 that through His Scriptures we would have hope. I think for us, the subject of Bethlehem, that God can't take an insignificant place, a poor family, even a time of hardship (the fleeing to Egypt and the slaying of the children of Bethlehem) and still make something wonderful out of it and to provide so much to the world shows us something. We mentioned this verse in a recent message - Ecclesiastes 7:8: "Better is the end of a thing than the beginning thereof:.." In our lives, we may have insignificant start; a less than stellar beginning; even plagued with failures – but it doesn't matter how you started, what matters is how you finish. Today, with God's help, He can make something wonderful with your life when it is submitted completely to His will. Put Him first, let God have the preeminence He is due.
I may not have anything memorable about me personally, but when God saves me, is with me, and uses me – my name shall be forever written down, because I have become part of His plan. What as wondrous thought and lesson even from this "Little town of Bethlehem!"
Our address is: 57 East Foster Maineville Road, Maineville, OH, 45039