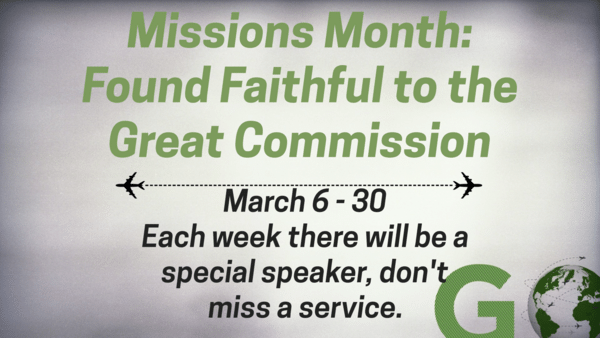 2022 Missions Month
Exciting Month Ahead
Hope You Can Make It!
Just a reminder that there is a booklet for each family in the foyer about our missions month, be sure to pick up one.
Each week all the children will receive a special treat that is authentic from the visiting missionaries country at lunch or as they go home on the church van.
Pray that God will help our church to live up to His calling for us to fulfill the Great Commission.
Why Missions Month Is So Important
There are many benefits to a church and to believers when they seek to fulfill the Great Commission through an organized Missions Conference or Month:
We are blessed because obedience to God brings blessings. When the church is faithful to promote missions and we are faithful to attend and participate, it brings blessings on our church, our families, our lives and even our land.
We are blessed because we have a time to be completely focused on the eternal things rather than temporal.
We are blessed because we get to take our eyes off of ourselves, our problems, even difficulties the church may go through and focus on something bigger and greater - reaching the world.
We are blessed because we can focus on giving and helping those that can never repay us. We thus, in part, are able to fulfilling Luke 14:13-14 that talks about helping those who cannot return the favor. More than that, we are doing what Christ did for us - for He came to love the unloveable, to save the sinful ones, and redeem the unredeemable. That is us, and the Lord did it for us, though we can never repay Him.
We are blessed because we learn to walk by faith and trust God to enable us to give above and beyond our ability. It develops our hope and devotion to Him.
We are blessed because we are reminded of what is really important in this life. The things that we are so concerned with and so worried about don't even matter when compared to a lost soul that goes to hell for eternity. That truth needs to stay before us and remind us as to how we should be living our lives, teaching our families, and seeking to reach the world.
We hope that you can attend all the services - it is going to be a great month.
Pastor Mark Sage
Romans 12:1-2
Schedule and Speakers
March 6 - Steven and Peggy Harris - Missionaries to Mexico
March 9 - How to Pray for Missionaries - Pastor Mark Sage
March 13 - B.J. Schultz - Missionary to Tanzania (MBC supported missionary)
March 16 - The Missionary's Perspective - Richard Abney
March 20 & 23 - Shane & Jericho Dice - Missionaries to England
March 27 & 30 - Evangelist Bob Ross - over 40 years of ministry - Executive Vice President of Pastor Sage's Bible college.
Consider Missions
"Every Christian is either a missionary or an impostor."
— Charles Spurgeon
"Any church not involved in the Great Commission has forfeited its Biblical right to exist." — Oswald J. Smith
"I cannot tell you what joy it gave me to bring the first soul to the Lord Jesus Christ. I have tasted almost all the pleasures that this world can give. I do not suppose there is one that I have not experienced, but I can tell you that those pleasures were as nothing compared to the joy that the saving of that one soul gave me."
— C.T. Studd
IS IT A WASTE?
"People who do not know the Lord ask why in the world we waste our lives as missionaries. They forget that they too are expending their lives, and when the bubble has burst, they will have nothing of eternal significance to show for the years they have wasted."
— Nate Saint, martyred missionary
NO SACRIFICE AT ALL
"People talk of the sacrifice I have made in spending so much of my life in Africa. Can that be called a sacrifice which is simply paid back as a small part of the great debt owing to our God, which we can never repay? Is that a sacrifice which brings its own reward of healthful activity, the consciousness of doing good, peace of mind, and a bright hope of a glorious destiny hereafter?
"Away with such a word, such a view, and such a thought! It is emphatically no sacrifice. Say rather it is a privilege. Anxiety, sickness, suffering or danger now and then, with a foregoing of the common conveniences and charities of this life, may make us pause and cause the spirit to waver and sink; but let this only be for a moment. All these are nothing when compared with the glory which shall hereafter be revealed in and for us. I never made a sacrifice. Of this we ought not to talk when we remember the great sacrifice which He made who left His Father's throne on high to give Himself for us."
—David Livingstone
MORAVIAN SOLD FOR CHRIST
A Moravian missionary to the West Indies found that he could get no access to the natives, whom he desired to reach for Christ, because they were kept at work all day, and at night they were too weary and exhausted to listen to his preaching.
After every other plan had failed, he thought of Romans 12:1 and decided to make a drastic move. He sold himself as a slave to one of the plantation owners and was driven with the colored men into the fields to work. Here, at odd moments, he had opportunity to talk to the natives, and though he "lost his life" for the Gospel's sake, he found it again in the hearts of the many who were led to Christ!
—H.G. Bosch
"Worshipping in Spirit and in Truth!"
Our address is: 57 East Foster Maineville Road, Maineville, OH, 45039