REVIVAL REMINDER & NEWSLETTER
Revival - September 18-21
Our Speaker: Evangelist Byron Foxx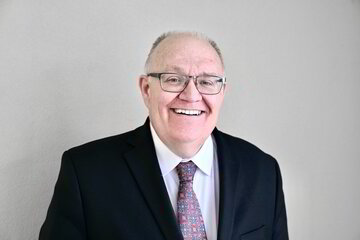 Byron Foxx was saved in, 1974 and has been in full time service since 1985. He founded Byron Foxx Evangelistic Ministries and Bible Truth Music which serves over 7,000 churches. BTM publishes godly music for listening, for choirs, gospel songbooks, Christmas and Easter cantatas, piano books and recordings. Get more information at bibletruthmusic.com.
REVIVAL SCHEDULE
Sunday
10 am Combined Adult Sunday school
11 am Main Church Service
12 pm Free Lunch - Smoked pork luncheon
1 pm Afternoon Service
Monday, Tuesday, Wednesday
Nursery provided for all services.
Saturday Outreach at 10:30 am with Byron Foxx.
BE A PART OF THE REVIVAL
With our Revival starting this weekend, determine to allow God to use you to bring someone to Christ. We have been given so much by God and have so much knowledge to share that I don't think we realize it sometimes. Most Christians, if they simply trusted and obeyed God, could be used to great effect. If we'd step out by faith perhaps we could even help start a revival. But unfortunately, we don't often allow God to use us or allow things to go unnoticed in our lives and around us.
In September 1985 there was a celebration at a New Orleans municipal pool. The party around the pool was held to celebrate the first summer in memory without a drowning at any New Orleans city pool. In honor of the occasion, 200 people gathered, of which 100 were certified lifeguards.
As the party wrapped up and the four lifeguards on duty began to clear the pool, they found a fully dressed body in the deep end. They tried to revive Jerome Moody, 31`, but it was too late. He had drowned surrounded by lifeguards celebrating their successful season.
I wonder how many people we are around that are drowning in sin; that are lost; that are without hope. You and I need to humble ourselves and pray to God while we seek, speak, and invite the world to meet our Lord and Savior who has changed our lives. May we allow God to use us to reach out and touch the lives of souls around us. Let God use you for this Revival: by praying, by being there, by inviting and bringing people to the Revival!
Upper Room - Teen Activities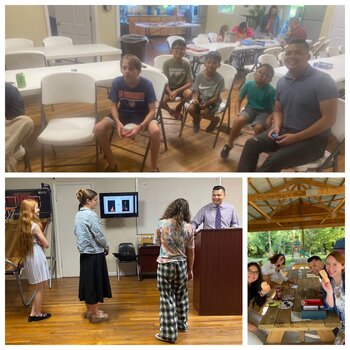 The restart to our youth group has now officially entered its third month! During this time "The Upper Room" has met 8 times together already. We also have held 2 youth activities as well.
The inspiration behind the name of our youth group, "The Upper Room" can be found in Acts 1:13. The upper room was a meeting place for prayer, worship, fellowship, and service. Eventually these early disciples would "turn the world upside down", according to Acts 17:6.
My desire is that our youth group will replicate these acts of the early Christians. Church, please continue to pray for the growth/ faithfulness of our youth group. We meet every Wednesday at 7pm on the 2nd floor.
Charles Spurgeon on Revival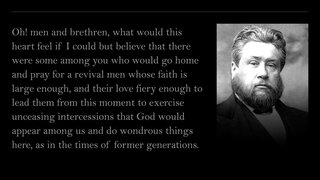 "Worshipping in Spirit and in Truth!"
Our address is: 57 East Foster Maineville Road, Maineville, OH, 45039