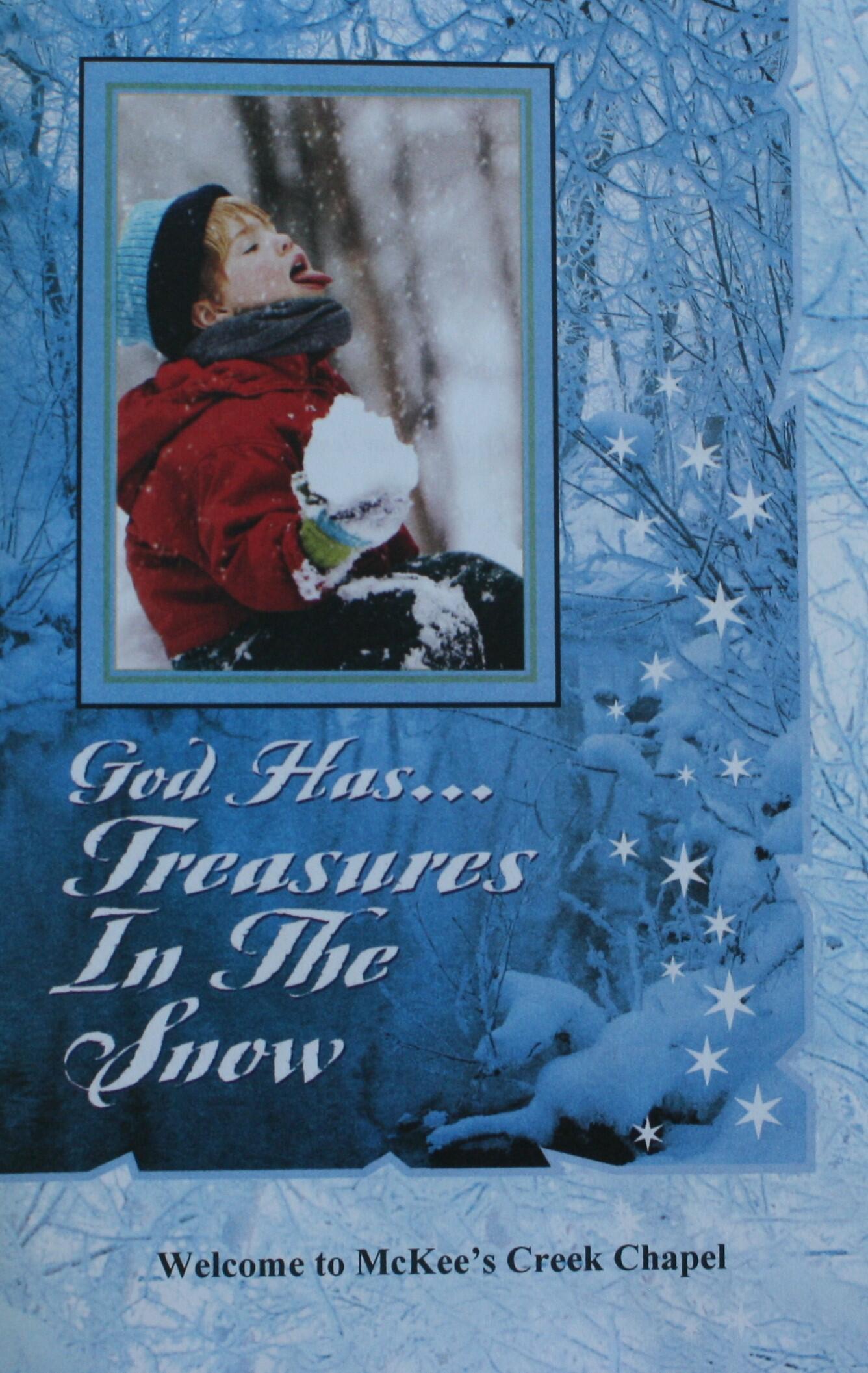 McKee's Creek Chapel
January 30, 2022
McKee's Creek Chapel
On Oak Hill at 4750 U.S. 68 South
West Liberty, Ohio 43357
January 30, 2022
Welcome ~~ Announcements
Song ~~ Follow! Follow! I Will Follow Jesus on screen
Sharing of Testimonies & Prayer Requests
Quiet preparation for prayer The Great Physician
Have mercy upon me, O LORD, for I am weak:
O LORD, heal me, for my bones are vexed. Psalm 6:2
Corporate Prayer
Song ~~ Praise Him! Praise Him! # 106 blue hymnal
Doxology ~~ Tithes & Gifts # 625 blue hymnal
Song ~~ In Christ Alone on screen
Message ~~ Jesus the Healer, Luke 5:12-26 Pastor Chris
Song ~~ He Touched Me # 504 blue hymnal
ANNOUNCEMENTS
Join us each week in gathering with like-minded believers for Sunday School 9:30, Worship Service 10:30.
This evening at 5:00, Wes continues our study with Thrive in Ecclesiastes. Stay for food and fellowship.
SAVE THE DATE ~ March 20-23 for Dr. Thomas Ice!
From The Good Physician ~~ by John Newton
How lost was my condition
Till Jesus made me whole!
There is but one Physician
Can cure a sin-sick soul.
Next door to death he found me,
And snatched me from the grave,
To tell to all around me,
His wondrous pow'r to save.
At length this great Physician,
How matchless is his grace!
Accepted my petition,
And undertook my case:
First gave me sight to view him,
For sin my eyes had sealed;
Then bid me look unto him,
I looked, and I was healed.
A dying, risen Jesus,
Seen by the eye of faith;
At once from danger frees us,
And saves the soul from death:
Come then to this Physician,
His help he'll freely give;
He makes no hard condition,
'Tis only -- look and live.
Devote yourselves to prayer, being watchful and thankful. Colossians 4:2 NIV
Unbelievers: Loved ones & friends
Those with health concerns: Donna, Paul & family, Brandy, Donna, Nevin, David, John H., Cheri, Macy & Donna, Jeff S., Virginia H
Shut-ins: Connie Stratton, Jim Pond
The Bereaved: The Carter family
Our Nation
Our Church Family & Leaders
Our Community
Missionaries & Church Around the World
Kingdom Investment Int./Weaving Grace Ministry (Burkina Faso)
Pastor Rick & Patty Reynolds (Romania)
Outreach to Bush Children (Zambia), Jim & Rachel Chambers
The Persecuted Church
Other: _______________________________________________
Mailing Address: 2295 Twp. Rd. 30 W., West Liberty, OH 43357
Church Phone: 937-887-8080
Pastor Chris's Home: 937-593-6131 // Mobile: 937-935-4610
Anne's Mobile & Text: 937-935-6717
Email contact: albstarbuck@gmail.com
Our website: mckeescreekchapel.com
Let us get to know you!
Please take a moment to send us your information so that we may stay connected with you. Your information is carefully managed and protected.
How did you hear about us?