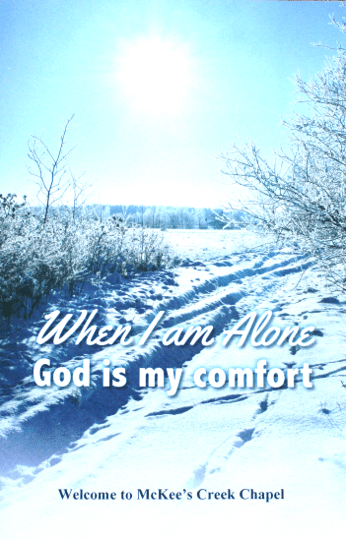 McKee's Creek Chapel
February 6, 2022
McKee's Creek Chapel
On Oak Hill at 4750 U.S. 68 South
West Liberty, Ohio 43357
February 6, 2022
Welcome ~~ Announcements
Song ~~ Victory in Jesus # 473 blue hymnal
Sharing of Testimonies & Prayer Requests
Join together in prayer
Song ~~ Tell Me the Old, Old Story # 424 blue hymnal
Doxology ~~ Tithes & Gifts # 625 blue hymnal
Song ~~ New Life in Christ on screen
Message ~~ The Old and the New, Luke 5:27-39 Pastor Chris
Song ~~ I Need Thee Every Hour # 428 blue hymnal
verses 1, 2, 3
Communion
Song ~~ I Need Thee Every Hour # 428 blue hymnal
verse 4
ANNOUNCEMENTS
Join us each week in gathering with like-minded believers for Sunday School 9:30, Worship Service 10:30.
This evening at 5:00, Wes continues our study with Thrive in Ecclesiastes, chapters 5 & 6. Stay for a time of a shared carry-in food and fellowship.
Ladies, join in for our regular Ladies' Missions Meeting on Saturday, February 12 at 10:00 AM.
SAVE THE DATES of March 20-23 for our Bible Prophecy Conference with Dr. Thomas Ice!
Therefore, if anyone is in Christ,
he is a new creation;
old things have passed away;
behold, all things have become new.
11 Corinthians 5:17
This is the confidence we have in approaching God: that if we ask anything according to his will, he hears us. I John 5:14 NIV
Unbelievers: Loved ones & friends
Those with health concerns: Donna, Paul & family, Brandy, Donna, Nevin, David, John H., Cheri, Macy & Donna, Virginia H., Pam T
Shut-ins: Connie Stratton, Jim Pond
The Bereaved: The Carter family
Our Nation
Our Church Family & Leaders
Our Community
Missionaries & Church Around the World
Kingdom Investment Int./Weaving Grace Ministry (Burkina Faso)
Pastor Rick & Patty Reynolds (Romania)
Outreach to Bush Children (Zambia), Jim & Rachel Chambers
The Persecuted Church
Other: _______________________________________________
Mailing Address: 2295 Twp. Rd. 30 W., West Liberty, OH 43357
Church Phone: 937-887-8080
Pastor Chris's Home: 937-593-6131 // Mobile: 937-935-4610
Anne's Mobile & Text: 937-935-6717
Email contact: albstarbuck@gmail.com
Our website: mckeescreekchapel.com
Let us get to know you!
Please take a moment to send us your information so that we may stay connected with you. Your information is carefully managed and protected.
How did you hear about us?