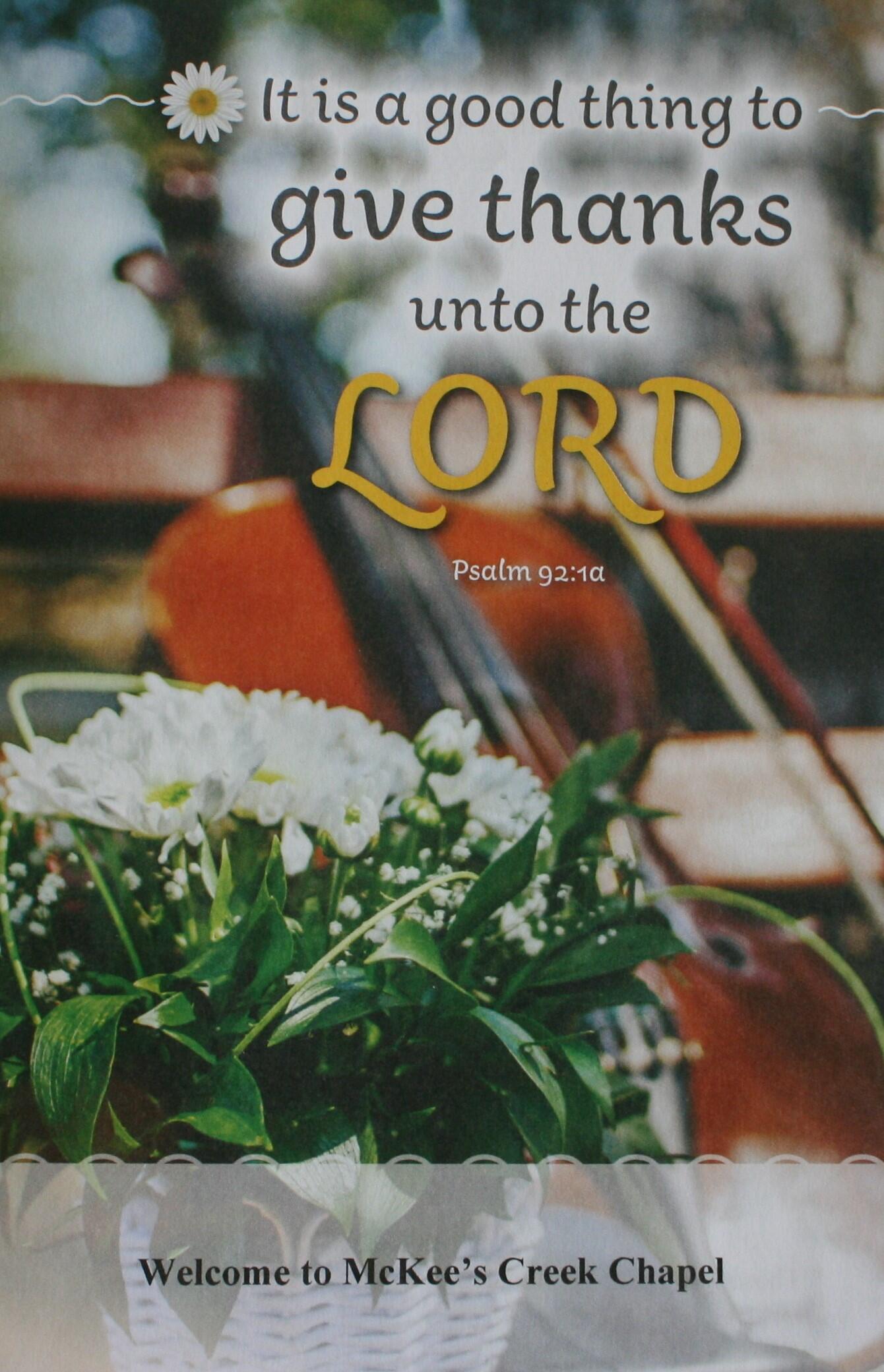 McKee's Creek Chapel
April 3, 2022
McKee's Creek Chapel
On Oak Hill at 4750 U.S. 68 South
West Liberty, Ohio 43357
April 3, 2022
Welcome ~~ Announcements
*Song ~~ To God Be the Glory # 66 blue hymnal
Sharing of Testimonies & Prayer Requests
Corporate Prayer
Song ~~ Praise Him! Praise Him! # 106 blue hymnal
*Doxology ~~ Tithes & Gifts # 625 blue hymnal
*Song ~~ Worthy is the Lamb # 180 blue hymnal
Message ~~ The Plan of God Chris Starbuck
Going to Jerusalem
Song ~~ Near the Cross # 385 blue hymnal
verses 1 & 2
Communion
Song ~~ Near the Cross # 385 blue hymnal
verses 3 & 4
* Those who are able, please stand.
ANNOUNCEMENTS
Join us each week for Sunday School at 9:30 AM and Worship Service at 10:30. This week and the next two weeks the messages will focus on Passion of Christ and His Resurrection.
This evening at 5:00, join us here at church as we finish our study with Thrive in Ecclesiastes. "Here is the conclusion of the matter, Fear God and keep His commandments, for this is the whole duty of man." Tonight – Rocky Road.
Saturday, April 9th, 10:00 AM Ladies Missions Group, here at the church. All ladies are encouraged to join in this time of fellowship and take a look in the Word.
April Birthdays & Anniversaries
6 Emily
8 Jim & Sue
9 Christopher Starbuck
Hymn Quiz
Can you fill in the blanks?
Blind hymnist F__________ C____________ penned the lyrics to today's song, To God Be the Glory. Although first published in 1875, it didn't become popular in the US until 1954 when Cliff Barrows, song leader for B__________
G___________, included it at a crusade in Nashville, TN.
Look for the references to sight in FC's songs: when Jesus we s____, near the cross…bring its s__________ before me, I'll w_______ and wait.
Worthy is the Lamb comes straight from Scripture,
R____________________ chapter ____, verse 12.
But when you pray, go into your room, close the door and pray to your Father, who is unseen. Then your Father, who sees what is done in secret, will reward you. Mt. 6:6
Unbelievers: Loved ones & friends
Those with health concerns: Donna, Paul & family, Brandy, Donna, Nevin, David, John, Cheri, Macy & Donna, Virginia, Pam, Janice, Jim, Boo
Shut-ins: Connie Stratton, Jim Pond
The Bereaved
Our Nation
Our Church Family & Leaders
Our Community
Missionaries & Church Around the World
Kingdom Investment Int./Weaving Grace Ministry (Burkina Faso)
Pastor Rick & Patty Reynolds (Romania)
Outreach to Bush Children (Zambia), Jim & Rachel Chambers
The Persecuted Church
Other: ____ Ukraine ____________________________________
Mailing Address: 2295 Twp. Rd. 30 W., West Liberty, OH 43357
Church Phone: 937-887-8080
Pastor Chris's Home: 937-593-6131 // Mobile: 937-935-4610
Anne's Mobile & Text: 937-935-6717
Email contact: albstarbuck@gmail.com
Our website: mckeescreekchapel.com
Let us get to know you!
Please take a moment to send us your information so that we may stay connected with you. Your information is carefully managed and protected.
How did you hear about us?