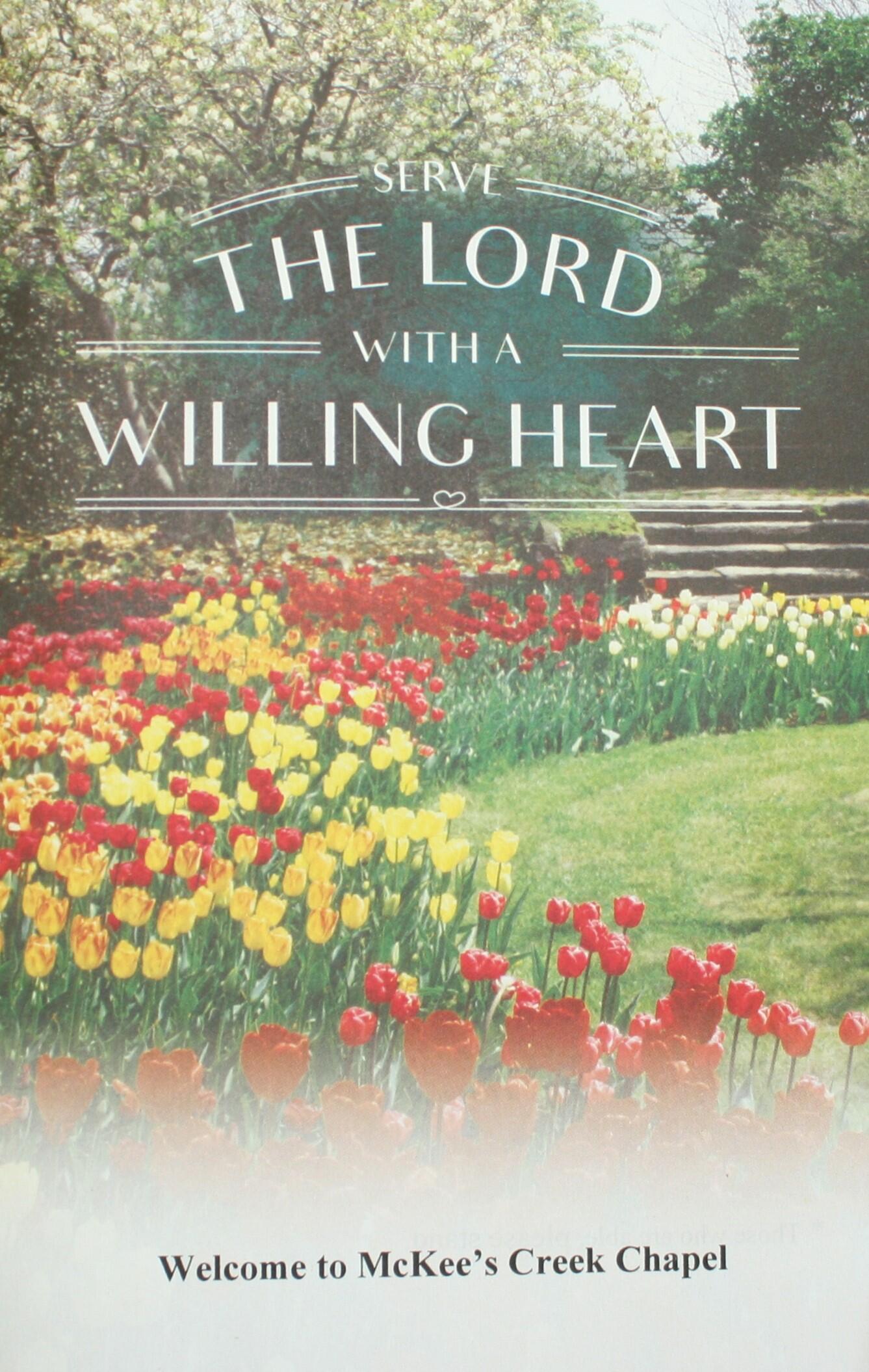 McKee's Creek Chapel
April 10, 2022
McKee's Creek Chapel
On Oak Hill at 4750 U.S. 68 South
West Liberty, Ohio 43357
April 10, 2022
Welcome ~~ Announcements
*Song ~~ Lead Me to Calvary #176 blue hymnal
Sharing of Testimonies & Prayer Requests
*Doxology ~~ Tithes & Gifts # 625 blue hymnal
Prayer
Song ~~ At the Cross # 188 blue hymnal
Song ~~ The Old Rugged Cross # 186 blue hymnal
Message ~~ Palm Sunday Chris Starbuck
The Crucifixion and Prophecy
Daniel 9
*Song ~~ When I Survey the Wondrous Cross # 185 blue hymnal
* Those who are able, please stand.
ANNOUNCEMENTS
Join us each week for Sunday School at 9:30 AM and Worship Service at 10:30. This week and next week the messages will focus on Passion of Christ and His Resurrection.
This evening at 5:00 we are going back in time to Sabbath School on April 9, 33 AD, the day before Palm Sunday in Jerusalem, learning about the prophecies of the coming King. All the children are invited to join in.
For Good Thursday, we will meet with Thrive at 6:00 PM and continue looking back in time, around the Passover table with the disciples and learn of the New Covenant and what has changed from the old.
Quarterly Business Meeting is scheduled immediately following Sunday morning service on April 24th.
PROPHECY and its fulfillment is UNIQUE to the BIBLE
II Peter 1:19-21 And so we have the prophetic word confirmed, which you do well to heed as a light that shines in a dark place, until the day dawns and the morning star rises in your hearts; Knowing this first, that no prophecy of Scripture is of any private interpretation, for prophecy never came by the will of man, but holy men of God spoke as they were moved by the Holy Spirit.
Revelation 19:10 . . . Worship God! For the testimony of Jesus is the spirit of prophecy.
Let us get to know you!
Please take a moment to send us your information so that we may stay connected with you. Your information is carefully managed and protected.
How did you hear about us?