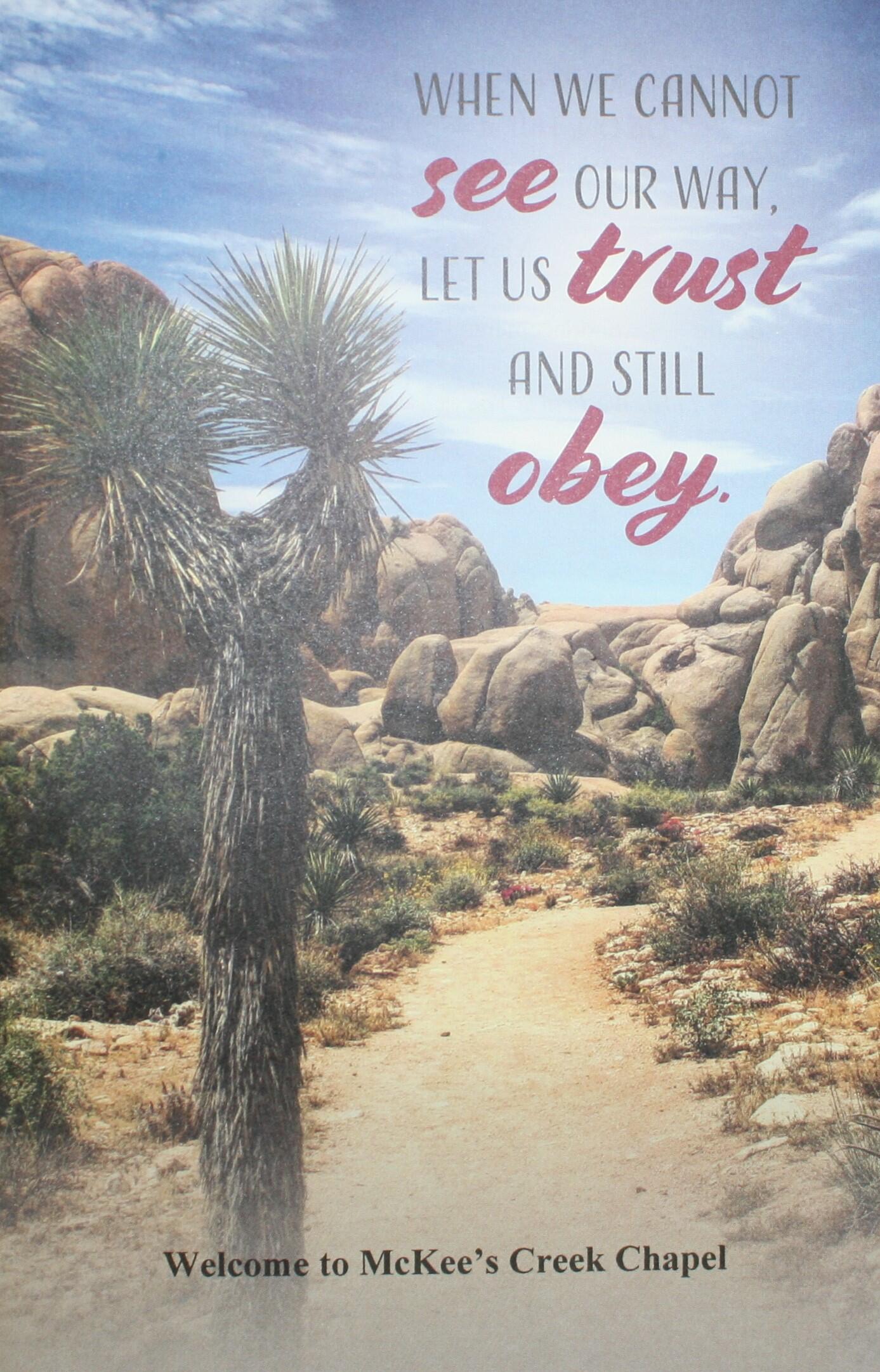 McKee's Creek Chapel
May 22, 2022
McKee's Creek Chapel
On Oak Hill at 4750 U.S. 68 South
West Liberty, Ohio 43357
May 22, 2022
Welcome ~~ Announcements
Song ~~ Lord, We Praise You # 21 blue hymnal
*Doxology ~~ Tithes & Gifts # 625 blue hymnal
Prayer
Song ~~ Walking in Sunlight # 336 blue hymnal
Sharing of Testimonies & Prayer Requests
Quiet Prayer ~~ Fade, Fade Each Earthly Joy, Jesus is Mine! # 136 red hymnal
Song ~~ Break Thou the Bread of Life # 232 blue hymnal
Message ~~ Feeding of the Five Thousand Chris Starbuck
Luke 9:1-17
*Song ~~ He Giveth More Grace # 415 blue hymnal
* Those who are able, please stand.
ANNOUNCEMENTS
Join us each week for Sunday School at 9:30 AM and Worship Service at 10:30.
This evening at 5:00, Thrive will meet at the home of Tom & Ariel Harris. Wes will be taking a look at Philippians 3:1-11. Verse 10: "that I may know Christ and the power of His resurrection." Continuing as in the past few weeks, we are encouraged to share our personal salvation testimonies.
On June 4th, at 6:00 PM, South Union Mennonite Church invites us to a free presentation by Dr. John Byron, entitled "Fakes, Frauds, and Forgeries", about archaeological 'discoveries' that prove or disprove the Bible. See the bulletin board for details.
Opportunities to Lift Up One Another
May Birthdays
27 Roberta
29 Anne
Let us get to know you!
Please take a moment to send us your information so that we may stay connected with you. Your information is carefully managed and protected.
How did you hear about us?