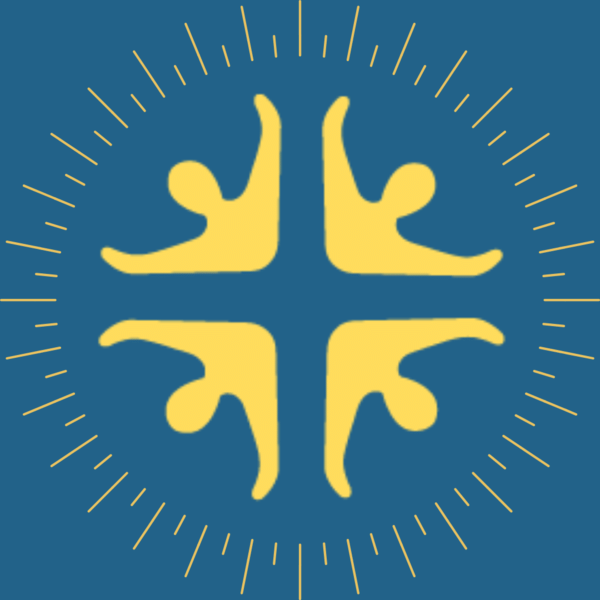 MCF Newsletter
Check out what is happening this week!
Elder's Corner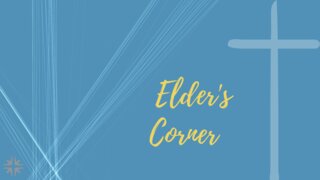 Hey Meadows,
This past Tuesday, the new Elder Board met for the first time and established the new Officers.
Officers:
Chairmen - Jeff Hagen
Vice Chairman - Mark Hoffman
Secretary - Drew Barnes
As Elder's we get the privilege of hearing and seeing stories first hand of God at work. This week, we want to highlight the way God is working among our youth. Here is a sample of what our youth are learning on Wednesday nights:
What would it look like to see Passover and Pentecost from the eyes of Jairus' daughter? Let's suppose the 12 year-old girl was raised from the dead two years before Jesus' death and resurrection. Let's give her a name: Hadasa. Hadasa is now 14 years old and experiencing the events of the crucifixion: The sky went dark from noon to 3pm. At 3pm Jesus cried out, "It is finished!" and the huge heavy temple curtain was torn in two. An earthquake occurred. Deceased followers of Yahweh came out of their tombs and mixed with the living.
Then 46 days after Jesus' resurrection, Hadasa is in Jerusalem with her family for Pentecost. They see an incredible happening: Peter is speaking and 3,000 people become followers of Christ! This is AMAZING! And it doesn't stop. These 3,000 are meeting openly in the temple courts. They are living a life of caring for each other. Many others are becoming followers of Christ. Some days or weeks later another 5,000+ become followers/disciples of Christ.
There are easily more than 10,000 disciples of Christ within weeks after Pentecost. So what does this tell us? Answer: We can have CONFIDENCE in the truth of the resurrection. We are to WORSHIP with our lives. He gave all of His life to you and I. We are to give all of our life to Him. Our JUST God provided a path to Himself for you and I who are not just except through Jesus Christ.
The 14 year-old Hadasa would have been approximately age 44 when Matthew and Mark wrote their accounts of who Jesus is. She knew the truth of what was written because she was there. And tens of thousands of other people knew the truth of what was written because they were also there. Have confidence, rejoice, and invite others into the reality of what God provides.
Wow! We are so thankful for all of those serving on Wednesday night and the faithful teaching of God's word to our youth!
If you have any questions or comments, you can always reach out to us at elders@meadowsfamily.org
Soli Deo Gloria
The Elders
1 Peter 1:3: "Praise be to the God and Father of our Lord Jesus Christ! In his great mercy he has given us new birth into a living hope through the resurrection of Jesus Christ from the dead."
Caring Friends Carnival Care Fest, May 7th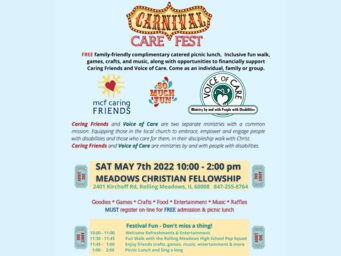 Just a reminder, if you registered for the Carnival Care Fest it's Saturday, May 7th!
Each registered guest will receive one free lunch ticket and raffle ticket for a chance to win one of our themed gift baskets. Additional tickets will be available to purchase that day.
If you have any questions, please email sharon@meadowsfamily.org.
Registration for VBS is Open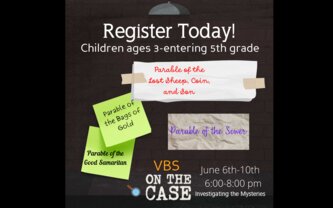 Meadows Family, registration is open for VBS. We are planning a variety of activities to engage the children's creativity and curiosity while investigating the mysterious meanings behind a few of the famous stories Jesus told . Please register children between ages 3 -entering 5th grade at On The Case VBS Registration. We have extended the registration deadline to May 20th.
Reminder to volunteers, pleaase register at On The Case Registration . We are asking God to allow our church to reach many children through our VBS program. Please consider volunteering your time and talents.
If you have any questions, please contact office@meadowsfamily.org.
Eric and Kathy Gundy at MCF 5/8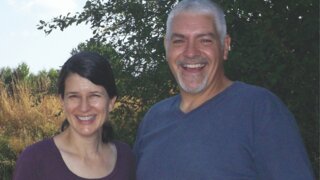 We are happy to announce that missionaries, Eric and Kathy Gundy, will be visiting MCF this Sunday.
They will be here to share an update on their mission during the service. We hope you have an opportunity to welcome them before or after service to provide words of encouragement or prayer for their ministry.
Cruise Nights Garage Set-up, 5/14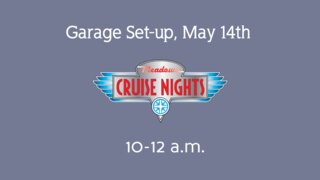 We are looking for volunteers to help with garage set-up on May 14th from 10-12.
If you have any questions, please email cruisenights@meadowsfamily.org
Bridal Shower for Hannah Goding, 5/14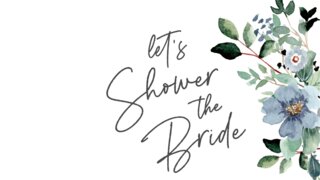 Please join us in honoring Hannah Joy Goding on Saturday, May 14th at 2:00 p.m. Hannah's bridal shower will be in the Atrium at MCF.
She is registered at: Target, Crate and Barrel, Bed Bath & Beyond
Women's Ministry Event, 5/20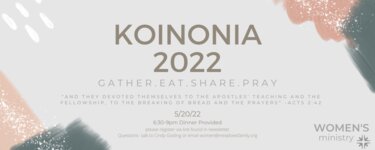 All women are invited to MCF for Koinonia on Friday, May 20th.
Koinonia means to gather together as a fellowship of believers. This will be a special time of worship as we celebrate the end of the 2021-2022 ministry year. We will- Gather, Eat, Share, and Pray. Come and enjoy an evening together hearing how women have experienced God move this year.
Dinner will be provided. In order to ensure we order enough food, please register here, Koinonia Registration, by May 16th.
If you have any questions, please talk to Cindy Goding or email women@meadowsfamily.org.
Honoring our 2022 Graduates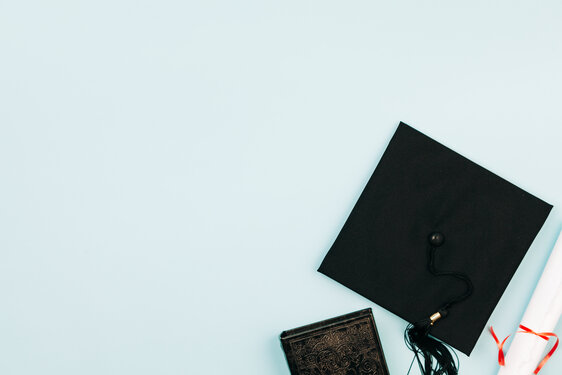 We will be honoring our 2022 graduates on 6/5th at church. An email with a link was sent out this week asking if you have a graduate in your immediate family that you would like us to recognize.
Please use this link to send us information for your graduate, Honor your graduate.
April Income Statement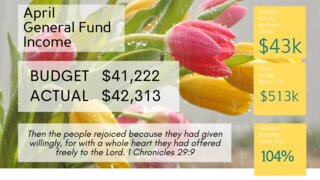 Prepare for Worship this Sunday...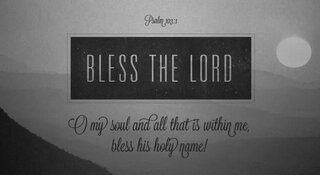 Encouragement for your week...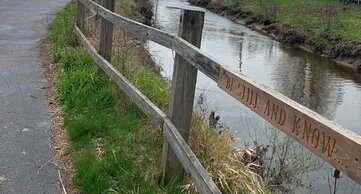 Read the women's ministry blog here.
Helping people know, love and become like Jesus Christ.
Our address is: 2401 Kirchoff Rd, Rolling Meadows, IL 60008-1810