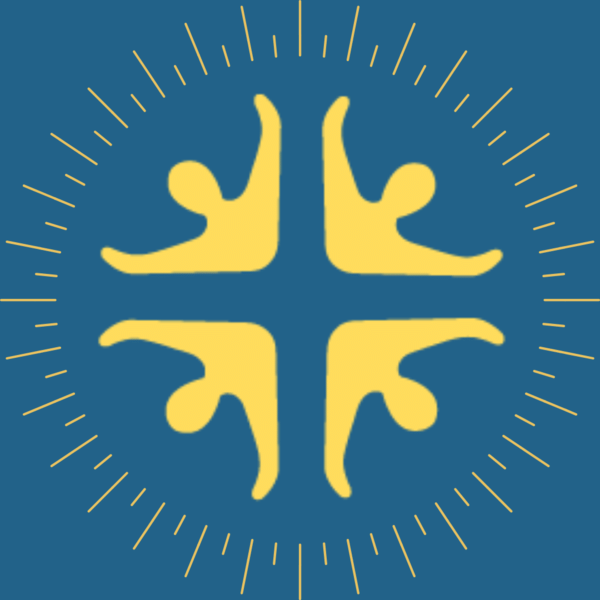 MCF Newsletter
Check out what is happening this week!
Get to Know the Pastoral Search Team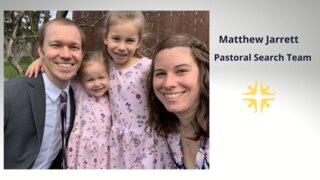 Please take time to get to know Matthew:
When did you start attending Meadows and who was the Pastor then? In 2015, Andrew Bee.
How are you seeing God at work during this season in our church? God has shown endless examples of how he can use anyone to do anything, even calling people to step in where they may feel unqualified. In a season without a full-time pastor, work for His kingdom continues. The good news of Jesus continues to spread, relationships are being built, and God is glorified.
What have you found to be encouraging so far as a member of the PST? It is encouraging to know that God already has a plan and our success does not depend on our strength, but God's. All we have to do is seek Him and obey. Also, the group gets along very well and there is great mutual respect despite a wide range of backgrounds and perspectives.
Random fun fact about yourself: I can wiggle my ears.
Please visit the pastoral search information kiosk after service today. This will be the go-to place for pastoral search information and to find out how you can be praying throughout the search process. Members of the Pastoral Search Team will be in the atrium each week to answer your questions. Be sure to stop by to pick up a bookmark and a prayer calendar for the month of September.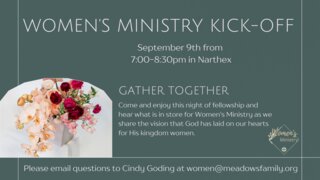 Just a reminder that Women's Ministry will be kicking off tomorrow evening from 7:00-8:30 pm in the Narthex.
Come and enjoy this night of fellowship and hear what God has laid upon the ministry leaders' hearts for His kingdom women this year.
Please email questions to Cindy Goding at women@meadowsfamily.org.
AWANA Begins Friday, September 9th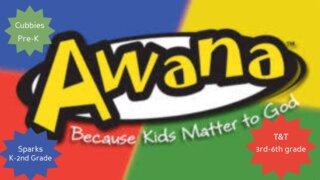 AWANA begins tomorrow, September 9th, from 7:30-9:00 pm.
Please use AWANA Registration to register your child, age 3 through 6th grade, anytime throughout the ministry year. If you have questions regarding registration, email Vivian Wu at vivianwpwu@gmail.com.
If you have any questions regarding serving in AWANA, please email office@meadowsfamily.org or sign-up to serve here, Serve in AWANA.
Game Night at MCF, Saturday September 10th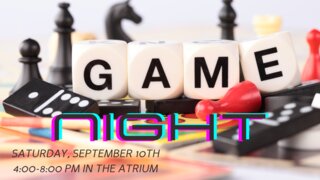 Do you enjoy playing games? Come to MCF on September 10th from 4:00-8:00 pm for a night of fun and community. Game night is open to everyone age 6 and up. Our hosts, Phil and Anna Swartzell, will be bringing games but feel free to bring your favorite.
Game night will be held the second Saturday of each month. Light snacks will be served.
Email questions to office@meadowsfamily.org.
KLB Hour Starts Sunday, September 11th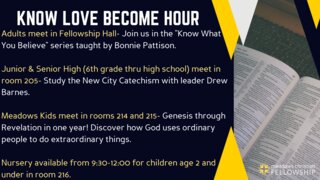 Meadows family, we invite you to attend Know Love Become Hour which starts this Sunday after service from 11:00-12:00. KLB Hour will be held each Sunday (except Family Fellowship Sundays, last Sunday of the month).
Nursery will be available from 9:30-12:00 for children age 2 and under in room 216. Parents, please check your child in before service using the kiosk in the atrium.
Meadows Middles and Bigs age 3 and up will get to stay in the service so that we can all worship together. Kids, be sure to come up for our special kids' time and grab an activity bag. Parents, there's a kid-friendly area in the Narthex.
After service, parents will check Middles and Bigs in for KLB hour using the computer kiosk in the Atrium. After checking in, you will meet in rooms 214 & 215. Your teachers will lead you through the series titled "Bible in one year- stories from Genesis through Revelation".
Meadows students, 6th grade through High School will meet in room 205. Drew Barnes will lead you through the New City Catechism. This study will use a question/answer format to teach you about God and theology grounded in scripture.
Adults will meet in Fellowship Hall. Bonnie Pattison will be teaching the series titled "Know What You Believe". Bonnie was a former assistant professor of theology at Wheaton College. Through this series, we will examine a variety of topics through a theological lens founded in God's word, starting with the Doctrine of Sin & Satan.
If you would like to serve in the nursery or with Meadows Kids during the KLB hour, please contact Marcia Jarrett at kids@meadowsfamily.org. Worried about missing KLB Hour? No worries, it will be recorded for you to listen to on your own time! There will be structured teaching lessons provided that allows for all to be a part of this regardless of teaching experience.
Men's Ministry Retreat, Sept. 15/16-18th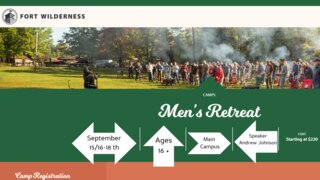 Men, have you been looking for an opportunity to get away for an extended time of reconnecting with your faith as you connect with other men?
Join us for The Men's Retreat at Fort Wilderness September 16-18. You can even get in extra time by arriving on Thursday, September 15th for the HeadStart. The Men's Retreat is a great place to invite a friend or family member.
You may get more information and register at Men's Retreat.
If you have any questions about the retreat, please contact Mark Barnes at men@meadowsfamily.org or see him after service.
Mid-week Prayer meetings begin Wednesday, September 21st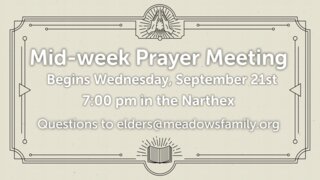 Wednesday night prayer is coming back! Here at Meadows we believe in the power of prayer. We desire to pray for our nation, our community, our church and one other while using scripture as our guide. Come join us Wednesday night 9/21 at 7:00 pm in the Narthex.
Women's Ministry Event, Friday September 23rd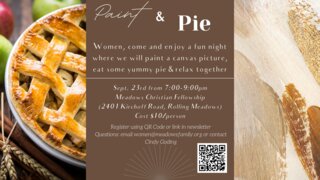 Women, join us for Paint & Pie on Friday, September 23rd from 7:00 - 9:00 pm.
Please register at Paint and Pie or use the QR code found on the handout located on the Ministry Wall in the atrium. Registration is due by September 18th and the fee is $10/person.
Please contact Cindy Goding at women@meadowsfamily.org if you have any questions.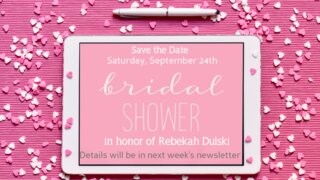 Prepare for Worship this Sunday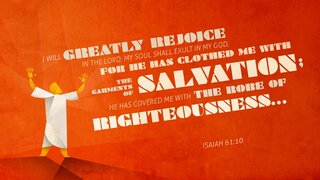 Encouragement for your week...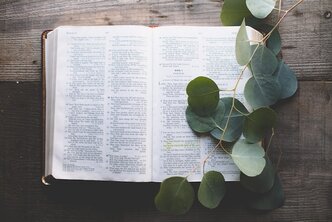 Read the women's ministry blog here.
Helping people know, love and become like Jesus Christ.
Our address is: 2401 Kirchoff Rd, Rolling Meadows, IL 60008-1810