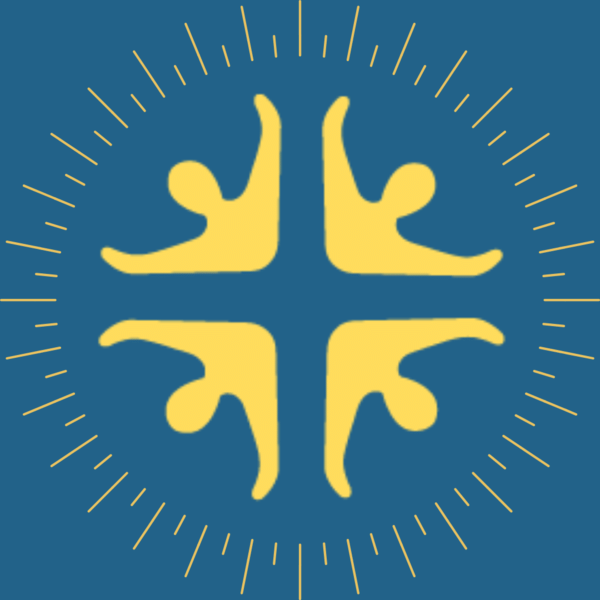 MCF Newsletter
Check out what is happening this week!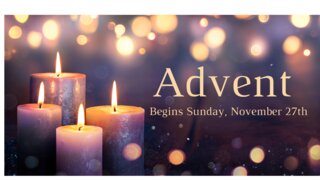 Fellowship Sunday, November 27th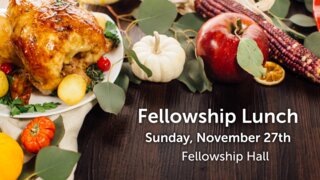 Please join us in Fellowship Hall after service this Sunday for Fellowship Lunch. Dewight is planning an after Thanksgiving feast for us to enjoy.
We welcome desserts for sharing and kindly ask that they be nut-free.
No KLB Hour Sunday, November 27th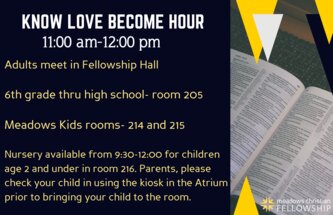 Did you miss any of Bonnie's "What Do I Believe" classes and need to get caught up? Go to the KLB playlist on YouTube, KLB Hour.
We hope to see you at KLB when it resumes on Sunday, December 4th.
Pray for the Pastoral Search Team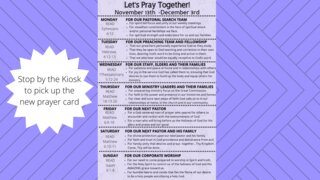 Are you looking for updates on the pastoral search process? Please visit the pastoral search kiosk in the atrium to get up-to-date pastoral search information and to find out how you can be praying throughout the search process. Members of the Pastoral Search Team will be there each week to answer your questions. Stop by after service to pick up the new prayer card that runs through December 3rd and to check out the Monthly Milestone map to see how the process is progressing.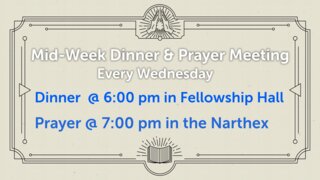 Join us at church on Wednesday evenings for dinner, followed by prayer. We will gather in Fellowship Hall at 6:00 pm as we enjoy food and fellowship. Prayer will begin at 7:00 pm in the Narthex. If you have any questions, please email Drew Barnes at drew@meadowsfamily.org.
Shopping, Sweets & Stories Friday, December 2nd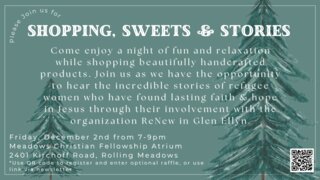 Just in time for Christmas! Women's Ministry is inviting you to join us December 2nd from 7-9pm in the atrium for Shopping, Sweets, and Stories. Invite your friends and family to this fun event! Feel free to grab an invitation card from the Welcome Wall in the atrium where they can use the QR code to register. You may also register via the link, Shopping, Sweets, Stories . This will be a wonderful night enjoying fellowship, eating yummy treats, and hearing the amazing stories of refugee women who have found lasting hope and faith in Jesus through their involvement with the Christian organization ReNew in Glen Ellyn. Women's Ministry is looking for home baked (or store bought) goods to serve that evening, if you are interested in providing some please let Cindy Goding know or email women@meadowsfamily.org.
Questions? Email Cindy Goding at women@meadowsfamily.org
Prepare for Worship this Sunday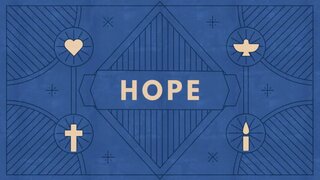 Encouragement for your week...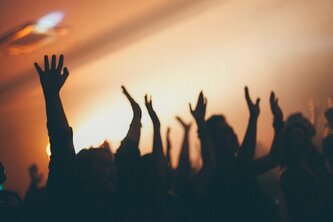 Read the women's ministry blog here.
Helping people know, love and become like Jesus Christ.
Our address is: 2401 Kirchoff Rd, Rolling Meadows, IL 60008-1810