---
Michael Heiser: Taking Scripture on Its Own Terms
A groundbreaking author, speaker, and scholar pushing Christians to dig deep into Scripture and see things afresh.
Now Available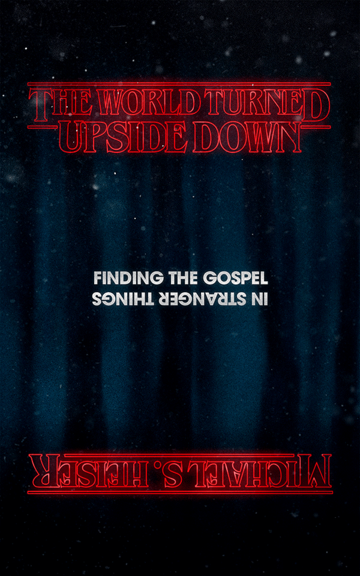 The latest from Michael Heiser
---
The Gospel in a Worldwide TV Hit? Stranger Things Have Happened
Millions of people love the hit show Stranger Things. So does critically acclaimed author Michael Heiser. But where many only see mystery, horror, and 1980s' nostalgia in a scripted series, Dr. Heiser sees Scripture. Join the respected biblical scholar and supernatural expert as he shares this unique vision in his latest book, The World Turned Upside Down—available for a limited time in this book and online course bundle.
Order now
Books on the Bible
---
Insights That Inspire, Inform, and Surprise
Many people think they know exactly what's in the Bible—but when they actually look closer, they realize how wrong they were. In engaging and readable books like The Bible Unfiltered and I Dare You Not to Bore Me with the Bible, Mike explores the most unusual, interesting, and least understood parts of the Bible with the goal of helping you take Scripture on its own terms.
Mike's Science Fiction Novels
---
Sci-Fi Thrillers with a Christian Worldview
Mike is also an accomplished science fiction writer. In the novels The Facade and The Portent, he brings together his knowledge for history, theology, ancient languages, and sci-fi, weaving gripping and thought-provoking page-turners.
Mike's Mobile Ed courses
---
Learn Straight from Mike with Self-Paced Courses
Learn from Mike with video classes on a variety of topics. Do it all at your own pace, watching and listening through the Logos app. From Old and New Testament studies to ancient history, systematic theology, and more, you'll experience what makes Mike such a remarkable teacher as you gain instant access to an exhilarating learning experience, wherever you are.
See all courses
Aliens and Demons
Aliens & Demons: Dr. Michael Heiser explores the unexpected intersection between UFOs, alien abductions, the world of angels and demons, and the ancient texts that speak of them.
Watch now
The Unseen Realm Lecture Series
The Unseen Realm Lecture Series: In The Unseen Realm, Michael Heiser sheds light on the supernatural world. This light allows today's pastors and scholars to understand the biblical authors' supernatural worldview.
Watch now
Questions Aloud
Questions Aloud: Truth doesn't need permission. Questions are important—and allowed. Dr. Michael S. Heiser discusses uncomfortable questions with cohost Johnny Cisneros.
Watch now
Hear from Dr. Heiser
Get updates on new posts, products, and special offers from Michael Heiser and Lexham Press