Faithlife Giving
How a Church of Tech Skeptics Thrives with Online Community

Faithlife Giving
How a Church of Tech Skeptics Thrives with Online Community
Leading a church where members attend Ivy League universities and work at major tech companies comes with a unique set of challenges. When Kaloma Smith became pastor of Palo Alto's University AME Zion Church, the only people in the pews were 19 African-Americans over age 70. Now, only seven years later, the church's average age is 32, and it's attracting a wide range of people—people who reflect the vast diversity of Palo Alto, CA. Most church members attend Stanford, work in the tech industry, and travel often. Because of his church members' lifestyles, Pastor Kaloma knew he couldn't do church the same way he had in the past. Something had to change to reach this highly educated, highly transient community.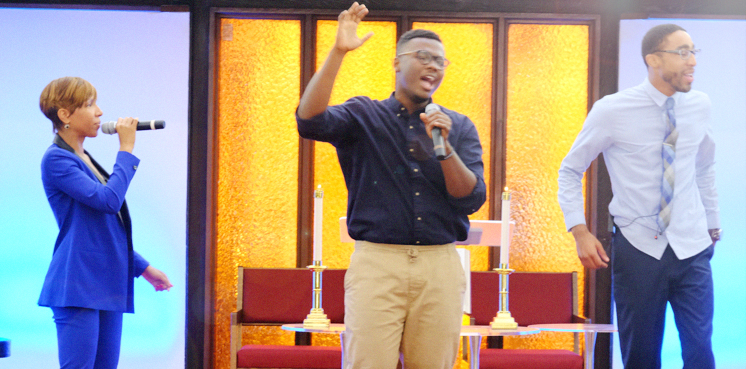 ---
Kaloma's ministry challenge
Because members of University AME Zion travel frequently, the church needed ways for members to watch messages, stay in touch with the church community, and give—especially when they missed Sunday services. Pastor Kaloma also faced another unique challenge: since the majority of his members work at major tech companies, they are concerned with personal privacy and safety. He needed a tool that his church would use to stay connected throughout the week and pray for one another but also trust as a safe way to give.
---
How Faithlife impacted Pastor Kaloma's ministry
The ministry tools Kaloma had tried in the past worked for administrative needs but didn't meet the community and giving needs of his church. That's when he tried Faithlife. Since Pastor Kaloma already used Faithlife Proclaim and Faithlife Sermons, he knew he could use Faithlife to set up a thriving online community and an easy online giving option. He introduced Faithlife Giving to his top leaders and volunteers first—it had to meet their safety requirements before he could share it with the rest of the church. And because Faithlife Giving is kept on a closed and secure network, it was easy to get the whole team on board. Now, church members have the freedom to give any time, anywhere, from any device.
---
Pastor Kaloma's ministry today
Only seven years after becoming University AME Zion Church's pastor, Pastor Kaloma's ministry is thriving today. Church members are living life together and staying in touch even when traveling. With Faithlife Giving, they're able to enjoy the freedom to give any time, anywhere—securely. Because of church members' generosity, University AME Zion is growing steadily and expanding its reach across Palo Alto as more and more people discover the joy of belonging to a church family.
Discover Faithlife Giving
"Because our members work in technology, they're hyper-aware of online security. When we started using Faithlife, they were excited to communicate and give in a way they could trust."
---
— Kaloma Smith