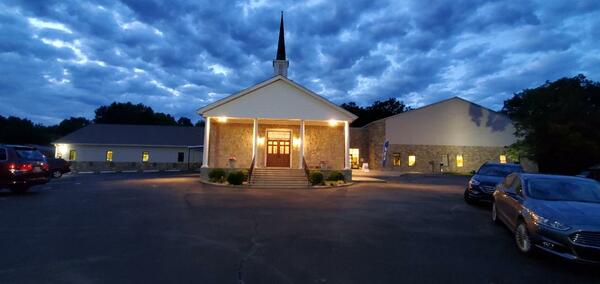 The Mount
Weekly Newsletter of Mt. Olivet Baptist October 16th, 2020 ___________________________________________
Celebration Sunday!

You do not want to miss this Sunday. This will be a day of celebration.
As a Southern Baptist Church we have two ordinances that we hold sacred. The Lord's Supper and Baptism. It is a special time when both of these ordinances can be observed and celebrated during the same service. This Sunday is one of those special times.
During our morning service, we will observe the Lord's Supper and also celebrate the ordinance of Baptism together.
If you are not able to attend and will be watching online, you too can participate in the Lord's Supper as it will be broadcast live. In order to prepare, gather some juice (preferably grape) and some unleavened bread. If you must be creative and use what you have available for juice and bread, that is ok. I am confident God will understand for He knows your heart and your sincerity. I encourage you to participate if at all possible.
Also, I am asking everyone that watches online to please send a quick text message to 615-444-2390 so that we know you are watching . Simple text your name and those watching with you. This is very helpful to us to know that you are still involved and participating in worship and that you are doing well during this time of COVID. If you would like to attach a prayer request to your text message, that is great and much appreciated.
I am glad to be back with you this Sunday as we also pickup in our sermon series - "The Kingdom of God is Near." This week we will see how gospel of the Kingdom of God appears in the Old Testament.
I look forward to seeing you this Sunday.
Pastor Rodney
News of Interest from MOBC
Backpack Deadline has been extended to Sunday, Oct. 25, 11:30 a.m. For information about Tennessee Baptist Christmas Backpacks, go to:
tnbaptist.org/backpacks
How to Pack a Christmas Backpack Backpack Gift suggestion There are flyers on the shelf above the bin. We are not collecting for any particular boy/girl or age. If you, your family, your S.S., friends, neighbors want to purchase and pack items, please do so. Thank you to everyone who has helped to share the Gospel Message through this missions project!!
Christmas Backpacks - Tennessee Baptist Mission Board
Child-Focused, Christ Centered & Church Connected Every effort is made to connect child & family with local church. Christmas Backpack provides opportunity to share the gospel with child.
www.tnbaptist.org
First, I want to thank everyone for their flexibility and patience with the many changes and "inconveniences" we have been enduring during the pandemic. Now is the time to stand firm and continue our course and not become complacent in our protection measures.
If you are like me, you have watched the news or just been listening to others in the community over the past few weeks and probably have had the thought that COVID appeared to be on the rise in our area. This morning news reports seemed to confirm the fact that Tennessee is considered a RED ZONE again indicating such a rise.
I believe this is because many of us, including myself have become tired of the masks and may have become somewhat complacent in our diligence. We athave been very blessed to have not been impacted on a large scale at MOBC. I believe this is because of the basic processes we have put in place allowing us to fellowship and worship together. I pray each day and ask you to pray each day that God continues to protect us and keep us healthy. Along with our prayers, I encourage us all to continue to follow our basic and common sense guidelines to keep us safe. Below are reminders, clarifications and additions to our
HIGHLY RECOMMENDED SUGGESTIONS:
If you feel uncomfortable coming for worship, please stay home and join us online at www.mtolivetbaptist.com/live. We understand this decision and it OK. We look forward to a time we can all be together again.
If you do not feel well, please stay home and join us online.
If you a fever, even slight, please stay and join us online.
It is HIGHLY RECOMMENDED to wear a face mask during our worship service. This includes covering your mouth AND nose. Congregation and Choir please wear while singing. Exceptions include while leading from the pulpit/ stage area. While away from pulpit, please replace facial covering.
Please wear your face covering in your Adult Bible Class / Sunday school and in the hallways.
The choir has been asked to remain in the choir loft when possible to provide additional seating on the sanctuary floor.
Utilize the hand sanitizer available and at each entrance. Wash your hands frequently.
PLEASE, spread out and utilize the extra rows put in place in our sanctuary.
We are all enjoying tremendous attendance and growth even in the midst of this pandemic. This is evidence, to me, that God is in control and continues His kingdom work through His people.
It is my desire, as your Pastor, to provide a meaningful, life-changing and SAFE worship experience each week. If we continue to work together and grow in our faith in a sovereign, all-powerful God, I trust we will be able to worship as a church family each week.
Also, if you choose to stay home and join us online, PLEASE, send a text message at 615-444-2390 or email at mobc@mtolivetbaptist.com so we know you were with us online.
God Bless You,
RevRod
Fellowship Cafe

REMINDER! Join us this week for dinner at 5:30 pm followed by activities for the entire family. Complete a reservation form attached to our Worship Folder on Sunday, contact the church office via phone or text at 615-444-2390 by Monday noon.
See the menu below.
MENU: Pulled Smoked Pork BBQ, Cole Slaw, Baked Beans, Drink & Dessert.
$5 per person/$15 per family maximum.
First Time visitors join us for FREE with a reservation.
----------------------------------------------------------------------------------
Church Business Meeting - Wednesday

Our Quarterly Business Meeting will be held this Wednesday, October 21 at 6:30pm in the Sanctuary. Please plan to attend. All other adult activities will not be held during this time. Youth and Children will continue to meet at 6:15 after our Fellowship Cafe Meal.
A Place for Everyone @ 8:45am

At 8:45am each Sunday we have something for everyone at Mt. Olivet Baptist Church. You are encouraged to join us in one of our Adult Bible Classes, join in MOYO Youth Bible Study and bring your children to their very own Sunday School class to learn about Jesus.
Sunday Volunteers

Please review the below list for your volunteer assignment. If you find you can not be here, please contact someone to replace you or your team leader.


October 18
Nursery during Sunday School: Willie Brooks
Nursery during AM Worship: Jodie Barrett
First Responder: Ray Frazier
Ushers: Mike Henderson & Kerry Hale
AM Security in Lobby: Kerry Hale
Sunday School Security: Wayne Hall
Sunday, October 25
Nursery during Sunday School: Willie Brooks
Nursery during AM Worship: Cathy Price
First Responder: Bill Brooks
Ushers: Ken Davis & Kerry Hale
AM Security in Lobby: Kerry Hale
Sunday School Security: Willis Franklin
We exist to glorify God by Proclaiming Christ, Being Disciples and Making Disciples
Our address is: 7463 Hickory Ridge Rd, Mt. Juliet, TN 37122, USA