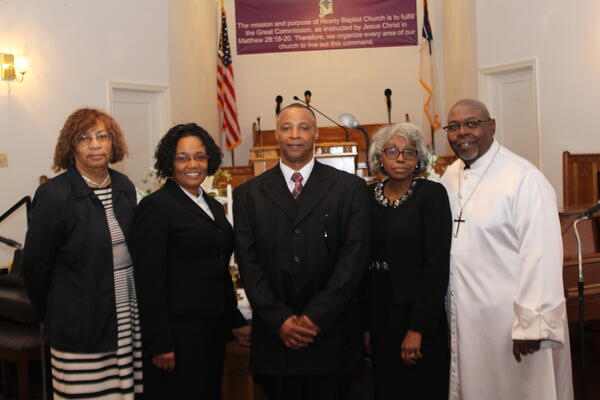 The Reedy Flash
Pastor's Corner
Greetings my brothers and sisters in the name of Jesus the Christ.
Well, this is the ninth month of social distancing as we deal with COVID-19. There have been many challenges as we strive to continue with Worship Services, Bible study, and remaining connected, spiritually, with God.
Reedy Baptist Church is blessed to have such dedicated members who have and are standing on the Word of God! It is a blessing that we come together every Sunday to worship and hear the Word of God and every Wednesday for Bible study and prayer. I am so blessed to be the Pastor of so great a body of believers in Christ.
As a reminder, Reedy Baptist Church has set up a conference call number, 862.799.9380. I encourage everyone to call-in every Sunday at 11:30 AM and each Wednesday at 7 PM, as we continue our fellowship, one with another in song, prayer, Scripture, and Word.
As we look forward to the New Year 2021, let us always remember that we serve a Mighty God, who has kept us thus far!
As your Pastor, I am praying for each of you to continue to be strong in your faith and service to God! He will bring us through this. Be strong, of good courage, always abounding in the work of the Lord!
Happy New Year to our Church Family and Friends!
Pastor
On-Line Giving
Giving all praise to our Lord and Savior, Jesus Christ, it is my pleasure to inform the congregation that "On-Line Giving" is now available.
The process is easy and secure so there is no need to worry. Be assured that your giving will be recorded correctly and timely and should you have any concerns, just contact the church for assistance.
If I may suggest, the most cost-effective way of giving is by use of a check known as "ACH." There is never a charge to the individual but there is a processing fee to the church and ACH is more cost-effective. Should you require further information about this, please contact the Pastor.
We understand that service to God is not about money but it takes money to keep the lights on and pay other utilities and help those who are in need. Do your best for God and he will see you through.
God bless,
Pastor
One Positive Thing
Hi, Thrive community,
Amidst all the disruption we've experienced from COVID-19, this time has also offered us small silver linings, insights, and habits that we'll carry with us into the future — whether it's prioritizing more time with family, a smarter work strategy, more time to be alone with our thoughts, a new ritual that we've grown to love, or a new spiritual practice. As Thrive's founder and CEO Arianna Huffington wrote in her Sunday newsletter last week, "The pandemic has made it all too clear that we cannot continue to live and work the way we have — breathlessly and always on."
Today, I'd love for you to share the meaningful rituals, life lessons, or small habits that you'll take with you going forward.
Have you taken this time to think about what really brings your life meaning? Have you re-prioritized your well-being with the help of Micro steps? Have you restored past relationships that you're planning on keeping up? Have you learned new work habits to combat burnout or avoid "too-many-meetings" fatigue? We're curious to hear what you'll take with you after the pandemic passes.
Taken from newsletter dated 05/08/2020.
WEEKLY SCRIPTURE
We do not look at the things which are seen, but at the things which are not seen. For the things which are seen are temporary, but the things which are not seen are eternal.
Lord, here I have no continuing city. I have a better and an enduring possession for myself in heaven.
I will not fear, for it is Your good pleasure, Father God, to give me the kingdom.
Now for a little while, if need be, I have been grieved by various trials. There the wicked ceases from troubling, and there the weary are at rest.
I who am in this tent groan, being burdened. You, my God, will wipe away every tear from my eyes; there shall be no more death, nor sorrow, nor crying. There shall be no more pain, for the former things have passed away.
The sufferings of this present time are not worthy to be compared with the glory which shall be revealed in me. My light affliction, which is but for a moment, is working for me a far more exceeding and eternal weight of glory.
Thank You for keeping my eyes on my eternal future, on the glorious future Your people have in You, Lord God!
2 CORINTHIANS 4:18; HEBREWS 13:14; HEBREWS 10:34; LUKE 12:32; 1 PETER 1:6; JOB 3:17; 2 CORINTHIANS 5:4; REVELATION 21:4; ROMANS 8:18; 2 CORINTHIANS 4:17
David Jeremiah, Life-Changing Moments With God (Nashville, TN: Thomas Nelson Publishers, 2007), 386.
Wednesday Bible Study
Subject: ABRAHAM
"The Father of the Jews"
John G. Bulter series
PREFACE
The life of Abraham marks a new division in the Scriptures. In the first eleven chapters of Genesis, Scripture covers some two thousand years of history at a rather rapid pace. The creation, the fall, a genealogy, Noah and the flood, a listing of the descendants and nations from Noah, the tower of Babel, and another genealogy take care of the first two thousand years of civilization and most of the first eleven chapters of Genesis. Then beginning with the last few verses of chapter eleven, the pace slows down dramatically. It takes the rest of the Old Testament to cover another two thousand years; and it takes the next thirteen chapters of Genesis, which features Abraham, to cover the next one hundred years.
The study of Abraham's life will not only be an instructive and rewarding experience in seeing many Gospel truths, but it will also be a very helpful experience in learning how to walk the life of faith in God's Word; for the Gospel not only involves the saving of the soul, but it also involves a new walk of faith. Abraham's successes and failures in this life of faith will teach invaluable lessons to the diligent student of the Word of God.
John G. Butler, Abraham: The Father of the Jews, vol. Number Nine, Bible Biography Series (Clinton, IA: LBC Publications, 1993), 9.
Chapters of study:
I. Summons from God
II. Sojourning in Egypt
III. Separation from Lot
IV. Soldiership of Abraham
V. Sovereigns and Abraham
VI. Sureties for Promises
VII. Scheme of Sarah
VIII. Speaking with God
IX. Strangers from Heaven
X. Shame in Gerar
XI. Son of Promise
XII. Summit with Abimelech
XIII. Sacrificing of Isaac
XIV. Sepulcher for Sarah
XV. Spouse for Isaac
XVI. Servant of Abraham
XVII. Sunset of Life
God's Flash Card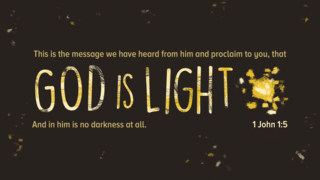 1:5 The imagery of God as "light" illustrates two concepts. First, it pictures God's self-revelation (cf. John 8:12; 9:5; 12:35, 36). Because of this God-initiated disclosure, believers have access to the truth (2:21, 27). Second, the "light" motif highlights God's holiness. Hence, the contrast between light and darkness does not simply represent knowledge and ignorance; it also portrays good versus evil (cf. John 3:19–21).
W. A. Criswell et al., eds., Believer's Study Bible, electronic ed. (Nashville: Thomas Nelson, 1991), 1 Jn 1:5.
We are the Salt of the earth.
Our address is: 15076 Dry Bridge Rd, Ruther Glen, VA 22546, USA