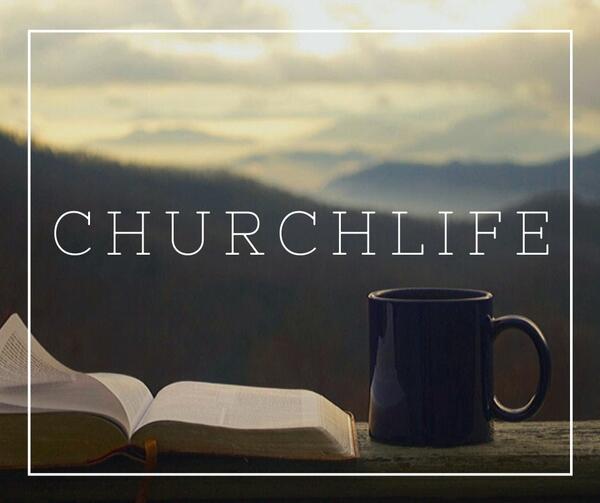 MIBC CHURCHLIFE
19 July 2021
PASTOR'S UPDATE
CREEDS, CONFESSIONS, CATECHISMS
Strong conviction has a desire to be proclaimed (Luke 6:45). As disciples, we have a command from our king to make known the faith that is within us, and to make ourselves known as followers of Christ, and to lead others to Him by the influence of our testimony.
This is the origin of the Creed. They emerge from the deepest recesses of the church's conviction. It's often considered that creeds are forged in the midst of controversy. There would have been creeds even if there had been no doctrinal controversies. But Schaff thinks otherwise, "There would have been creeds even if there had been no doctrinal controversies." For example, we see the earliest creeds in the Lord's Supper (1 Cor 11:23-26), the Baptismal confession (Matt 28:19), and several other paragraphs of high Christology (i.e., Col 1:15-20; 1 Cor 15:15). Now the church is not founded on creeds, but on Christ. Yet it is men and women who confess Christ, and in this duty, we model Peter who confesses "You are the Christ, the Son of the living God." (Mat 16:16). James reminds us that faith without works is dead, and so we could also say, faith without confession is dead.
Although confessions existed in scripture before the major controversy of the early church fathers, when controversies did arise concerning the meaning of scripture, it became necessary to provide formal definition and clarification to help in the public teaching of the church, and to help guard against error. In this way, the collective work of creeds was gradually enlarged.

DORIS JOHNS FUNERAL
Doris' funeral is scheduled to be held on 23 July 2020 at 10:00am.
Because many state borders are currently closed, this funeral will also be live on a ZOOM meeting. Glenda hopes to give the eulogy via ZOOM.
If you believe you are confident, I am in need of someone to help me with the technical aspect of the service (i.e., being in the sound desk, and operating ZOOM and our presentation software).
BUSH BBQ
The bush BBQ is taking place this Saturday the 24 July.
Bring the food you want to cook and a dessert to share.
Time: 5:30 - 7:30pm
Location: 13km down Duchess Road
Contact: Gary Lewis Kalgoorlie@bigpond.com
LANDSCAPING CARPARK SLOPE
North Reach Baptist Church is going to help us landscape the large slope on our facility. We need to get this slope ready for planting prior to their arrival. Please consider your availability to help in the areas of:
Landscaping ideas
Adding more irrigation lines
Removing the existing trees
Sledge/jack hammering out the obsolete stairs
CHURCH REVIEW AND FUTURE DIRECTION
As mentioned several times this year, our vision document is in need of review. The previous document has reached its end of life, and so we need to consider our direction for the next several years.
I invite you to view this form and prayerfully provide feedback on our church's Strengths, Opportunities, Aspirations, and Results that could be achieved by the grace of God.
GRANTS AVAILABLE TO THE CHURCH
There are two Grants available:
Carinity Collaborative Community Projects
Relieve and mitigate disadvantage;
Promote connectivity for vulnerable people; and
Increase the strength of local neighbourhoods against disadvantage.
With individual grants of between $5,000 and $50,000 per year available, and most grants anticipated to be in the range of $10,000 to $20,000, there's plenty of scope to make your dream community engagement program come to life.
Please consider if you think MIBC is able to make an application for this grant to serve our community. For further information please click here.
The Resources Community Infrastructure Fund
Elissa has made us aware of a 'Community Infrastructure Fund' which may be suitable to secure funding for our proposed 'awning and extended hospitality area'. Please consider if you are in a position to help investigate whether or not we can apply for this funding for the awning or another project..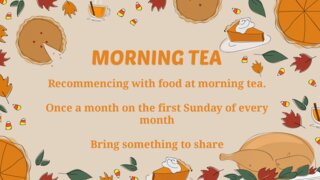 CAMOOWEAL MAINTENANCE TRIP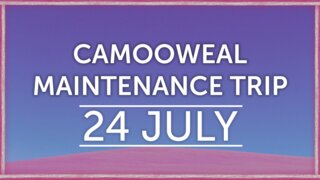 LIFT NEEDED
Emjay has requested help to get to Camooweal for our maintenance trip on the 24th of July. If you are able to help, please speak to Emjay or myself.
You can register for this event here.
GIDEON'S PRESENTATION
On the 25 July, we will have Colin Webber from the Gideons come and speak to us about their work in Bible distribution. The Gideons do a fantastic job of distributing Bibles and will be doing just that as they travel through our area. I was agreeable in their request to take up a special offering, so if you would like to contribute to their work, please come ready to give towards their work.
We would love volunteers for the clean-up across the whole weekend , including on the Monday afternoon!
Please add your name to this form to indicate that you will be available so that you can be kept up to date.
NORTHREACH TEAM
North Reach Baptist has locked in the dates 24 September to 4 October to be with us.
The two main areas of service they will be offering is:
THREE DAY HOLIDAY PROGRAM
Leaders from the church are welcome to help. We will begin promoting this and taking registrations within the coming weeks.
Landscaping the carpark slope
KIDS HOLIDAY PROGRAM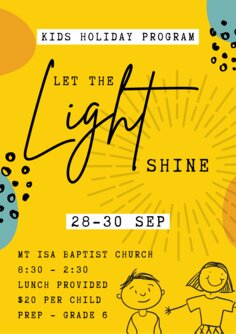 Online registration for this holiday program will be available this week. We are currently finalising the online payment system.

PRAY FOR OUR CHURCH FAMILY
A prayer request will be made for three of our church families every week. This is to encourage us to pray for our church family.
This week's Families to pray for are:
Ramie Trott
Gerhard & Corallie Walton
Karl & Lyn Weaich
HAPPY BIRTHDAY!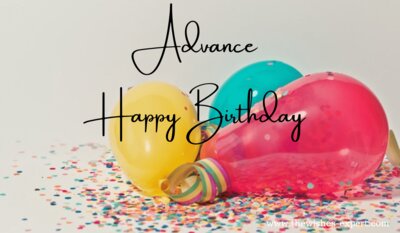 Our upcoming birthdays are:
22 July - John Riley
25 July - Jackson Green
29 July - Coralie Walton
Grace and Peace to you!
(If your birthday doesn't appear, it means we don't have these details in our database).

The church has access to several faithlife products:
(Please contact the office if you need help logging on to these resources)
Local Church, Regional Footprint, Global Impact...
Our address is: 18-24 Isa St, The Gap QLD 4825, Australia