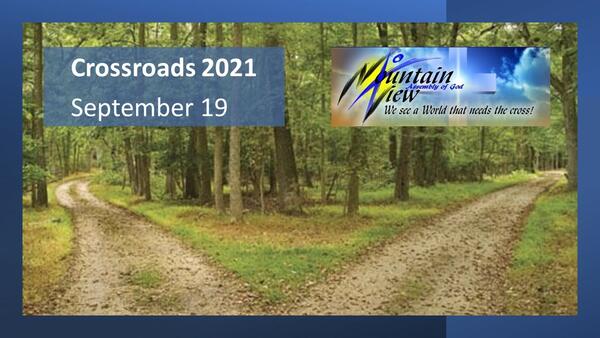 Jeremiah 6:16
This is what the Lord says:
"Stand at the crossroads and look;
ask for the ancient paths,
ask where the good way is, and walk in it,
and you will find rest for your souls.
But you said, 'We will not walk in it.'
Dear Mountain View Assembly of God,
Last Sunday, August 29, 2021, the Word of the Lord above was brought forth for our Body. May we have ears to hear! Building upon the Word given a few years ago saying, "Mountain View needs to do what we don't do," it is time to put action toward obedience. But you said, 'We will not walk in it.'
CROSSROADS 2021, Sunday, September 19: Mountain View Assembly is standing at a crossroad. We are being called to ask for the ancient paths, walk in the good way, and find rest! We have great opportunity to move forward in this Word starting September 19 at 9:30a with the beginning of the Father Heart of God series in Sunday School and continuing September 26 with Reflection Groups meeting across our neighborhoods in homes. The ancient paths were those followed by the patriarchs, who believed God's Promises and walked with God. Today we are more guided by human wisdom, ambition, opinion or social media. Only as we, like Abraham, get to know our Lord's character and nature, do we long to be like Him. The Father Heart of God study will take us to His Holiness, Character and Nature.
Presently, teachers are being sought for our children to attend Sunday School. Details are being put into place for Reflection Groups to meet in homes for further reflection of what we hear in our time together Sunday mornings, as well as fellowship and prayer for one another.
In our insecure world, our security can be found only in Christ. A hinderance to personal growth in God is resistance to change. We resist God's prodding to move on into unfamiliar or uncomfortable territory. Let's be proactive rather than reactive. For Peace, surrender your life to Him!
Join us Sunday mornings at 9:30a for the full Worship and the Word experience. Further details will be given as we meet. We pray you hear the call and join us at the Crossroad!
On behalf of Pastor Dan and Sharon Henshaw,
The Board of Mountain View Assembly of God
The Father Heart of God Series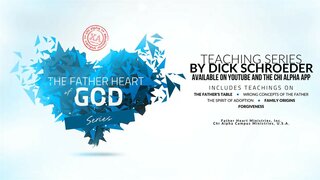 Sunday School Beginning September 19
This incredible teaching series from Dick Schroeder includes teachings on The Father's table, wrong concepts of the father, the spirit of adoption, and more.
Dick and Joy Schroeder have been campus missionaries with Chi Alpha Campus Ministries since 1978. After serving for 30 years at Montana State University in Bozeman, including 15 years of training campus missionary interns, they are now national Chi Alpha field staff. Dick has traveled and taught extensively. Joy is a life coach, seasoned mentor, Bible teacher, and director of Summer Job Project, a national student leader discipleship program and author of Tools For Mentoring, a comprehensive resource for mentoring. Dick went on to eternity on August 22 but his legacy of teaching on the Father Heart of God and the Holy Spirit will continue.
Dick and Joy believe that the currency of God's Kingdom is relationships and strategically focus on developing disciples through relationship-based small groups and one-on-one mentoring. Their legacy includes hundreds of alumni who carry the values of Christ's Kingdom into their jobs, families, and missions.
Reflection Groups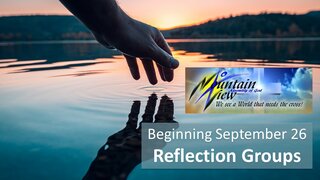 Reflection Groups will be home groups that meet sometime every Sunday afternoon or evening at a home close to where you live. The focus initially will be to reflect on that Sunday's teaching from the Father Heart of God series in Sunday School. The idea is for us as a family to not only grow in the knowledge and admonition of Christ, but to grow together as a family of God; brothers and sisters who share a Father who loves us with a love that has no end. More information to come!
Come Let Us Worship Together!
Our address is: Spokane, WA