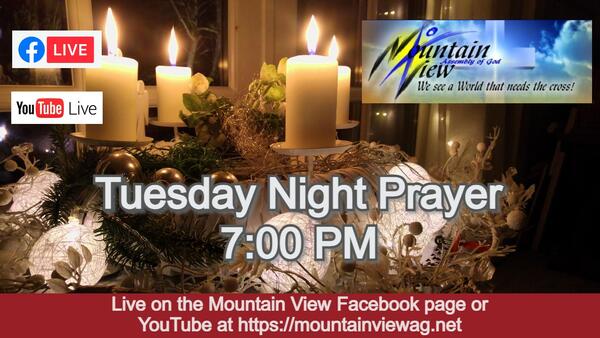 This Week at Mountain View
Week of November 29
Sunday November 29
Out of an abundance of caution, we will once again be gathering in the church parking lot. This time including Sunday School, (9:30 AM), and then the Main Service, (10:30 AM). The hope is to have everyone start getting back into the habit of coming to church even if it only means in the parking lot in our cars for the moment! If you are unable to attend, we will be broadcasting live on the church Facebook page Mountain View Assembly of God | Facebook or on YouTube on the church website Mountain View AG. Hope to see you there!
Tuesday Night Prayer December 1
Beginning this Tuesday, December 1 at 7 PM, we are starting a 30-minute online prayer meeting live. Brother Randy will be hosting the live stream event with the goal of lifting up our church body and prayer requests. You can send prayer requests live in the chat window or send them to the church email address at e633magnesium@outlook.com. Let's take 30 minutes of our Tuesday evenings and spend some time in prayer together.
Come Let Us Worship Together!
Our address is: Spokane, WA