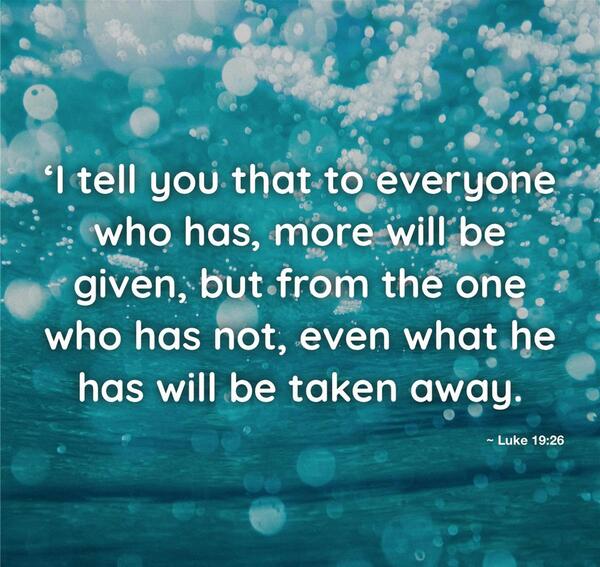 Parable of the "Minas" Luke 19:11-27
Weekly Update 08-26-2021
New Date!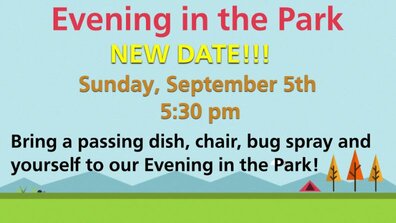 We are making progress!!

WE HIT OUR CARPETING GOAL!!
WE ARE ABOUT TO INSTALL the flooring in the Community Room/Gym! In the next couple of weeks, we will need the able bodied and not as able bodied to help "gitr dun!" We have several prep tasks to do before we can actually install the flooring. Let Mike Wilson (NHCC Elder) know you are interested in being apart of this effort. He may have a task for you to tackle.
Besides this, Pastor Doug has been getting the adhesive off the south steps and porch so a new non-skid treatment can be applied.
We've had water in the basement in a couple of classrooms, so another project is happening to remedy that issue. Deacon in charge of Buildings and Grounds, RUSTY WELLMAN, is bringing a mini-excavator out to dig a trench outside the basement windows and lay some tiling to take the water away and around the building.
Cliff has been busy straightening and cleaning gutters and installing an additional downspout, too! He's doing this while repairing the downstairs utility room where block stair way walls are pushing in!
Lots of hard work. If you can't jump in and give a hand, you are encouraged to give monetary gifts to help us carry that part of the burden!
Mark donations for the BUILDING FUND, whether giving on-line using our Faithlife Giving, by check, or by dropping off a bar of gold!
A Note from Pastor Jerry!
Last week we looked at how willing are we to trust the Lord with the reward we will receive. He is faithful, are we faithful in our service to Him, regardless of whether we know exactly what He has in store for us. Jesus said, (my paraphrase) "Even earthly dad's know how to give good stuff to their kids. Just imagine how our DAD in heaven has planned to bless His spiritual children!" for serving well in and for the Kingdom of God. Let's do our best and leave the rewarding up to the one who knows how to do more than we could ask or imagine.
This Sunday, we'll be looking at our last parable of Jesus. There are more, but we'll save them for another time. The last one I'll be sharing about, well, many have thought it is like, or even the same as, a couple others Jesus used to teach his disciples. I assure you... IT IS NOT THE SAME!
Each teaching Jesus gave had a unique and special purpose. I believe this week's "parable of the pounds," or "minas," speaks directly to the heart of the task of everyone who claims the name of Jesus and says they are a follower of His. If your are His disciple, then listen UP!
Looking forward to Sunday worship with you and being in the Word of God together, too!
Blessings~
PJ
--------------------------------------------------------------------------------
COME & WORSHIP IN-PERSON or join the Live Stream
Sundays @ 10:45am -- mynewhorizons.org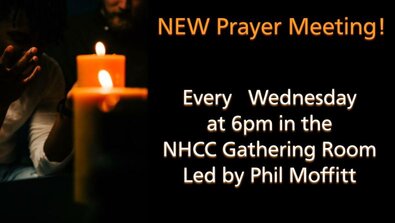 Together, prayerfully walking through Psalm 119 and realizing there's so much more to living for a holy, loving, and powerful God.
Birthday / Anniversary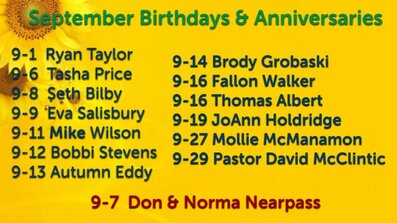 Praises & Prayers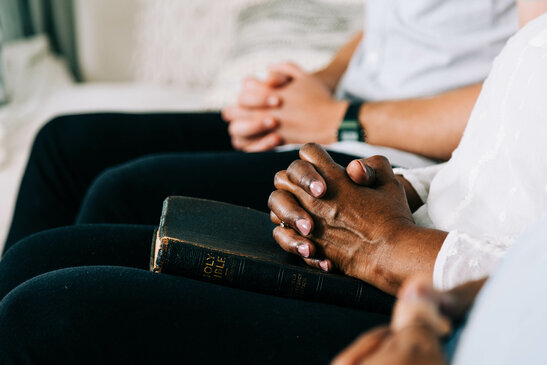 Jamie Curtis-Taylor - Is expecting a baby boy, "Jade," in October. She is on light duty. Please pray for that there are no unexpected complications and a smooth delivery.
Bob and Sharyl Allison - Bob is home from the hospital and off oxygen. Please pray for continued healing and rest. And, for Sharyl as she attends to him while battling her own health concerns.
Jessica Taylor - Is doing better! Thank you for your prayers. She got a scope done and they found NO stones and not need the 2nd surgery, thank you God!! Continue to pray for healing and pain relief for her.
Doris Lyon - Please be in prayer for Pastor Lyon's mother, Doris. She is making a big transition in her life and is having difficulty adjusting. Also be in prayer for PJ and his 2 sisters as they navigate this season with their mom.
Debb Lyon - Pray for God's protection over her co-worker, Sheila, who is leaving for South Africa.
Sharon Ransom - Pray for God to provide strength and peace for her and her family members.
Kriz Bilby - His friend, Mack, is going to Germany in November. Please pray for God's direction and protection for her.
Arnold Family - Continue to pray for comfort and peace for Dick, Sonya, Shelly and all the family during this time of loss.
Edna Zirn (Edna Walter's niece) - Passed away recently. Please pray for God's peace and comfort for all family members.
Phil and Penny Darling - Pray that Phil's legs will continue to strengthen. Penny's brother, Rusty, passed away. Please pray for God's comfort and peace for all family members.
Betty Gauze - Please continue to pray for healing and pain relief.
Rick and Lorie Tripp - Lorie's brother, Kevin - will be having chemotherapy treatments for 18 months. Also, Kevin's wife, Sheila - surgery went well - PTL!! Please pray for continued strength and healing.
Ron Hendrick - Pray for strength as he begins the process of sorting and cleaning out. Pray for all the family and that they may have the peace of God during this time of loss.
Betty Curry - she and her husband, Dan, have had lingering colds. Please pray for God's healing and strength. Also, Betty will have sinus surgery on August 30th. Pray for the hospital staff and a quick recovery.
Brenda Wohlgemuth - She is in a cast and then will have surgery on the tendons in the upper part of her arm and muscles. Please pray for comfort, strength and healing.
Logan Coley - He is doing great at Michigan Youth Challenge! Continue to pray for strength and endurance and for God to be moving in his heart. if you would like to send him a letter PLEASE do, make sure it is not a card as he can not receive those yet, just letters.
Coley, Logan
Platoon #2
Michigan Youth Challenge Academy
5500 Armstrong Rd., Building 13
Battle Creek, MI 49037
Eric Gooley - Pray for God's breakthrough in Eric's heart and mind.
Ed Franco - Is feeling better and is back to work!. Just had his 60th birthday! Pray for him and Cynthia as they are scheduled for an interview and test for US Citizenship on August 16th.
Rosemarie Little - Continue to pray for ongoing health concerns.
Jeff & Cheryl Whitney - Pray for Jeff as some days are good and some not. Pray for strength and peace for Cheryl.
Sara Anderson - Her daughter's father-in-law, Tom Krawczak - He is recovering from heart surgery. Pray for God's healing and the revealing of JESUS to all family members.
Edna & Jerry Walters - Pray for continued healing and strength during outpatient therapy for Edna. Pray for pain relief and comfort for Jerry's back.
Please be in prayer for our Church leadership as they seek God's will and direction for His Church. Pray for protection and unity over them as they serve.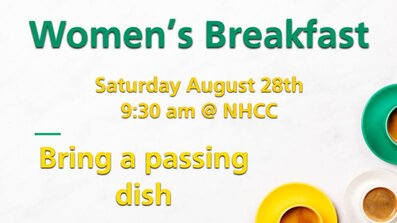 Grief Share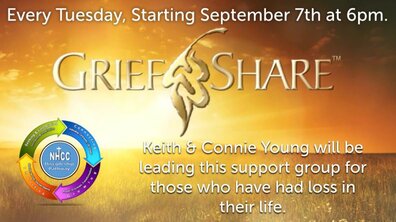 NHCC Special Events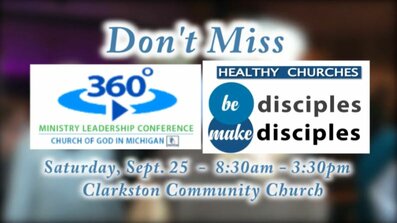 Debb Lyon is our registration coordinator for "360." All are welcome to attend. Session guides available in the church office or online at https://micog.org/360lc.html


NHCC Weekly / Monthly Ministries
Caring Through Prayer - 9:30 am Sunday Mornings - Please join us in the Gathering Room as we make calls and pray for our Church family.
New Grief Share Support Group - Every Tuesday @ 6 pm led by Keith & Connie Young in NHCC Gathering Room (Starting Sept. 7th)
Prayer Meeting - Every Wednesday @ 6pm Led by Phil Moffitt in NHCC Gathering Room
AA group - Thursdays, 5:30pm, downstairs library or upstairs in the Gathering Rm
Photo Club - 2nd and 4th Thursday of the Month, 7pm
Devoted Prayer - 7 pm on Saturdays In person prayer @ NHCC. Join the prayer team as we pray for our Church family, leaders, and Gods will in our Church.
Women's Breakfast - Saturday, August 28th, 9:30 am (Women bring small stuffed animals and school supplies for OCC)
Men's Breakfast - Saturday, September 11th, 9:30 am (Men bring personal toiletries for OCC)
NHCC Special Events


Hearts 4 Hymn - Dinner 4:30 pm/Music 5:30 pm - Friday, August 27th
Evening in the Park - Sunday, Sept. 5th at 5:30 pm
Ladies Unknown Tour - 7 pm on Friday, September 17th at Pulaski Free Methodist Church in Hanover, MI.
360° Conference - 8:30 am - 3:30 pm on Saturday, September 25th at Clarkston Community Church


Dinner & Music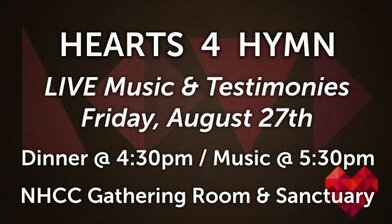 If you would like to share a testimony of how the Lord has been working in your life, please contact Pastor Jerry! Those who contact PJ will be sure to be heard.
Church Volunteers

Ushers and Greeters
August 29th:
Ushers:
Carl Price
Dick Arnold
Dorwin DeGroote
Greeters:
Laura Denny
September 5th:
Ushers:
Carl Price
Dick Arnold
Dorwin DeGroote
Greeters:
Laura Denny
If you would like to volunteer as an Usher or Greeter please contact Carl Price.
Nursery Workers
August 29th:
Denise Moffit
September 5th:
Pennie Somervill
If you could help out in the Nursery contact Wendy Bilby and let her know.
OCC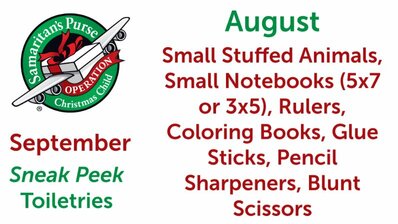 Fallon & Greg Walker are teaming up to take on this awesome Mission! If you have questions, or would like to help the Walkers with this event please talk with them on Sunday morning! Or, leave a message at the church (517-783-4218) and we'll relay your call.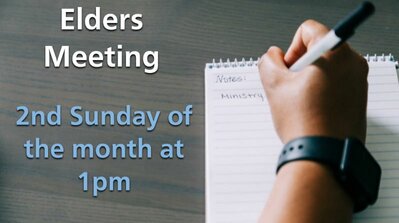 Elders:
Pastor Jerry Lyon - Chairman (Ex-Officio)
Phil Moffitt - Vice-Chairman
Tasha Price- Corporate Secretary
Mike Wilson- Man on a mission!
Deacons:
Sonya Sackrider - Corporate Treasurer/Finance Team
Debb Lyon - Communications Team
Rusty Wellman - Buildings & Grounds Team
Photo Club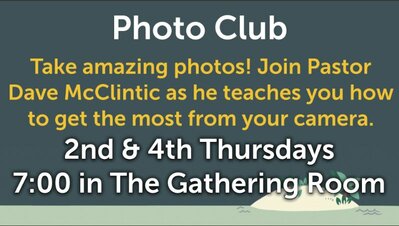 Our address is: 4300 Lansing Avenue, Jackson, MI, 49201