Battling Evil & Darkness
Weekly Update 10-31-21
Dinner & Music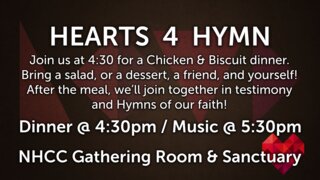 PROGRESS!!! Carpet installed.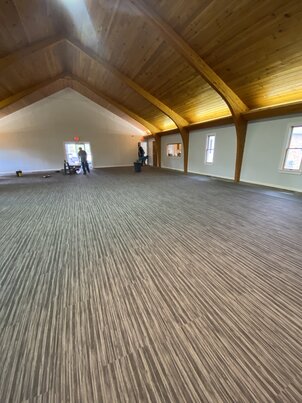 A HUGE THANK YOU to all the fellas that put in the work to get the floor prepped over a couple days. AND, all the fellas that got down on their knees to spread the adhesive, laid the carpet tiles, made the cuts for beams and overage, heavy rolled the finished work and took care of cleanup... all in one day! Another thank you to, Tom Christoff, for coming to be our resident "expert" and helping us get it done!
Now that the flooring is down, it'll be great to gather in here for our HARVEST CELEBRATION DINNER on Sunday, NOV. 21st!
------------------------------------------------------------------------------------
We always need BUILDING FUND donations! If you'd like to give a special gift towards the fund, that can be accomplished via giving on-line using our Faithlife Giving button, by check, cash or even dropping off bars of gold! (sheets of plywood are pretty valuable, too!)
Trunk or Treat!!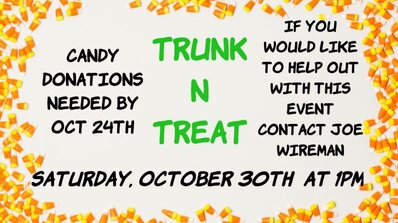 A Note from Pastor Jerry!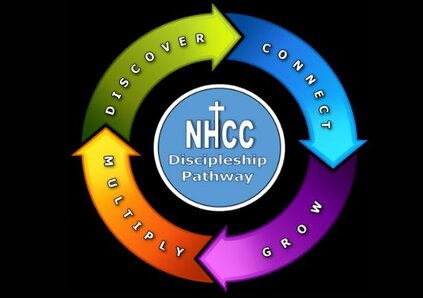 THE PATHWAY -
It's a simple way to understand what Jesus modeled for us throughout his ministry - DISCOVER (encounter) / CONNECT / GROW / MULTIPLY.
You and I were formed to be a part of a family. We DISCOVER the love of Jesus. We were brought in to relationship (encounter) with God in Christ. We all need to experience the life of the body in relation to one another; to CONNECT in meaningful relationship is to begin to walk the disciple making journey of becoming multiplying disciples; disciples who make disciples!
In order for us to reach maturity as disciples, we have to allow the Holy Spirit to GROW each of us into the likeness of Jesus. Healthy things grow...no matter their age! Just like in the physical realm, when we stop growing we are dying. The spiritual growth of each follower of Jesus is a sign of His life in us.
That life in us is for a higher purpose, and that is to MULTIPLY! The grace we have found in Jesus is never meant to be kept to ourselves. We are called, commissioned, and sent into the world to make more disciples through the gospel of Jesus.
--------------------------------------------------------------------------------
COME & WORSHIP IN-PERSON or join the Live Stream
Sundays @ 10:45am -- mynewhorizons.org
Praises & Prayers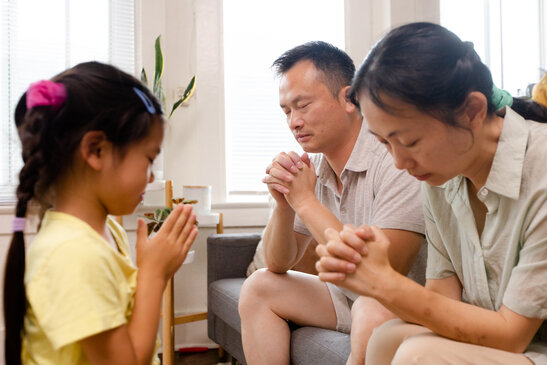 Carolyn Buchner - Please be in prayer for Carolyn and her family as her brother passed away. Losing her siblings has been very difficult. Pray for strength and peace for them.
Heidi Roberts - Had surgery on her right foot and the wound in not healing well and she is unable to drive. Please pray for complete healing.
Bob and Sharyl Allison - Pray for Bob and Sharyl as Bob is recovering from surgery. Pray that they would get the help they need.
Jaimie Curtis - Baby Jude Everest is here!! Thank you God for a safe delivery!
Arnold Family - Continue to pray for comfort and peace for Dick, Sonya, Shelly, Rick and all the family during this time of loss.
Phil and Penny Darling - Please pray for comfort and God's peace over Phil and for all his family members.
Betty Gauze - Please continue to pray for healing and pain relief.
Rick and Lorie Tripp - Lorie's sister-in-law, Sheila, biopsy indicates breast cancer. Please pray for anxiety relief and God's direction for treatment.
Continue to pray for Lorie's brother, Kevin, as he will have monthly chemotherapy treatments for the next year.
Ron Hendrick - Pray for all the family and that they may have the peace of God during this time of loss.
Betty Curry - Please continue to pray for God's healing and strength after sinus surgery.
Brenda Wohlgemuth - Is home and healing. Please be in prayer for the next steps of what to do . Pray for Wisdom for her and her Dr.'s
Logan Coley - He is doing great at Michigan Youth Challenge! Pray for health as he is sick right now. Pray for healing.
Eric Gooley - Pray for God's breakthrough in Eric's heart and mind. He is currently receiving treatment via the Salvation Army in the Detroit area. Pray for a full recovery!
Ed Franco - Please pray for God's healing over his body and strength for ongoing health concerns.
Jeff & Cheryl Whitney - Pray for Jeff as some days are good and some not. Pray for strength and peace for Cheryl.
Sara Anderson - Pray for God's healing and the revealing of JESUS to all family members.
Edna & Jerry Walters - Pray for continued healing and strength during outpatient therapy for Edna. Pray for pain relief and comfort for Jerry's back.
Please be in prayer for our Church leadership as they seek God's will and direction for His Church. Pray for protection and unity over them as they serve.
NHCC Special Events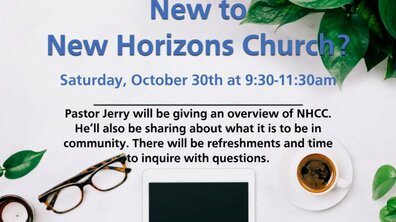 NHCC Weekly / Monthly Ministries
Caring Through Prayer - 9:30 am Sunday Mornings - Please join us in the Gathering Room as we make calls and pray for our Church family.
Sunday Night Bible Study - 6:00 pm led by Rick Tripp in NHCC Gathering Room
Young's Small Group - Every Monday @ 6:30 pm led by Keith & Connie Young at their house in Spring Arbor
NEW! Christmas Bible Study - Starting Monday November 15th - Every Monday @ 6pm led by Pastor Doug Bilby in the NHCC Gathering Room.
Grief Share Support Group - Every Tuesday @ 6 pm led by Keith & Connie Young in NHCC Gathering Room
Prayer Meeting - Every Wednesday @ 6pm led by Phil Moffitt in NHCC Gathering Room
Ladies Bible Study - Every Thursday @ 10 am led by Wendy Bilby in NHCC Gathering Room.
AA group - Thursdays, 5:30pm, upstairs in the Gathering Room
Photo Club - 2nd and 4th Thursday of the Month, 7pm (DISMISSED until November 11th)
Devoted Prayer - 7 pm on Saturdays In person prayer @ NHCC. Join the prayer team as we pray for our Church family, leaders, the lost, and Gods will in our Church.
Men's Breakfast - Saturday, November 13th, 8:30 am
Women's Breakfast - Saturday, November 27th, 9:30 am
NHCC Special Events
Hearts 4 Hymn - Friday, October 29th at 4:30pm.
Join us at 4:30 for dinner, bring a salad, dessert or just yourself! After dinner testimonies and songs of faith.
New Community Class -Saturday, Oct. 30th at 9:30am - 11:30am. This is for anyone new to NHCC. Pastor Jerry will be giving a general overview of NHCC's--where we're from, who we are, and where we're going as a church. He'll also be sharing about what it is to be in community at New Horizons Church. There will be refreshments and time to inquire with questions. Drop a "Welcome Card" in an offering bucket with your name and the words NEW COMMUNITY on it so he'll know to expect you. Or, contact Tasha at the Church office. 517-783-4218.
Trunk-N-Treat - Saturday, October 30th at 1pm.
Candy donations are due Sunday, October 24th for the event on See Joe Wireman for more details.
OCC Packing Party - Saturday, November 13th at 11am
Bring your OCC donations in by Sunday November 7th so we will have them for the Packing Party, Fallon Walker will be in the Community Room (gym). Join her for Pizza and Packing of our OCC boxes!
Harvest Celebration Dinner- Sun, Nov. 21st at 5pm. RSVP's will be needed from those who plan to attend. Look for your RSVP form in the next couple of weeks online and available on Sundays! Celebrate with us the 50th year at this location and 105 yrs in Jackson as a Church of God fellowship!
Turkey Boxes - Turkeys and other items for the boxes will be due on Sunday, November 21st. We will be passing them out to our NW Community on Monday, November 22nd from the Church.


Church Volunteers

Ushers and Greeters
October 31st:
Ushers:
Carl Price
Dick Arnold
Dorwin DeGroote
Greeters:
Laura Denney
November 7th:
Ushers:
Carl Price
Dick Arnold
Dorwin DeGroote
Greeters:
Laura Denney
If you would like to volunteer as an Usher or Greeter please contact Carl Price.
Nursery Workers
October 31st:
Dee Wertz
November 7th:
Wendy Bilby / Kriz
If you could help out in the Nursery contact Wendy Bilby and let her know.
OCC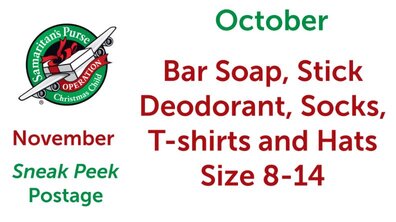 Fallon & Greg Walker are teaming up to take on this awesome Mission! If you have questions, or would like to help the Walkers with this event please talk with them on Sunday morning! Or, leave a message at the church (517-783-4218) and we'll relay your call.
Elders:
Pastor Jerry Lyon - Elder & Chairman (Ex-Officio)
Phil Moffitt - Elder & Vice-Chairman
Tasha Price- Elder & Corporate Secretary
Mike Wilson- Elder & Man on a mission!
Deacons:
Sonya Sackrider - Corporate Treasurer/Finance Team
Debb Lyon - Communications Team
Rusty Wellman - Buildings & Grounds Team
AA
Helping people find their way back to God
Our address is: 4300 Lansing Avenue, Jackson, MI, 49201