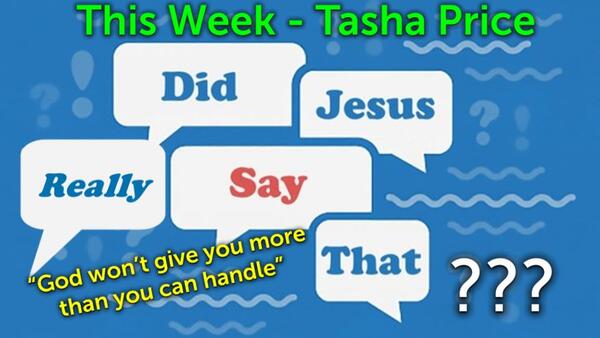 God will Never Give you More than you can Handle
03-24-2022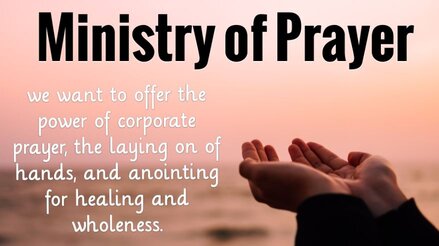 We believe in the POWER of prayer!
Each Sunday morning during our time of music worship, there'll be a space provided to receive prayer for your concerns, physical healing, deliverance, and personal mission of reaching those who are lost. Prayer partners will be available up front and to the right of the sanctuary.
OUR DISCIPLE MAKING PATHWAY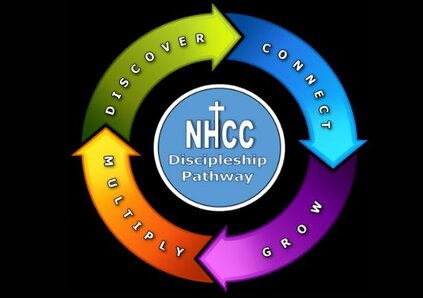 THE PATHWAY -
It's a simple way to understand what Jesus modeled for us throughout his life & ministry - DISCOVER (encounter) / CONNECT / GROW / MULTIPLY.
You and I were formed to be a part of a family. We DISCOVER (Encounter) the love of Jesus. We were brought in to relationship with God in Christ. We all need to experience the life of the body in relation to one another; to CONNECT in meaningful relationship is to begin to walk the disciple making journey.
In order for us to reach maturity as disciples, we have to allow the Holy Spirit to GROW each of us into the likeness of Jesus. Healthy things grow...no matter their age! Just like in the physical realm, when we stop growing we are dying. The spiritual growth of each follower of Jesus is a sign of His life in us.
That life in us is for a higher purpose, and that is to MULTIPLY! The grace we have found in Jesus is never meant to be kept to ourselves. We are called, commissioned, and sent into the world to make more disciples, who make disciples, via the gospel of Jesus.
--------------------------------------------------------------------------------
COME & WORSHIP IN-PERSON @ 4300 Lansing Ave, Jackson, MI,
or join the Live Stream
Sundays @ 10:45am -- mynewhorizons.org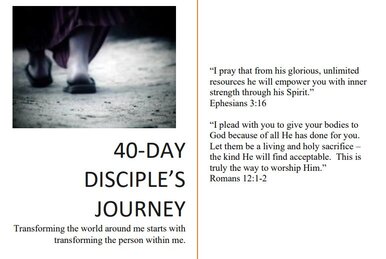 Find the weekly 40 Day Devotional here on our website.
https://mynewhorizons.org/40-days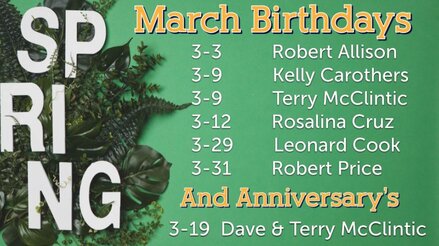 Praises & Prayers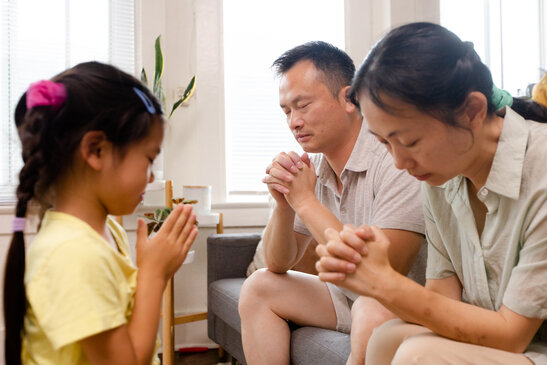 Penny Darling and family - Pray for peace, strength and clarity as they look towards a memorial for her husband, Phil. Service is set for Saturday, June 4th. Also, pray for provision & favor as Penny works through estate details.
Bob and Sharyl Allison - Pray for God's provision in their life and for health concerns for Sharyl.
Dennis Keeder and family - Dick Arnolds neighbor, Dennis's wife Deena passed away a week ago Wednesday.
Lori Pelham - Pray for God's strength and healing over her brother.
The Wohlgemuth Family - Their grandson, Jacob, passed away in a house fire. Pray for strength, peace and comfort during this time of loss and as they go through the hard process of being present at the trials for the perpetrator.
Greg and Fallon Walker - Greg had a hiatal hernia surgery on March 23rd. Every thing went well. He'll be on special a liquid diet for the next 6 weeks. Pray that this will help to improve his health issues. Also, pray for Fallon to have strength & peace of mind as she cares for Greg and for her granddaughter, Salem.
Dick Arnold & Sonya Sackrider - Nephew/Cousin Jim. Pray for God's hand on his doctors and that he will come to know the GRACE of God. Also, God's provision for his brother-in-law, Don VanWoert.
Ed Franco - Please pray for God's healing over his body. He received a liver transplant at the U of M hospital! Also, pray for healing & guidance from the LORD for other family members (one is on dialysis for 4 hours/3 times a week, another is working on getting an U.S. Visa).
Judy Utz - LuAnn, a friend of her daughter Lori, has terminal cancer. Please pray for God's salvation for her and family.
Chuck and Debbie Taylor - Their son Bobby is coming along, but still has extreme health concerns. Pray for other health concerns for Debbie and extended family members.
Heidi Roberts & Elsie Valentine - Pray for healing and strength for both as they battle health concerns. Pray for Heidi's knee replacement surgery in March.
Edna & Jerry Walters - Edna is doing well in therapy and getting stronger every day. Continue to pray for healing and strength so she will be able to return to church by spring.
Betty Gauze - Please continue to pray for healing and pain relief. She is also having vertigo issues.
Rick and Lorie Tripp - Lorie's sister-in-law, Sheila, she is healing from radiation treatments. Pray for continued strength and healing.
PTL!! Her brother, Kevin is home recovering from fungus pneumonia Asking for God's healing of his body and strength for in home therapy.
Rick is scheduled for hip replacement in April. Pray for continued good health.
Betty Curry - Please continue to pray for God's healing and strength. Pray for her daughter and upcoming Dr. visits
Mark & Dianna Thompson - Pray for employment opportunities to come through that will have livable salaries/wages as they get settled in Moncks Corners, South Carolina.
Jeff & Cheryl Whitney - Pray for Jeff as some days are good and some not. Pray for strength, healing and blessing.
Please be in prayer for our Church leadership as they seek God's will and direction for His Church. Pray for protection and unity over them as they serve.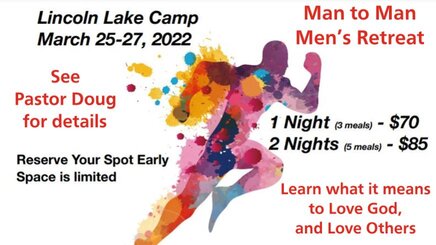 Events & Ministries
Special Events
Man to Man Retreat - March 25 - 27th, 2022 at Lincoln Lake Camp in Gowen, Michigan. SEE PASTOR DOUG!
Joy Dinner - Friday, April 1st, 2022 at 4:30 pm (55 yrs+)
Spring Clean-up - Saturday, April 2nd, 2022, 9 am - 3 pm - lunch provided. Come lend a hand!
IGNITE! - Saturday, April 9th, 2022, 5 pm - 8 pm - An evening to "ignite" your faith!


NHCC Weekly / Monthly Ministries
Caring Through Prayer - 9:30 am Sunday Mornings - Please join us in the Gathering Room as we make personal call and pray for our Church family.
Sunday Night Bible Study - 6:00 pm led by Rick Tripp in NHCC Gathering Room.
Young's Small Group - Every Monday @ 6:30 pm led by Keith & Connie Young at their house in Spring Arbor.
Grief Share - Every Tuesday @ 6 pm in the Gathering Room led by Keith & Connie Young. NEW SESSION! - STARTED ON MARCH 15TH.
Prayer Meeting & Bible Study - Every Wednesday @ 6:30 pm led by Mike Wilson & Phil Moffitt in NHCC Gathering Room.
Ladies Bible Study - Every Thursday @ 10 am led by Wendy Bilby in NHCC Gathering Room.
AA Group - Thursdays, 5:30 pm, upstairs in the NHCC Gathering Room.
Photo Club- Thursdays, 7:00 pm, upstairs in the NHCC Gathering Room. Led by Pastor Dave McClintic.
Saturday Night Worship and Prayer - 7 pm each Saturday @ NHCC's sanctuary. Join the prayer team as we worship and pray for our Church family, leaders, those who are lost and far from God and God's will for NHCC.
Ladies' Breakfast - Saturday, March 26th, 9:30 am
Men's Breakfast - Saturday, April 9th, 8:30 am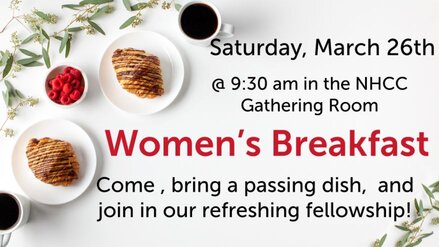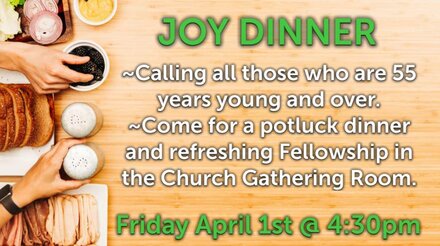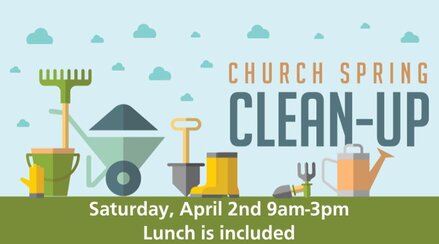 MARK YOUR CALENDARS!!
Everyone is welcome to come help spruce up the church building and grounds. Many hands make light work!
Church Volunteers

Ushers and Greeters
March 27th:
Ushers:
Carl Price
Dick Arnold
Dorwin DeGroote
Greeters:
Laura Denney
Denise Moffitt
April 3rd:
Ushers:
Carl Price
Dick Arnold
Dorwin DeGroote
Greeters:
Laura Denney
Denise Moffitt
If you would like to volunteer as an Usher or Greeter please contact Carl Price.
Nursery Workers
March 27th:
Dee Wertz
April 3rd:
Wendy Bilby / Kriz
To assist with our Nursery, contact Wendy Bilby @ 517-962-9009.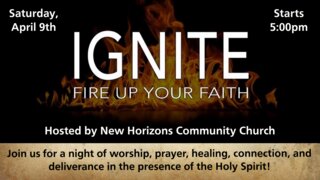 Rev. Rhyan Glezman and the music & worship team of Community Church of God in Clio, MI, will minister to any and all who come with an hunger and thirst for the holiness of God. Need a deeper awareness of the Spirit? Seeking the Lord for a physical healing? Desperate for a deliverance from fear, anxiety, or depression? Come seek the fire of the Holy Spirit who can bring newness to your life!
Our address is: 4300 Lansing Avenue, Jackson, MI, 49201