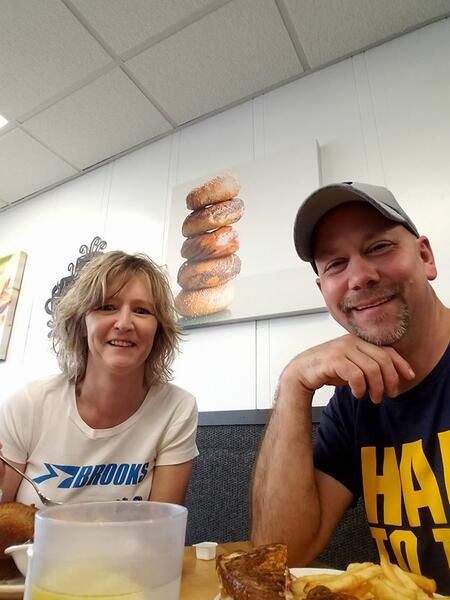 Thank You!!
Weekly Update 8-20-2020
Thank You for your Service!
I've got some thing terrifyingly exciting to share with you!
After 11 years of serving in the same ministry leadership role,
Mark and Dianna Thompson will be stepping down from NHCC's KIDZ Ministry.
They are needing some time to rest, recover, rely and be reloaded by the Lord!
The current season of their lives has shifted them into some new ventures that need their focus and attention.
Their last Sunday downstairs will be August 30th, after that they will be joining us upstairs for worship.
Join us on August 30th for a card and cupcake reception after church to celebrate Make and Dianna.
Please join with the KIDZ Ministry team in prayer for this transition time and how our KIDZ Ministry will be structured in the future.
Pastor Jerry Lyon
Serving Opportunities!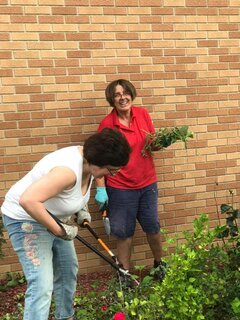 Thank you so much, there have been so many hands helping and working on our Church building and grounds!
God is moving in so many hearts and hands and our Church is looking better and better.
There are still more opportunities to help out all this month on Saturdays at 8am.
We will be pulling weeds, pruning, and whatever else needs doing.
Blessings my Family
Tasha Price
Praises & Prayers

Nearpass's Grandkids - Pray for new opportunity's in their life.
Pastor Dave McClintic - Going in for Cataract surgery on August 27th. Please be in prayer for this as it is more in depth than just regular cataract surgery. Pray for wisdom for his doctors.
Penny Darling - Broke her knee in 3 places, she had surgery and is healing. Please be in prayer for continued healing.
Eduardo Franco - Heath concerns, pray for healing.
Keith Young - Had surgery on Wednesday. Pray for quick and complete recovery
Dianne Barnum - At U of M with concerning health issues. Pray for her, her doctors and family.
Art Holdridge - Recovering from surgery. please be in prayer for healing and comfort
Guy Wertz -Health Concerns, Be in prayer for him and his family.
Jeff Whitney - Health Concerns, Be in prayer for him and his family.
Jackie Arnold - Please be in prayer for Dick's wife and Sonya's mom Jackie, this Friday she will be getting a biopsy done on her lungs and the 20th they will meet with her surgeon and discuss the results and treatment options.
Kathy Miller - PRAISE!! Her eyes are doing great!! Thank you God!
Elsie Valentine and the Roberts family - Jerry passed away on May 5th. Please continue to pray for them. Still awaiting a time to have a memorial service.
Edna Walters -Had back surgery on Thursday, July 23rd. She is doing Rehab at Vista. Pray for healing and if you could, give her a call or send her a card. Contact Tasha at the church office, M-Th, 10am-3pm, for further info.
Sandie Hendrick - Fell 3 times last week and her knee is hurting her. Please keep her in prayer.
Dora Capello - Praise God, she is doing well and sharing her testimony of Gods provision in her life!
Greg Walker - so many health concerns, but his faith sustains him! Pray for his strength and healing.
Heidi Roberts - PRAISE! Done with Chemotherapy. Please continue in prayer as she is having radiation done for 7 weeks.
Brenda W. - PRAISE! God her surgery went well. She is home and doing well. Pray for healing and if you could, give her a call or send her a card. Contact Tasha at the church office, M-Th, 10am-3pm, for further info.
Stevens & Taylor Families - Bobbi McKenzie passed away on Thursday, May 28th. Please continue to pray for peace and comfort. Still awaiting a time to have a memorial service.
Pray for our nation, state and communities as we begin to "re-open" and return to doing our long awaited activities.
Please be in prayer for our Church leadership as they seek God's will for His Church as we move forward in, "Helping People Find Their Way [Back] to God!"
Need Information?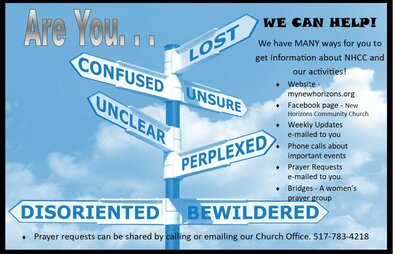 Special Events
NHCC Weekly Ministries -
7 pm Prayer on Saturday - In person prayer @ NHCC. Join the prayer team as we pray for our Church, City, Nation and world.
NHCC Special events -
-Weeding and working at 8am August 22nd here at NHCC
-Worship Through Prayer - Sunday Aug 30th @ 10:45 am
A uniquely powerful worship experience designed for the expression of prayer among us - praying for the lost, our polarized nation, what's next @ New Horizons, and so much more. We will experience this with our NHCC Kidz!
-Photo Club - Thursday, September 10th at 7pm.
Photo club is a group of amateurs that share their photos, not for competition, but to help each other learn and grow as photographers. Each month there is a photo assignment intended to challenge our members to take images of specific subjects or topics to stretch their photographic talents.
August Birthdays and Anniversaries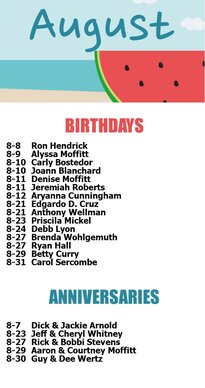 Life Groups

NHCC Life Groups currently meeting -
3pm Sundays starting September 13 - Bible Study with Rick Tripp, online and on ZOOM.
6 pm Wednesdays - Moffitt Life group at Phil & Denise Moffitt's Home
10 am Thursdays - Ladies Bible Study, Wendy Bilby leading @ NHCC
8 pm Thursday - Ladies Bible Study, Andrea Roberts leading @ NHCC
See you This Sunday, August 23rd at 10:45 am to Worship and Honor our Holy, Holy God!
MESSAGE SERIES: THINGS YOU GOTTA KNOW TO MAKE IT AS A CHRISTIAN! Message: Concentrated Connection!
Praying God's Blessing on you my Family
Tasha Price
Helping people find their way back to God
Our address is: 4300 Lansing Avenue, Jackson, MI, 49201