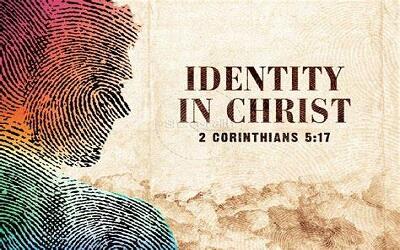 Identity in Christ
Weekly Update 9-2-2020
Sunday Morning Worship
Join us THIS Sunday as we learn about our Identity in Christ.
Pastor Doug will be speaking. See you at 10:45 am.
Caring Through Prayer!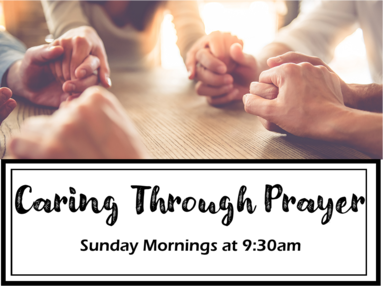 In lieu of Sunday School we are meeting at 9:30 am to call those on the Prayer List and in the Directory to pray for them.
This is open to all ages
We gather in groups of 3 or 4 to call and pray for others over the phone.
This has proven to be a HUGE blessing to all who have been involved so far.
*Children's Sunday School and Nursery are not in session from 9:30-10:30am
Registration for Kidz Klub and Nursery will start at 10:30am each Sunday
If you have any questions about Sunday School please call, or contact Tasha Price.
Praises & Prayers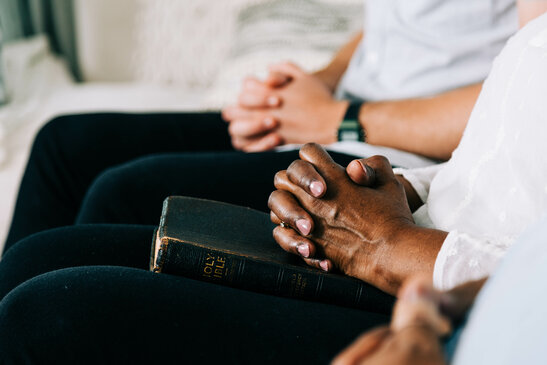 Branda Gillette - Very early in her pregnancy. Pray for continued health and HCG levels to continue to rise.
Judy Utz's Granddaughter Emma - Has a heart condition and had a bad spell. Please pray for healing and protection.
Tasha Price's neighbor Teresa - Has pancreatic cancer and doesn't know the Lord. Pray for opportunities to share God's Love.
Lana Breece - Pray for her family.
Jonathon Salisbury - his national guard unit has been deployed to Kenosha, Wisconsin. Pray for his safety in these turbulent times.
Pat Willis Grand-kids - Pray for her two Grandsons Robert and Chris who are in the marines and their families. Also for her Granddaughter who is pregnant.
Nearpass's Grandkids - Pray for new opportunity's in their life.
Pastor Dave McClintic - Going in for Cataract surgery again in a couple weeks.
Penny Darling - Broke her knee in 3 places, she had surgery and is healing. Please be in prayer for continued healing.
Paul Darling - Knee problems. Pray for helping
Phil Darling step mother Joanne Darling - Had an accident while mowing her lawn. Had surgery on her leg.
Eduardo Franco - Heath concerns, pray for healing.
Keith Young - Had surgery on last Wednesday. Pray for a quick and complete recovery and pain management.
Dianne Barnum - At U of M with concerning health issues. Pray for her, her doctors and family.
Art Holdridge - Pray for his echocardiogram on September 13th.
Guy Wertz -Health Concerns, Be in prayer for him and his family.
Jeff Whitney - Health Concerns, Be in prayer for him and his family.
Jackie Arnold - Please be in prayer for Dick's wife and Sonya's mom Jackie she has been diagnosed with stage 4 cancer. She started getting Chemo last Friday. Pray for a miracle!
Elsie Valentine and the Roberts family - Jerry passed away on May 5th. Please continue to pray for them. Still awaiting a time to have a memorial service.
Edna Walters -Had back surgery on Thursday, July 23rd. She is doing Rehab at Vista. Pray for healing and if you could, give her a call or send her a card.
Sandie Hendrick - Health issues, pray for healing and wisdom.
Greg Walker - so many health concerns, but his faith sustains him! Pray for his Grandkids as they mourn the passing of their Stepfather.
Heidi Roberts - PRAISE! Done with Chemotherapy. Please continue in prayer as she is in week 4 of 7 of radiation.
Brenda W. - Having back pain and is going in for a MRI mid-September. Pray for comfort.
Wade Salyer - Looking for medical answers. Pray for Doctors wisdom.
Stevens & Taylor Families - Bobbi McKenzie passed away on Thursday, May 28th. Please continue to pray for peace and comfort. Still awaiting a time to have a memorial service.
Please be in prayer for our Church leadership as they seek God's will for His Church as we move forward in, "Helping People Find Their Way [Back] to God!"
Need Information?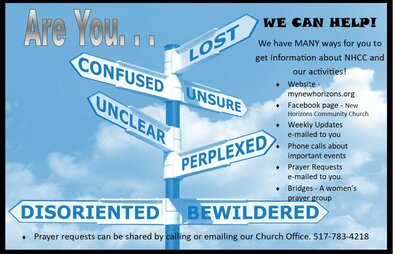 Special Events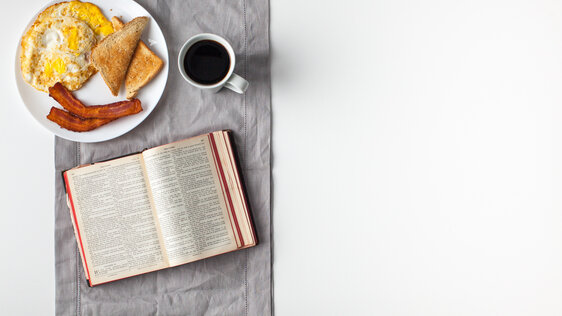 NHCC Weekly Ministries -
9:30 am Sunday Mornings - Making calls and praying for our Church family. Please join us in the Gathering room if you are available.
7 pm Prayer on Saturday - In person prayer @ NHCC. Join the prayer team as we pray for our Church, City, Nation and world.
NHCC Special events -
-Men's Breakfast - Saturday, September 12th 8:30 am
Be sure to sign up on the sheet on the Ushers desk in the Foyer.
Sunday Morning Speakers
-Pastor Doug Speaking on the Identity of Christ
September 6th
-Phil Moffitt Speaking on The Cross and Blood of Jesus
September 13th
-Pastor Dave McClintic Speaking
September 20th
-Reverend Mark Richardson -The State Pastor for the Church of God in Michigan Speaking.
September 27th
September Birthdays and Anniversaries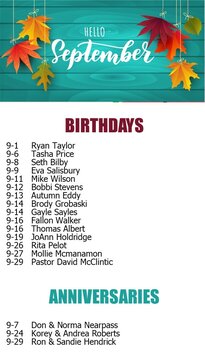 Church Volunteers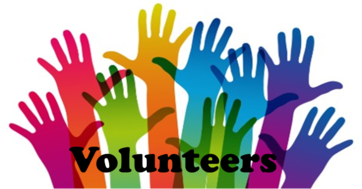 Ushers and Greeters
September 6th:
Greeters:
Carl Price
Sandie Hendrick
Ushers:
Dick Arnold
Carl Price
Steve Bolton
Mike Wilson
September 13th:
Greeters:
Carl Price
Laura Denney
Sandie Hendrick
Betty Gauze
Ushers:
Don Tripp
Rob Wohlgemuth
Carl Price
If you would like to volunteer as an Usher or Greeter please contact Carl Price.
Nursery Workers
September 6th:
Denise Moffitt
September 13th:
Dee Wertz
If you could help out in the Nursery contact Wendy Bilby and let her know.
Life Groups

NHCC Life Groups currently meeting -
3pm Sundays starting September 13 - Bible Study with Rick Tripp, online and on ZOOM.
6 pm Wednesdays - Moffitt Life group at Phil & Denise Moffitt's Home
10 am Thursdays - Ladies Bible Study, Wendy Bilby leading @ NHCC
8 pm Thursday - Ladies Bible Study, Andrea Roberts leading @ NHCC
See you This Sunday, September 6th at 10:45 am to Worship and find out about our Identity in Christ!
September 13th Phil Moffitt will be sharing the Message on The Cross and Blood of Jesus!
Praying God's Blessing on you my Family
Tasha Price
Our address is: 4300 Lansing Avenue, Jackson, MI, 49201