A Renewed Community!
Weekly Update 2-4-2021
Men's Conference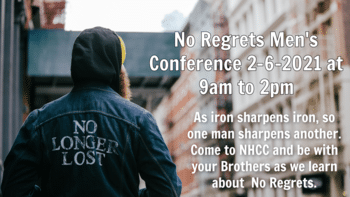 Men, call Pastor Doug to let him know you are coming to the Conference.
A Note from Pastor Jerry!
Are you hungry to see the Holy Spirit do something fresh in your life? Have you figured out that you need to be RENEWED? We need to experience having:
A RENEWED SPIRIT - that is initiated via the action of repentance,
A RENEWED PURPOSE - that is found in the one who created you,
A RENEWED LOVE - for Jesus leading to loving others among us,
A RENEWED COMMUNITY -that builds & strengthens relationships!
Looking at the 2021 calendar for the next few months, I just had a crazy reality check... This time last year, I was planning my preaching calendar, focusing in on "clarity," and beginning to prep for Resurrection Sunday, April 12th. It hit me, we've not been at full community strength for over 10 months!
We aren't the only ones. There are churches which haven't had any in-person gathering for the same period of time while we have been having in-person worship since June, 2020. It hasn't been what it used to be, but maybe God, using this season, is getting us prepared for where he wants us to be. ?? I believe that our public gatherings are important, especially for greater spiritual & mental health. We need worship, but in the context of community. We need strengthen via the experience of community. Your faith walk is designed to be in connection with the people of God, together, on the mission of God.
This Sunday, we'll again share the Bread and Cup. Those who are in-person will be joined by those on-line to share in the community experience of taking Communion, together. It is one part of being the church that connects us. We will be focusing on RENEWED COMMUNITY for the message. As we gain ground on this pandemic, we are looking forward to seeing more face-to-face encounters. We want to strengthen those who have become isolated, weakened spiritually, and feeling like life has halted. We are excited about what God is doing, and will be doing in the coming months of 2021.
Make plans to come and be apart of the New Horizons Community!
On Sunday, February 14th, I'll be sharing what our leadership has decided to put forward as New Horizons' 2021 Agenda for mission & ministry and how you can be engaged in it.
On Sunday, Feb. 21st, we'll start a 5 week series that will focus on, "How to B.L.E.S.S. Our Community!"
IT'S TIME TO GET ON WITH IT! IT MIGHT LOOK DIFFERENT FROM PAST DAYS, BUT WE SHALL MOVE FORWARD TO EXPAND THE KINGDOM OF GOD, HOWEVER & WHEREVER WE CAN!
Are you with me?
Pastor Jerry
--------------------------------------------------------------------------------
OPEN FOR WORSHIP IN-PERSON & ONLINE!
We want to assure you that we are remaining open for in-person worship, taking precautions and making sure the facility continues to be sanitized after our Sunday worship. We want to remind all who would attend of these important guidelines:
1. Attend ONLY if you are NOT experiencing signs of illness -
(i.e. - fever, persistent/active cough, unusual tiredness or fatigue, shortness of breath, muscle aches, chills, sore throat, runny nose, headache)
2. If you've been directly exposed to someone within the last 48 hrs who has tested Covid positive, have had a recent loss of taste, or just not sure you should be around others, please follow the CDC's guidelines for self-quarantining. You may not have it, but we'd rather you miss a Sunday than to cause someone else to become ill.
3. Minimize your risk by using hand sanitizer, being contentious of the space you give others and yourself, wear a mask, limit touching your eyes and nose, or simply stay at home. You can watch the Sunday message on FB Live by going to New Horizons Community Church's Facebook page.
We want to be sure to remind our church family to be diligent in their self & other's protection. We want to encourage folks to spread out in our large worship area and know that you won't be crowded. If it is too uncomfortable or the risk is too high for you to be around others for worship who may not be wearing a face covering, we understand. We love you and want to see you stay healthy so we can see you again at New Horizons when this crazy season of life is done.
February 7th Communion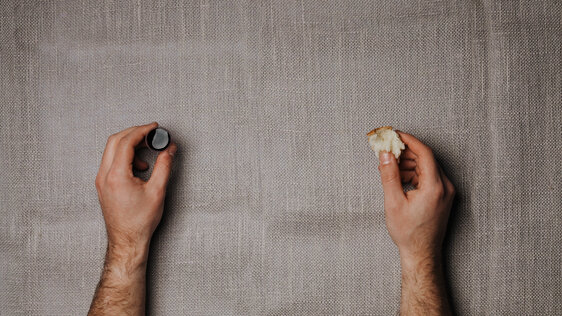 Join with us this Sunday for communion. If you are not able to be with us on Sunday get some bread and juice and join with us LIVE on Facebook to take communion together. Get ready to be a part of the New Horizons Community!
Get Church Updates!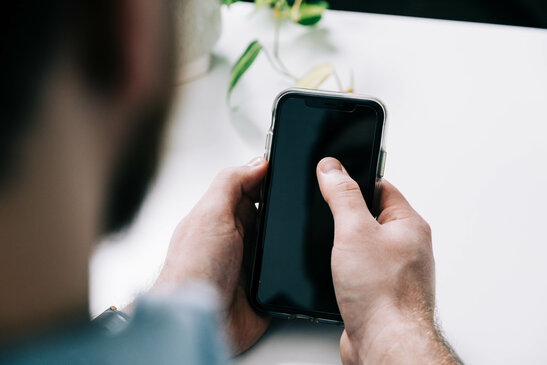 To get important updates and information about Church events, weather related closings, and other important information text the word
ALERT
to 22300
Call our Church Office if you would like help or more information.
Praises & Prayers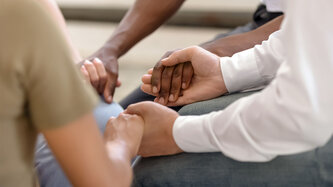 Caleb Bilby - Applying in Ohio for a Youth Pastor position.
Don and Norma Nearpass's neighbor Marie - She is 95 and in the hospital. Pray for comfort and provision for her.
Jeff and Eva Salisbury's Daughter Bethany - She is 31 weeks pregnant and on bed rest. Pray for a healthy pregnancy and delivery.
Jeff and Eva Salisbury's son Johnathon - He serves in the Michigan National Guard and is currently on assignment in Washington D.C. Pray for his protection and for his little family during his absence.
Robert & Sharyl Allison - Pray for health concerns.
Linda Turner - Doing better! Pray for continued good health.
Sara Anderson - Her nephew has Covid. Pray for strength and a quick recovery.
Debbie Taylor - Is scheduled to have a tooth pulled on Feb. 10th. Pray for protection and strength.
Brenda Wohlgemuth - Pray for comfort and relief from pain.
Edna & Jerry Walters - Pray for continued healing and strength for Edna to be able to walk, as she is not able to do so yet. Also, for Jerry to get stronger and stay healthy. Pray for protection from COVID for their daughter, Kim while she works at Vista Grande Villa.
Betty Gauze- Pray for her back.
Pastor Phil - pray for recovery from surgery.
Guy Wertz - COMING HOME on February 9th!!!! Thank you God!!
Keep praying for his breathing and strength as he is going through PT and OT.
Franco's - Pray for Ed, as he has cancer, and needs to stay Covid free.
Carol Sercombe's boyfriend, Phil Rowlson - Has cancer. Pray for recovery from surgery and that he would do well with his twice a week radiation treatments. Pray for his heart to be softened.
Betty Curry's friend Sharon - She has cancer. Pray for healing and strength.
Brandon & Branda Grobaski - Pray for a healthy pregnancy and blessings on their marriage.
Jeff Whitney - Pray for continued healing on his hip.
Cheryl Whitney - Started therapy on her shoulder.
Jackie Arnold (Richard's wife/Sonya's mom) - Her tumors have shrunk - PTL!!! Pray for continued healing and strength.
Please be in prayer for our Church leadership as they seek God's will for His Church as we move forward in, "Helping People Find Their Way [Back] to God!" on in to 2021!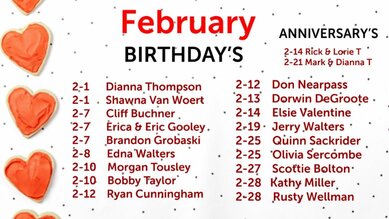 Special Events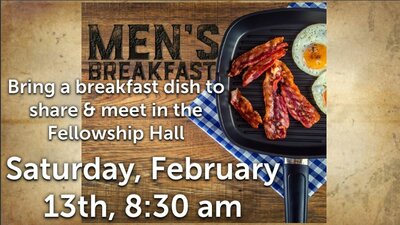 NHCC Weekly Ministries
Caring Through Prayer - 9:30 am Sunday Mornings - Please join us in the Gathering Room as we make calls and pray for our Church family.
Devoted Prayer - 7 pm on Saturdays In person prayer @ NHCC. Join the prayer team as we pray for our Church family, leaders, and Gods will in our Church.
NHCC Special Events
-Men's Conference-No Regrets - Saturday February 6th at 9a-2p
-Communion - Sunday, February 7th at 10:45 am
Men's Small Group Bible Study - Meeting in-person and on Zoom Sundays at 5 pm starting on Feb. 7th. Will also be recorded on Facebook for viewing and comments the following Monday.
-Men's Breakfast - Saturday, February 13th at 8:30 am (Gentlemen please bring Washcloths for OCC)
-Ladies Night Out - Friday, February 19th at 7 pm
-Women's Breakfast - Sunday, February 27th at 9:30 am(Women please bring Washcloths for OCC)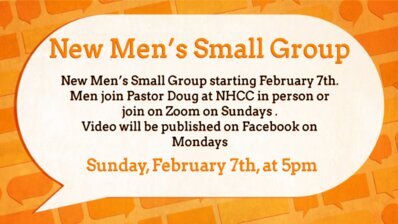 Church Volunteers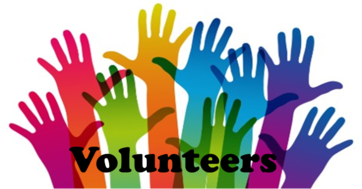 Ushers and Greeters
February 7th:
Greeters:
Carl Price
February 14th:
Greeters:
Carl Price
If you would like to volunteer as a Greeter please contact Carl Price.
Nursery Workers
February 7th:
Denise Moffitt
February 14th:
Wendy and Kriz Bilby
If you could help out in the Nursery contact Wendy Bilby and let her know.
Life Groups

NHCC Life Groups currently meeting -
5pm Sundays - Men's Study with Pastor Doug, In-person (Coffee Corner at NHCC) and Zoom. Video's will be posted Monday on Facebook.
6pm Sundays - Bible Study with Rick Tripp, In-person (Gathering Room), on Facebook Live and Zoom.
6 pm Wednesdays - Moffitt Life group at Phil & Denise Moffitt's Home
10 am Thursdays - Ladies Study, Wendy Bilby leading @ NHCC
8 pm Thursday - Ladies Study, Andrea Roberts leading @ Alex Wellman's Home
See you This Sunday, February 7th at 10:45 am.
Our address is: 4300 Lansing Avenue, Jackson, MI, 49201