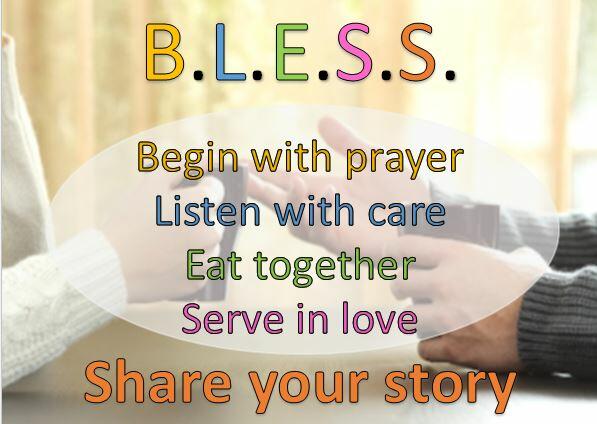 Week 5 - "Share Your Story"
Weekly Update 3-18-2021
A Note from Pastor Jerry!
We're in the 5th week of our "B.L.E.S.S." series of messages & table groups. Our focus: helping us to each become a blessing to those in our areas of influence!
The last challenge for you is to: Share Your Story. After we've been praying for friends, neighbors and coworkers, listening to them with care, making the time to eat with them, finding ways to serve them in love, now we prepare to share our story of God's love breaking through into our own lives. This is how you live out the Great Commission of Jesus, to be his disciples and build the Kingdom of God. The message and table groups will help you learn a simple way to put together your story and to share it!
We have 2 Sundays remaining of table groups. If you haven't been a part of one, there's still time to enjoy the fellowship & discussion. This might be the week for YOU to pull up a chair and re-connect! This is providing a great opportunity for fellowship, interaction, and challenge to be a better follower of Jesus Christ.
If you want to be a part of the "online" TABLE GROUP, but not sure how, contact the NHCC office at 517-783-4218, and Tasha or Debb will contact you with the info. You can also go to mynewhorizons.org, click on the B.L.E.S.S. tab and find the ZOOM link button.
IT'S TIME TO GET ON WITH IT! IT MIGHT LOOK DIFFERENT FROM PAST FORMER DAYS, BUT WE SHALL MOVE FORWARD TO EXPAND THE KINGDOM OF GOD, HOWEVER & WHEREVER WE CAN!
Are you with me?
Pastor Jerry
P.S.--
Who will YOU be inviting to Resurrection (Easter) Sunday, April 4th @ 10:45am? Someone needs to hear the message of, "HIS LOVE NEVER FAILS!"
--------------------------------------------------------------------------------
OPEN FOR WORSHIP IN-PERSON & ONLINE!
We want to assure you that we are remaining open for in-person worship, taking precautions and making sure the facility continues to be sanitized after our Sunday worship. We want to remind all who would attend of these important guidelines:
1. Attend ONLY if you are NOT experiencing signs of illness -
(i.e. - fever, persistent/active cough, unusual tiredness or fatigue, shortness of breath, muscle aches, chills, sore throat, runny nose, headache)
2. If you've been directly exposed to someone within the last 48 hrs who has tested Covid positive, have had a recent loss of taste, or just not sure you should be around others, please follow the CDC's guidelines for self-quarantining. You may not have it, but we'd rather you miss a Sunday than to cause someone else to become ill.
3. Minimize your risk by using hand sanitizer, being conscientious of the space you give others and yourself, wear a mask, limit touching your eyes and nose, or simply stay at home. You can watch the Sunday message on FB Live by going to New Horizons Community Church's Facebook page.
We want to be sure to remind our church family to be diligent in their self & other's protection. We want to encourage folks to spread out in our large worship area and know that you won't be crowded. If it is too uncomfortable or the risk is too high for you to be around others for worship who may not be wearing a face covering, we understand. We love you and want to see you stay healthy so we can see you again at New Horizons when this crazy season of life is done.
Table Groups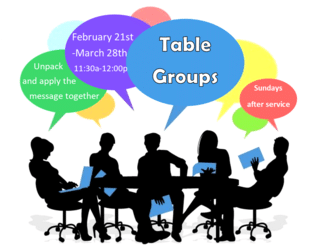 February 21st - March 28th
We'll be having small groups spread out around the facility to unpack & apply the morning message together. (30 mins) There'll also be an "online" group via a ZOOM link. If you'd like to be a part of an "in-person" or "on-line" Table Group, please email us @ newhorizons.chog@gmail.com. We'll get you signed up!
Get Church Updates!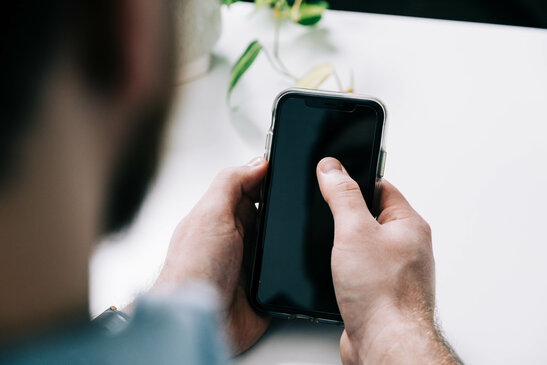 To get important updates and information about Church events, weather related closings, and any other important information TEXT from your cell phone the word:
"ALERT"
to 22300
Call our Church Office if you would like help or more information.
Volunteers needed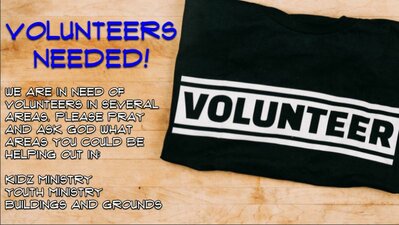 To find out more about these ministry areas and how you could be of help, contact the ministry leaders.
KIDZ Ministry - Korey & Andrea Roberts - 517-525-8809
Youth Ministry - Pastor Jerry Lyon - 517-499-9262
Buildings & Grounds - Rusty Wellman - 517-745-0231
Praises & Prayers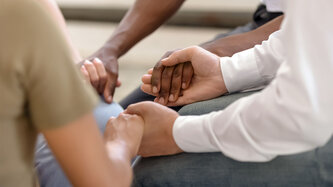 Jeff & Eva Salisbury's daughter, Bethany Miranda, had her baby!!! - A healthy baby boy!! Reuban Joseph Miranda. 7lbs 1oz. PTL
Jeff and Eva Salisbury's son, Johnathon - He serves in the Michigan National Guard and is home from Washington D.C.!!! PTL
Jeff Salisbury's Mom - Is in hospice care and doing much better. She has been able to maintain daily routine (eating, drinking, getting dressed, etc.) PTL
Jackie Arnold (Richard's wife/Sonya's mom) - Doing well, pray that she will be able to maintain the progress that she has made.
Bill Sayles - Bill will be having back surgery on March 31st. Pray for pain relief and comfort during the night. Pray for strength for Gayle as she cares for him.
Betty Curry - Waiting to hear from a specialist to get answers for treatment. Pray for restored health.
Heidi Roberts - Pray for continued healing and strength.
Sara Anderson - Is feeling "under the weather". Pray for a quick recovery.
Kelly Carothers' sister - Having surgery on March 23rd. Pray for comfort and healing.
Judie Utz - Pray for God's direction and peace in an upcoming decision.
Don and Norma Nearpass - Pray for pain relief in Norma's back. Also to for family members, Trevor, who will be having job interviews this coming week and Joe who was hurt while skiing.
Robert & Sharyl Allison - Bob had surgery on right arm. Pray for healing. Sharyl has an appointment with a cardiologist. Pray for answers.
Pastor Phil Darling - Phil is home. Pray for strength for him and Penny as she cares for him. He is not open to having visits just, yet.
Rick and Bobbi Stevens- Rick's sister, Debbie Diamond, has kidney failure, pray for comfort for her and her family.
Debbie Taylor - Going to have dental work this month. Pray that her blood pressure will be stable. Hoping to be back in church by April 18th!
Charlie Barnum - His heart medications are working - PTL! Will be receiving injections for back pain sometime this month. Continue to pray for healing and relief.
Louise Eddy's Granddaughter Ali-Marie - Pray for her and her family to get answers and a treatment plan for her seizures.
Guy Wertz -Continue to pray for his oxygen levels to improve so he is able to be more independent. Pray for strength for Dee as she is caring for him.
Ryan and Mary Hall - Pray for wisdom and strength as they make hard decisions for Logan's future. Pray for traveling mercies as the family heads to Florida. Also, pray for Mary as she will be taking a Real Estate test for certification.
Jeff & Cheryl Whitney - both are healing well! Cheryl will be finishing her recovery in FL for a couple weeks!!! Pretty rough.
Brenda Wohlgemuth - Pray for comfort and relief from pain.
Edna & Jerry Walters - Pray for continued healing and strength for Edna from back surgery so many months ago. She wants to walk again.
Franco's - Pray for Ed, he's battling cancer, needs to stay Covid free.
Carol Sercombe's boyfriend, Phil Rowlson - Pray for a softening of his heart and that he remains in remission.
Betty Curry's friend Sharon - She has cancer. Pray for healing and strength.
Brandon & Branda Grobaski - Thank you God, Brandon has a new job! Continue to pray for a healthy pregnancy and for the baby to turn as he is sideways right now.
Please be in prayer for our Church leadership as they seek God's will for His Church as we move forward in, "Helping People Find Their Way [Back] to God!" in to 2021!
Special Events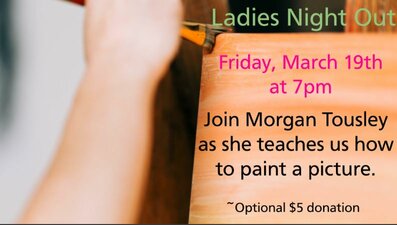 NHCC Weekly Ministries
Caring Through Prayer - 9:30 am Sunday Mornings - Please join us in the Gathering Room as we make calls and pray for our Church family.
Devoted Prayer - 7 pm on Saturdays In person prayer @ NHCC. Join the prayer team as we pray for our Church family, leaders, and Gods will in our Church.
NHCC Special Events
-Photo Club - Thursday, March 18th at 7:00 pm
-AA group - Thursdays, 5:30pm, downstairs
-Ladies Night Out - Friday, March 19th at 7:00 pm
-Photo Club - Thursday, March 25th at 7:00 pm
-Women's Breakfast - Saturday, March 27th at 9:30 am (Women please bring School Supplies for OCC)
-Palm Sunday- Sunday, March 28th at 10:45 am
-Disciples Service - Wednesday, March 31st at 7 pm
-J.O.Y. Dinner - NEW DATE! Friday, April 2nd at 4:30 pm
~Calling all those who are 55 years young and over.
~Come for a potluck dinner and Fellowship in the Gathering Room.
-Resurrection Sunday! - Sunday, April 4th @ 10:45 am
Celebrate the love of God in His power over sin & death!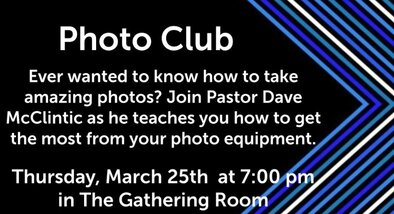 This month, Photo Club restarts! 2 sessions - March 18th & March 25th @ 7pm. They will meet each month forward on the 2nd and 4th Thursday evenings @ 7pm in the Gathering Room. All are welcome.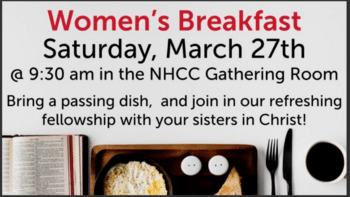 Disciples Service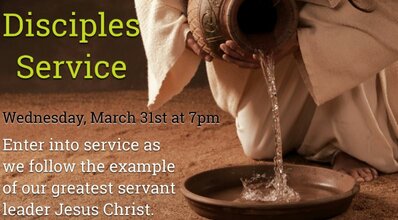 Church Volunteers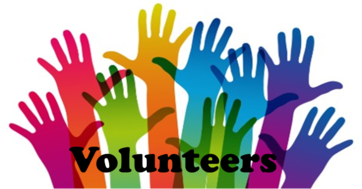 Ushers and Greeters
March 21st:
Greeters:
Carl Price
March 28th:
Greeters:
Carl Price
If you would like to volunteer as a Greeter please contact Carl Price.
Nursery Workers
March 21st:
Dee W.
March 28th:
Pennie S.
If you could help out in the Nursery contact Wendy Bilby and let her know.
Life Groups

NHCC Life Groups currently meeting -
5pm Sundays - Men's Study with Pastor Doug, In-person (Coffee Corner at NHCC) and Zoom. Video's will be posted Monday on Facebook.
6pm Sundays - Bible Study with Rick Tripp, In-person (Gathering Room), on Facebook Live and Zoom.
6 pm Wednesdays - Moffitt Life group at Phil & Denise Moffitt's Home
10 am Thursdays - Ladies Study, Wendy Bilby leading @ NHCC
8 pm Thursday - Ladies Study, Andrea Roberts leading @ Alex Wellman's Home
See you This Sunday, March 21st at 10:45 am.
Our address is: 4300 Lansing Avenue, Jackson, MI, 49201