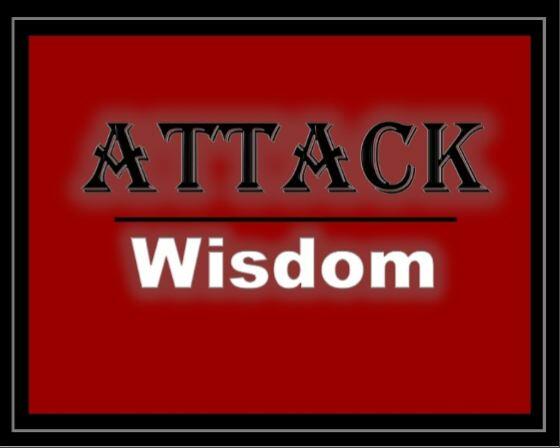 Week 4 "Prayer Heals, Pride Kills"
Weekly Update 5-13-2021
A Note from Pastor Jerry!
Good Thursday to you~
I'm back from Colorado, had a good Mother's Day get together with my sisters and mom, and ready to get back with you and our message series, "Wisdom Under Attack!"
I can tell you something about traveling...you see a lot of people lacking any kind of wisdom, let alone Godly wisdom. People are losing their minds, out of control, and unaware of how their behavior affects the people around them. Too much anxiety, not enough peace. Too much worry, not enough rest. Too much deception, not enough truth. Too much hatred, not enough hope. Too much "me," and definitely not enough humility.
I'm telling you folks, true followers of Jesus and the wisdom that we have access to is what stands in between preserving this life to win one more for Jesus and total breakdown!
Ok, I might be over-selling it, but Godly wisdom has a power that is rightfully distinguishable from wordly wisdom. It comes from a diffierent source, a different well. Jesus said bad fruit comes from a bad plant, just like angry/hateful/hostile/self-centered words come from the same kind of a heart. Godly wisdom comes from a Godly heart that has been transformed by the holy spirit, walking in humility and hope!
This Sunday, we'll see the contrast between a heart that walks in pride (fear and selfishness) and one that walks in humility (hope and knowledge of a Great Big GOD!); how one kills , and the other heals.
I pray you are being blessed, so go ... be a blessing!
Pastor Jerry.
From Larry Osborne's book, Thriving in Babylon,
"God is much more concerned about our ultimate holiness than He is about our current happiness. He is much more interested in the way we respond to difficulties than he is in alleviating our current pain. This is not an easy way to view God, and it's counter-cultural. And, yet, if we look back on our lives when we had the most significant spiritual growth, it came smack-dab in the middle of difficulties. There is hope, no matter what you face in this day. God is at work."
--------------------------------------------------------------------------------
OPEN FOR WORSHIP IN-PERSON & Live Streaming ONLINE!
Sundays @ 10:45am -- mynewhoriozns.org
We want to assure you that we are remaining open for in-person worship, taking precautions and making sure the facility continues to be sanitized after our Sunday worship. We want to remind all who attend of these important guidelines:
1. Attend ONLY if you are NOT experiencing signs of illness
2. If you've been directly exposed to someone within the last 48 hrs who has tested Covid positive.
3. Minimize your risk by using personal hand sanitizer or those mounted on the wall outside the santuary and by PJ's office, being conscientious of the space you give others and yourself, wear a mask if you so desire, and limit touching your eyes, nose and mouth. Cover any cough or sneeze with a tissue.
We want to be sure to remind our church family to be diligent in the above practices. We want to encourage folks to spread out in our large worship area and know that you won't be crowded. We love you and want to see you stay healthy at New Horizons Church.
Q&A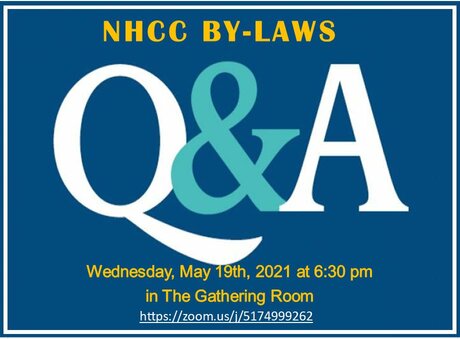 Copies of the revised & updated bylaws will be available beforehand to review. Bring any questions for clarification to the meeting for discussion before the special called mtg to ratify the bylaws on May 23rd, 2021. Zoom link added for those unable to attend in person.
Praises & Prayers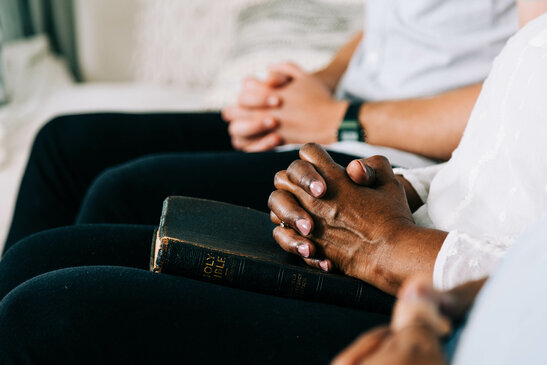 Debbie Taylor - Is home PTL!!!. Improving every day. She's walking and getting up without assistance. Please continue to pray for strength and a complete recovery. Pray for Chuck, Ryan and her sister, Bobbi, as well.
Phil Moffitt - Had surgery on May 6th at 11:30 am. Pray for a quick and full recovery.
Dee Wertz - Her son, Wade's father-in-law, Doug, is starting radiation and chemotherapy for cancer. Pray for strength and peace for him and family.
Kelly Carothers - Sister, Carol, had back surgery. Pray for pain relief and healing.
Megan Furlong's family - pray for them at the passing of her uncle John. Megan's mom, is having a hard time with the loss.
Carly Bostedor - Please be in prayer for Carly's mom who is having health concerns. Also pray for Carly to have strength and courage.
Pastor Phil Darling - PTL!!! He is getting stronger. Pray for continued healing and strength after kidney removal. Also, pray for energy and peace for Penny.
Jackie Arnold (Richard's wife/Sonya's mom) - Continue to pray for peace, comfort and strength for her and family.
Sonya Sackrider - Pray for strength for Sonya as there is a lot going on in her life with deaths in the family, her daughter Robyn who is having health issues, and being a support for her parents during this time.
Cindy Curl - Pray for health concerns.
Sara Anderson - Has developed a cough. Please pray for healing and strength.
Sandie Hendrick - Pray for health concerns.
Edna & Jerry Walters - Pray for continued healing and strength for Edna. Pray for her outpatient therapy on Mondays.
Don & Norma Nearpass's Nephew - Tom (58 years), has been diagnosed with MS and is currently in Rehab. Pray for healing and a softened heart.
Heidi Roberts - Still getting headaches. Pray for continued healing and strength.
Rick and Bobbi Stevens - Rick's sister, Debbie Diamond continue to pray for comfort and strength for her and her family.
Charlie Barnum - Pray for comfort as he plans Dianne's Memorial. Her service is scheduled for June 5th @ NHCC.
Guy Wertz - Pray for continued growing of strength as he recovers from Covid-pneumonia and on-going RA difficulties.
Ryan and Mary Hall - PTL!!! May Hall passed her Real Estate Exam! Continue to pray for Logan as he will be away from his family until June 7th.
Brenda Wohlgemuth - Scope on her knee found a torn muscle. Pray for healing and pain relief.
Franco's - Pray for Ed, he's battling cancer, needs to stay Covid free.
Carol Sercombe's boyfriend, Phil Rowlson - Cancer has returned and is starting chemotherapy. Pray for a softening of his heart and strength.
Betty Curry's friend Sharon - She has cancer. Pray for healing and strength.
Please be in prayer for our Church leadership as they seek God's will and direction for His Church. Pray for protection over them as they serve.
Ladies Night Out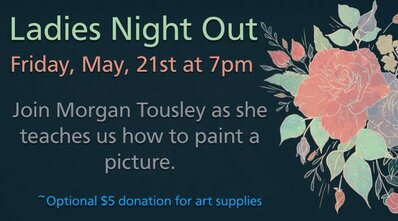 NHCC Weekly / Monthly Ministries
Caring Through Prayer - 9:30 am Sunday Mornings - Please join us in the Gathering Room as we make calls and pray for our Church family.
AA group - Thursdays, 5:30pm, downstairs library or upstairs in the Gathering Rm
Devoted Prayer - 7 pm on Saturdays In person prayer @ NHCC. Join the prayer team as we pray for our Church family, leaders, and Gods will in our Church.
Men's Breakfast - Saturday, June 12th, 8:30 am (Gentlemen bring Quality toys/crafts for OCC)
Elders Meeting - Sunday May 16th @ 1pm
Photo Club - Thursday, May 13th & 27th, 7pm
Ladies Night Out - Friday, May 21st, 7pm (Ladies bring Sewing Kits for OCC)
NHCC Special Events
-By-laws "Q&A"- Wednesday, May 19th @ 6:30pm
Meet in the Gathering Room
-Special Business Meeting - Sunday, May 23rd @12:15 pm
Ratifying the updated and revised by-laws.
-"Evening In The Park" ... is back!!!
Put it on your calendar--May 30th @ 5:30 pm. Food, Fun &
Fellowship at our NHCC pavilion. (Last Sunday May thru Sept)
O.C.C.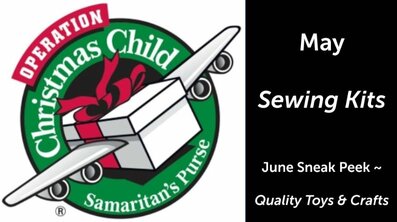 Birthday's & Anniversary's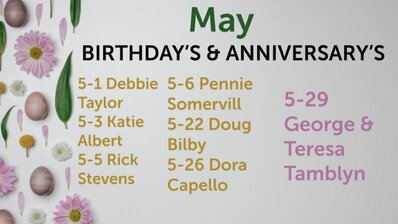 Special mtg to ratify revised bylaws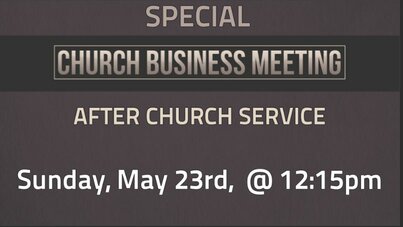 Church Volunteers

Ushers and Greeters
May 16th:
Greeters:
Carl Price
Dick Arnold
Dorwin DeGroote
May 23rd:
Greeters:
Carl Price
Dick Arnold
Dorwin DeGroote
If you would like to volunteer as a Greeter please contact Carl Price.
Nursery Workers
May 16th:
Sonya Sackrider
May 23rd:
Denise Moffitt
If you could help out in the Nursery contact Wendy Bilby and let her know.
Evening in the Park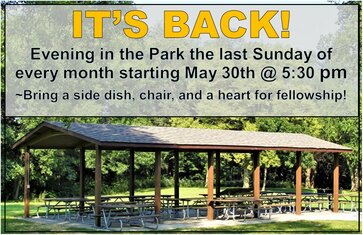 Life Groups

NHCC Life Groups currently meeting -
5 pm Sundays - Men's Study with Pastor Doug, In-person (Dismissed this week 5/16/20210)
6:15 pm Sundays - All Adult Bible Study with Rick Tripp, In-person and Facebook Live
6 pm Wednesdays - Moffitt Life group at Phil & Denise Moffitt's Home
10 am Thursdays - Ladies Study, Wendy Bilby leading @ NHCC
8 pm Thursday - Ladies Study, Andrea Roberts leading @ Alex Wellman's Home
See you This Sunday, May 16th at 10:45 am.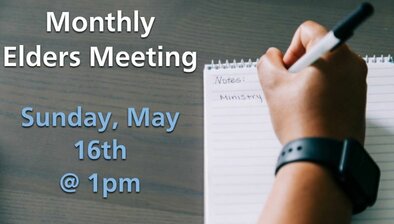 Elders:
Pastor Jerry Lyon - Chairman (Ex-Officio)
Phil Moffitt - Vice-Chairman
Tasha Price
Andrea Roberts - Cooperate Secretary
Gayle Sayles
Mike Wilson
Our address is: 4300 Lansing Avenue, Jackson, MI, 49201