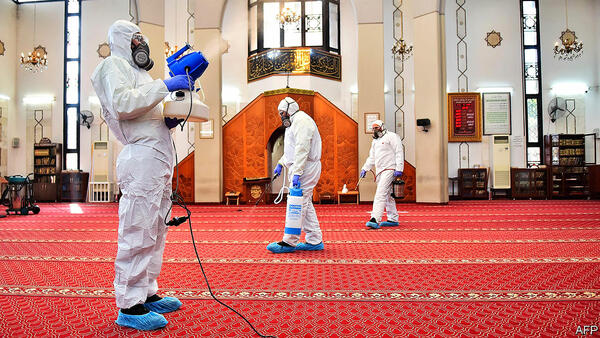 Back to normal?
Church services to begin again
That title is bound to get a variety of responses. For many of you the idea of gathering together this soon feels unsafe and stressful. For others this idea is very welcome and you can't wait to come to church again. The truth is that all of us are somewhere on spectrum between "stay closed indefinitely" and "open everything up tomorrow". We all realize that that we cannot stay closed forever. In Ohio, Gov. DeWine is outlining a plan to begin slowly opening our economy back up. Likewise, we (the Deacon Board and I) have decided that it's tme to begin slowly opening the church back up. Therefore, we will be having a service this coming Sunday, May 3rd. A couple things to note though:
This will be a service of worship only. Sunday School classes will not be resuming at this time.
Childcare will not be provided as of yet. The Nursery will be open for parents with small children but we will not be providing childcare workers. All toys will be temporarily removed from the Nursery also. Parents will need to bring anything you need to occupy your children with you. We apologize for the inconvenience.
Social distancing will take place in the sanctuary. We will have every other pew roped off. DO NOT remove them! If "your seat" is not available, then please find another seat. You are welcome to sit with your family unit (if you drive together, then you can sit together). Otherwise, allow for the recommended six feet between yourself and your neighbor. This will probably only apply to the center section and the front pews on the sides.
We will not be passing the offering plate. You may place your offering in the plate on your way in or your way out.
When we offer Communion you will be served and will not be passing the trays. Since we will be spaced out there will be no reason to pass the trays. Also, we will place the bread in individual cups to reduce the chance of any cross contamination. We have discussed several options here and believe that this will be the best one.
The pew pads have been removed so please plan accordingly. If you need something to sit on, then please plan on bringing your own.
I think the most important thing that we need when we come together is grace. If you are not feeling well, have a cough, fever, etc., then please stay home. If you are struggling with other health issues that may leave your immune system vulnerable, then please stay home. If you just don't feel comfortable yet, then please stay home. This decision is not intended to make anyone feel bad for not attending. We are taking small baby-steps and need to be understanding and full of grace with one another. We will continue to post the sermon online and are looking at adding a video of the full service soon.
As always I am praying for you. May God bless you during this difficult time. I pray that the gospel of grace is sweeter to you now than it ever has been.
Soli Deo Gloria
pastor Jamie
2020 1st Quarter Financial Report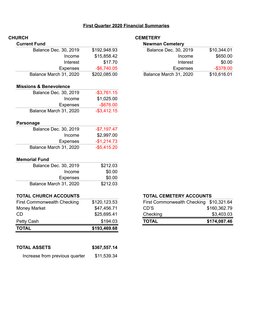 Since there is no chance of holding a Business Meeting at this time please see the above Financial Summary for the 1st quarter of this year. A hard copy of this will be sent to you in the mail.
Thank you for your patience and understanding as we work through all of the various things to consider as we reopen.
Our address is: 11155 Orrville St NW, Massillon, OH 44647, USA