February 4, 2022

The New Covenant Sermon Series

This Sunday, Pastor Daniel will be continuing in The New Covenant sermon series and looking at The Power Of The Holy Spirit In Your Life.
Missed A Sermon?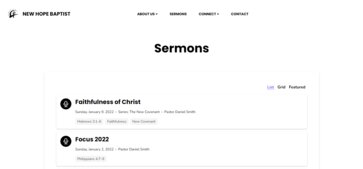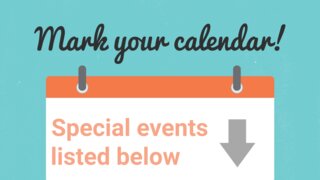 Download
Join For His Glory Food Pantry volunteers in packing food bags for this Saturday's food distribution. After packing boxes, pizza will be provided for lunch at 11 AM.
Monday, February 7th, 2022  •  9 am – 12 pm (CST)
Download
Saturday, February 12th, 2022  •  10–11 am (CST)
Operation Christmas Child
Christmas 2021 has just ended but we must get started on our shoeboxes for 2022. These years roll by so swiftly; so we must get started now. We have boxes at the back of church for individuals to take and start packing. We were blessed to have 192 boxes contributed by New Hope Baptist for this great cause in 2021. Our goal is for more but whatever we are able to provide will be our goal for this year.
Judy Montgomery and I will be points of contact for this project. If any questions, comments, or volunteers, please let us know. Thanks in advance for all efforts toward making this year's Operation Christmas Child a big success.
- Marilyn Warner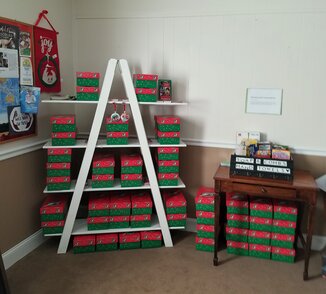 Take a box home, fill it, and return it!
Praising God for Millions of Gospel Opportunities in 2021!
Join us in praising God for 10,505,155 shoebox gifts packed and donated worldwide! This represents 10,505,155 children and Gospel opportunities that you made possible. Millions of these children will go on to complete The Greatest Journey discipleship program, in which they will learn more about following Christ.
This worldwide number includes 9,127,591 shoeboxes donated in the U.S. alone.
NHBC OCC Points of Contact:
Marilyn Warner and Judy Montgomery
NHBC's For His Glory Food Pantry
For His Glory Food Pantry is collecting seed packets to hand out during our May food giveaway.
You may write a Bible verse on a 3x5 inch index card and attach it to the seed packet if you wish.
Volunteers Needed
Each month For His Glory food pantry distributes food to neighbors in need. On average, the pantry serves around 40 families each distribution. Volunteers are needed to help with packing and distributing boxes as well as setup and teardown on distribution days. Between distribution days, volunteers are needed to take inventory, accept donations, and spread the word. Any bit helps!
NHBC FHG Food Pantry Point of Contact: Sandra Gahm
MINISTRY OPPORTUNITIES

Please contact Pastor Daniel Smith or Hayley Johnsey if interested in any of the following positions:
Media Volunteers *URGENT*
If you are looking for a way to serve the church, NHBC has a few openings for its media team! Several people are needed behind the scenes to make service go smoothly.
Areas of opportunity include:
Sound board operation
Presentation operation (slides)
Live stream management
Worship Team Musicians and Vocalists
NHBC is looking for passionate worship team members to participate in leading worship service. Vocalists, drummers, bass players, guitarists, and pianists are especially needed! There is no need to be a professional, just passionate and proficient.
Food Pantry Volunteers
See more information above in NHBC's For His Glory Food Pantry news.
Nursery and Children's Church Volunteers
We are praying for more children and their families to attend NHBC this year. As a result, volunteers are needed for the nursery and children's church during Sunday school (nursery only) and worship service on Sunday mornings.
Connect With Us Online!

Become active in our church community outside of the church walls by signing up for Faithlife. It's a free website and app where you can connect with others in the church, see upcoming events on our calendar, post prayer requests, and more! Find us at this link.
Service Times

Sunday
Sunday School: 9:15 AM
Worship Service: 10:30 AM
Wednesday
Bible Study and Prayer Meeting: 6:30 PM
We look forward to seeing you soon!
Email us at NewHopeInJesusChrist@gmail.com or call the church office at 256-771-0012 for more information, if you need prayer, or if you have or would like to accept Jesus Christ as your personal Savior.

This week: Take some time to rest.
This past week's sermon was about rest. There's no need for working when Christ has already paid your debt when He died on the cross bearing our sins (and rose again victorious!). There's no way we could earn such favor. Praise God it's a free gift! Trusting in this fact gives you spiritual rest--complete relief that you have to do nothing more than trust in Jesus and His works.
If you're like most people, however, spiritual rest is only one kind of rest we so desperately need. Most of us need a break; we need physical, mental, and emotional rest, too. We are always running, it feels like, to get from point A to point B in so little time. We're worried about everything under the sun from what's for dinner to how we're going to pay the electric bill to chasing the kids or grandkids down to see what they just put up their nose!
Take a few moments this week to sit and relax. Use this opportunity to talk to God. Bring Him your worries and your cares. He knows every detail but He wants to hear it from you because He loves and cares for you so deeply. Tell Him about your day and thank Him for it. We challenge you to take just 15 minutes each day to sit, relax, and chat with God. Be intentional about this time. I promise you that it won't be wasted.

Contact Hayley Johnsey at hayley.johnsey@gmail.com if you have announcements you would like to see in next week's newsletter or announced during service.
If you have an idea for a segment (recurring or not) for the newsletter, let us know! We'd love to get your input on what you would like to see in the newsletter.
New Hope Baptist Church
Our address is: 13110 Mooresville Road, Athens, AL 35613