February 11, 2022

The New Covenant Sermon Series

This Sunday, Pastor Daniel will be continuing in The New Covenant sermon series and looking at Jesus Our High Priest. Read ahead in Hebrews 4:13-15.
Missed A Sermon?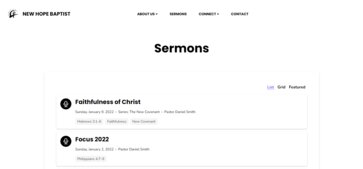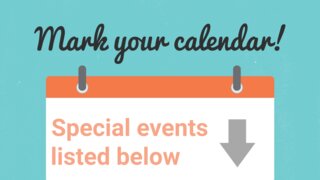 Remember: No work day next week!
Tomorrow is Food Distribution Saturday!
Volunteers, please arrive at 9:30 AM.

It's never too early to get started. Grab a box from the back of the sanctuary, fill it with goodies and prayers, and return it!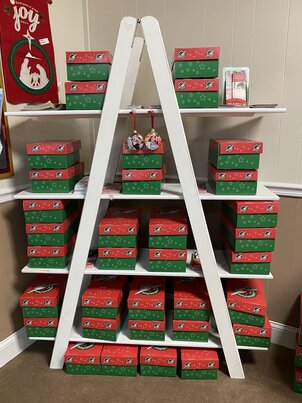 Pizza and Packing Party Highlights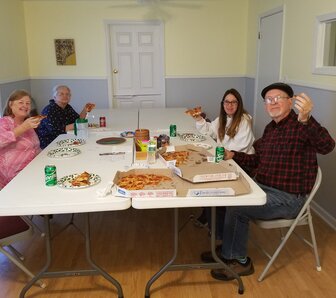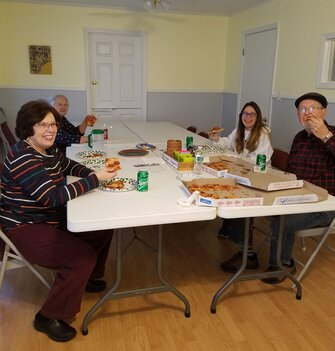 It was a productive day at New Hope Baptist Church. We had five volunteers pulling and packing food from our pantry shelves. We packed 160 bags of a wide variety of food to be distributed this Saturday, 13 February, from 10am to 11am. It is free to anyone in need. We are thankful to all who provide food to use for this great cause. It gives us the opportunity not only to provide food for the physical need of the body but also to try to meet the spiritual needs of these individuals, as well.
The volunteers, Sandra, Stacey, Judy, Marilyn, and John enjoyed eating pizza and fellowshipping with each other after the work was finished. Thanks to Sandra for providing pizza.
We meet every Monday from 10am till 12 noon to do work at the church. If anyone wants to come and help, you are needed and welcome. It's Fun and Fulfilling.
God's Blessings
Marilyn

For His Glory Food Pantry is collecting seed packets to hand out during our May food giveaway.
You may write a Bible verse on a 3x5 inch index card and attach it to the seed packet if you wish.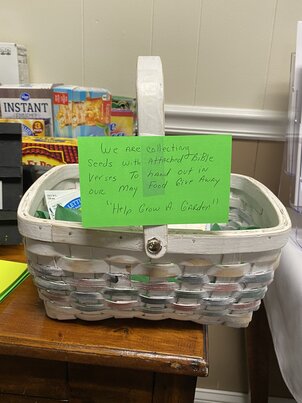 Drop your seeds with an attached index card (optional) in the basket in the back of the sanctuary.
Volunteers Needed
Each month For His Glory food pantry distributes food to neighbors in need. On average, the pantry serves around 40 families each distribution. Volunteers are needed to help with packing and distributing boxes as well as setup and teardown on distribution days. Between distribution days, volunteers are needed to take inventory, accept donations, and spread the word. Any bit helps!


Please contact Pastor Daniel Smith or Hayley Johnsey if interested in any of the following positions:
Media Volunteers *URGENT*
If you are looking for a way to serve the church, NHBC has a few openings for its media team! Several people are needed behind the scenes to make service go smoothly.
Areas of opportunity include:
Sound board operation
Presentation operation (slides)
Live stream management
Worship Team Musicians and Vocalists
NHBC is looking for passionate worship team members to participate in leading worship service. Vocalists, drummers, bass players, guitarists, and pianists are especially needed! There is no need to be a professional, just passionate and proficient.
Food Pantry Volunteers
See more information above in NHBC's For His Glory Food Pantry news.
Nursery and Children's Church Volunteers
We are praying for more children and their families to attend NHBC this year. As a result, volunteers are needed for the nursery and children's church during Sunday school (nursery only) and worship service on Sunday mornings.
Connect With Us Online!

Become active in our church community outside of the church walls by signing up for Faithlife. It's a free website and app where you can connect with others in the church, see upcoming events on our calendar, post prayer requests, and more! Find us at this link.
Service Times

Sunday
Sunday School: 9:15 AM
Worship Service: 10:30 AM
Wednesday
Bible Study and Prayer Meeting: 6:30 PM
We look forward to seeing you soon!
Email us at NewHopeInJesusChrist@gmail.com or call the church office at 256-771-0012 for more information, if you need prayer, or if you have or would like to accept Jesus Christ as your personal Savior.

This week: Be bold.
How many times have you shared the gospel with someone? Maybe it's someone you know, someone with whom you have a mutual friend, a coworker, or a complete stranger. I'm guessing it's not as many times as you should have, and I know that we are all in the same boat. But why don't we share the gospel with everybody? I believe a few things contribute to this:
Fear of rejection
Fear of embarrassment
Fear of judgment
Fear of a lack of knowledge
Fear of not having the right things to say
Have you noticed a common theme here? It's fear. Fear can be powerful and make people do (or not do) things despite the best intentions. What if we redirected our thoughts and remind ourselves that it's not about us? Someone's eternal SOUL is at stake! It's our job (in fact, we are commanded!) to share the good news because if no one shares, no one will know. If no one knows, no one can believe in the works of Jesus Christ. Romans 10 (ESV) says:
"For 'everyone who calls on the name of the Lord will be saved.' How then will they call on him in whom they have not believed? And how are they to believe in him of whom they have never heard? And how are they to hear without someone preaching? And how are they to preach unless they are sent? As it is written, 'How beautiful are the feet of those who preach the good news!' But they have not all obeyed the gospel. For Isaiah says, 'Lord, who has believed what he has heard from us?' So faith comes from hearing, and hearing through the word of Christ."
If you are afraid you won't have the right words to say, just pray. Pray that God will open the hearts and minds of those to hear the gospel. You don't need to have all of the answers; you just need to have boldness. You've planted the seed. Ask God to water it. Live a righteous life that speaks for itself. Be consistent and faithful. (Notice that I didn't say "perfect".) Don't let fear get in the way. Be bold.
1 Peter 4:14 (ESV)
"If you are insulted for the name of Christ, you are blessed, because the Spirit of glory and of God rests upon you."
Matthew 28:18-20 (ESV)
"And Jesus came and said to them, 'All authority in heaven and on earth has been given to me. Go therefore and make disciples of all nations, baptizing them in the name of the Father and of the Son and of the Holy Spirit, teaching them to observe all that I have commanded you. And behold, I am with you always, to the end of the age.'"

Contact Hayley Johnsey at hayley.johnsey@gmail.com if you have announcements you would like to see in next week's newsletter or announced during service.
If you have an idea for a segment (recurring or not) for the newsletter, let us know! We'd love to get your input on what you would like to see here.
New Hope Baptist Church
Our address is: 13110 Mooresville Road, Athens, AL 35613