February 18, 2022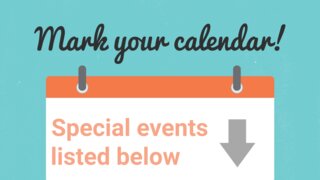 Download
For His Glory food pantry volunteers will be distributing food boxes and ministering to neighbors in need. Volunteers should arrive at 9:30 AM.
Saturday, March 12th, 2022  •  10–11 am (CST)

It's never too early to get started. Grab a box from the back of the sanctuary, fill it with goodies and prayers, and return it!
Don't know what to pack? See a list of suggested items here.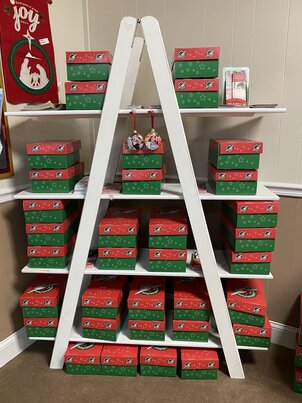 FHG Food Pantry and volunteers were able to help 45 families last weekend. Thank you for donations, whether it was food, money, time, or prayers. It takes time and dedication for this ministry to be successful!

Stay tuned to find out what items are needed to restock the pantry for next month's distribution!

For His Glory Food Pantry is collecting seed packets to hand out during our May food giveaway.
You may write a Bible verse on a 3x5 inch index card and attach it to the seed packet if you wish.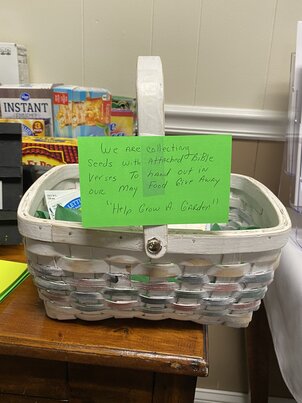 Drop your seeds with an attached index card (optional) in the basket in the back of the sanctuary.
Volunteers Needed
Each month For His Glory food pantry distributes food to neighbors in need. On average, the pantry serves around 40 families each distribution. Volunteers are needed to help with packing and distributing boxes as well as setup and teardown on distribution days. Between distribution days, volunteers are needed to take inventory, accept donations, and spread the word. Any bit helps!


Please contact Pastor Daniel Smith or Hayley Johnsey if interested in any of the following positions:
Media Volunteers *URGENT*
If you are looking for a way to serve the church, NHBC has a few openings for its media team! Several people are needed behind the scenes to make service go smoothly.
Areas of opportunity include:
Sound board operation
Presentation operation (slides)
Live stream management
Worship Team Musicians and Vocalists
NHBC is looking for passionate worship team members to participate in leading worship service. Vocalists, drummers, bass players, guitarists, and pianists are especially needed! There is no need to be a professional, just passionate and proficient.
Food Pantry Volunteers
See more information above in NHBC's For His Glory Food Pantry news.
Nursery and Children's Church Volunteers
We are praying for more children and their families to attend NHBC this year. As a result, volunteers are needed for the nursery and children's church during Sunday school (nursery only) and worship service on Sunday mornings.
Missed A Sermon?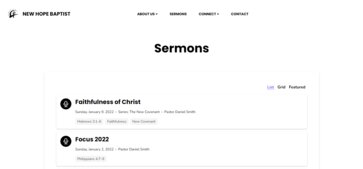 Connect With Us Online!

Become active in our church community outside of the church walls by signing up for Faithlife. It's a free website and app where you can connect with others in the church, see upcoming events on our calendar, post prayer requests, and more! Find us at this link.
Service Times

Sunday
Sunday School: 9:15 AM
Worship Service: 10:30 AM
Wednesday
Bible Study and Prayer Meeting: 6:30 PM
We look forward to seeing you soon!
Email us at NewHopeInJesusChrist@gmail.com or call the church office at 256-771-0012 for more information, if you need prayer, or if you have or would like to accept Jesus Christ as your personal Savior.

This week: Spend time volunteering.
Today, it's hard to find people who are willing to invest in an event or effort without some kind of compensation. Imagine if everyone were like this: how many great ministries would fail? How many people would go hungry? How many advocates and leaders who want to help others would be discouraged?
This week, seek out a volunteering opportunity. Don't wait to be asked. Don't seek compensation. As Christians, we should be generous not just with money, but with our time, too. The Bible says that showing generosity is pleasing to God. There's a reason that we have a "feel-good" experience after helping someone. This is the most obvious reason for helping out. But not only will you get a spiritual blessing, you are also witnessing with your actions. Did you know that the serving others also serves God? Furthermore, your kindness may be a seed planted in someone's life; they may ask why you give so freely. This is a great way to introduce the gospel to them! Here are a few ideas:
Help an elderly person put groceries in their car
Ask someone who is sick what errands you can run for them
Lend an ear to someone who needs some company
Let someone in front of you in line at the post office
Matthew 5:16 "In the same way, let your light shine before others, so that they may see your good works and give glory to your Father who is in heaven."
Hebrews 13:16 "Do not neglect to do good and to share what you have, for such sacrifices are pleasing to God."
2 Corinthians 9:12-15 "For the ministry of this service is not only supplying the needs of the saints but is also overflowing in many thanksgivings to God. By their approval of this service, they will glorify God because of your submission flowing from your confession of the gospel of Christ, and the generosity of your contribution for them and for all others, while they long for you and pray for you, because of the surpassing grace of God upon you. Thanks be to God for his inexpressible gift!"

Contact Hayley Johnsey at hayley.johnsey@gmail.com if you have announcements you would like to see in next week's newsletter or announced during service.
If you have an idea for a segment (recurring or not) for the newsletter, let us know! We'd love to get your input on what you would like to see here.
New Hope Baptist Church
Our address is: 13110 Mooresville Road, Athens, AL 35613