NHPCA 5/8/22 Newsletter
Happy Mother's Day!
May-June: Baby Bottle Campaign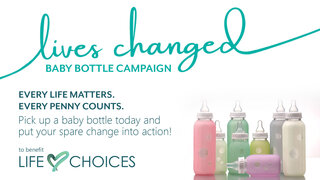 Help Life's Choices change the culture in our community to embrace life! Take a baby bottle, fill it with coins, and bring it back to New Hope by Father's Day (June 19)!
$25 - Helps a woman receive medication for abortion pill reversal
$100 - Helps provide Sexual Risk Avoidance ed. in a classroom
$500 - Helps provide free pregnancy tests and ultrasounds
$1000 - Sponsors post-abortion healing for a year
5/20: Matt Matulia's Graduation

Thurs. Women's Bible Study: Thessalonians
As of next week (5/12), the 10am Thurs Women's Bible Study will begin studying 1 & 2 Thessalonians. If you've been looking for a study to join, this is a great time to jump in!
Fall: Bible Study Fellowship
BSF's Spring Season has now concluded. Beginning September 15, we will offer two times: Thursdays at 1-2:30pm (women only) and 6:30-8pm (men & women), studying "People of Promise: The Kingdom Divided." If you would like to visit a class this Spring, please contact Verneal Frank (309-530-0002) or Franz Frank (309-310-3479).
Postponed: Last Week of Membership Class

The remaining meeting of Membership Class, which would have been on 5/1, has been postponed. The make-up date is TBD.
Music & Art Camp June 2022: The Armor of God

Choir Schedule
Adult and Youth Choirs rehearse on Wednesday Nights. Please find the current rehearsal and performance schedule here.
Worship Guide + Sermon Series: "Acts of the Holy Spirit"

Find this week's Worship Guide here.
We've resumed our "Acts of the Holy Spirit" series going through the Book of Acts. We're looking at how God's gift of the Holy Spirit advanced the Good News of Jesus Christ through the Apostles, from Jerusalem to Judea, Samaria, and the ends of the earth. Watch past sermons here or listen to them at SermonAudio.com.
Current Studies & Groups

Find the list of our current groups here or pick it up in the Narthex.
Online Yellow Card + Check-in

Our address is: 19535 Eustis Airport Road, Eustis, FL, 32736