NHPCA 5/15/22 Newsletter
6/5: Marriage Small Group Begins

A new 4-week marriage small group hosted by DC and Kathy Cook will be held at their home on Monday nights in June from 6:30-8pm. We will begin each evening by watching Paul Tripp's 45 minute teaching video, following that with discussion and prayer. Sign up in the Narthex. (There will be a 10 couple cap.)
"Dream bigger, love better, and experience a deeper relationship with God and your spouse than ever before. After celebrating 50 years of marriage, pastor and counselor Paul Tripp will help you discover how in his newest four-session conference."
5/22: Last Week of Membership Class

The remaining meeting of Membership Class will take place on May 22nd at the Burguets' home.
5/20: Matt Matulia's Graduation

5/21: Ladies Prayer Meeting

The Ladies' Prayer Group meets for a time of spiritual fellowship on the second Saturday of each month at the church at 10am. Praying out loud is not required!) For more info, contact Carolyn at 804-615-1117.
Women's Bible Study: Thessalonians
The 10am Thursday Women's Bible Study has begun studying 1 & 2 Thessalonians. If you've been looking for a study to join, this is a great time to jump in!
Music & Art Camp June 2022: The Armor of God

Camp is almost full! We have just 5 spots left, so sign up while you can!
New Hope Conservatory's Music & Art Summer Camp 2022 will be held June 20-24. Click here for more info and to register. (Payment and Media Release links are included there.)
This is a great opportunity to serve! Click here for a list of all available volunteer roles.
May-June: Baby Bottle Campaign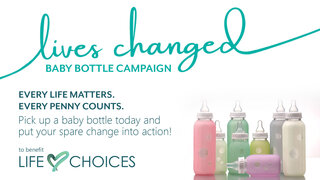 Help Life's Choices change the culture in our community to embrace life! Take a baby bottle, fill it with coins, and bring it back to New Hope by Father's Day (June 19)!
$25 - Helps a woman receive medication for abortion pill reversal
$100 - Helps provide Sexual Risk Avoidance ed. in a classroom
$500 - Helps provide free pregnancy tests and ultrasounds
$1000 - Sponsors post-abortion healing for a year
Worship Guide + Sermon Series: "Acts of the Holy Spirit"

Find this week's Worship Guide here.
We've resumed our "Acts of the Holy Spirit" series going through the Book of Acts. We're looking at how God's gift of the Holy Spirit advanced the Good News of Jesus Christ through the Apostles, from Jerusalem to Judea, Samaria, and the ends of the earth. Watch past sermons here or listen to them at SermonAudio.com.
Current Studies & Groups

Find the list of our current groups here or pick it up in the Narthex.
Online Yellow Card + Check-in

Our address is: 19535 Eustis Airport Road, Eustis, FL, 32736