NHPCA 7/31/22 Newsletter
8/3: Youth Wiffleball Night

The Well's students (Middle & High) will be meeting at the church Wednesday, August 3rd at 6pm for Wiffleball Night. Come with your game face on!
8/7: Baby Shower for Becky Sue
It's a girl! All New Hope Ladies are invited to join us for Becky Sue and Baby Frankie's baby shower on Sunday, August 7th, from 3:00-4:30pm at the church. This is an opportunity to come alongside and love on a new covenant child and her family.
Find Becky Sue's registry here. (She would also be happy with pre-owned items!) See Lindsey Matulia for additional details.
8/7: Back to School Prayer at EMS

Join us at Eustis Middle School on Sunday, August 7th at 7pm in praying for a safe and productive school year for the faculty, staff, coaches, and students. (Local churches are partnering with schools around Lake County to spend time in prayer for these campuses.) See Matt Matulia for details.
Pray for Carolyn's Mission Trip to Peru!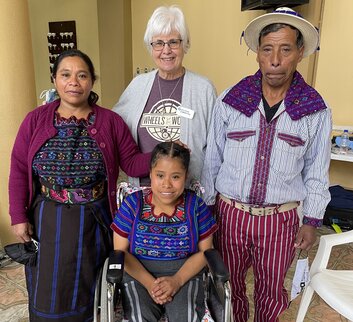 Our own Carolyn Costello considers it her joy and privilege to serve the Lord with Wheels for the World, Joni Eareckson Tada's ministry. The team will be going to Peru, September 2-11 this year. The dual purpose of wheelchair distribution and sharing the gospel of Christ is that many people might find a saving faith in Him. Carolyn will be serving as a seating specialist, working with the recipients and the mechanics to make sure each person gets a chair that is just right for him or her. Let's be in prayer for Carolyn, for the team, and for the wheelchair recipients. Please also pray for her health and for travel mercies.
August Mission: Crates for Ukraine
Worship Guide + Sermon Series: "Acts of the Holy Spirit"

Find this week's Worship Guide here.
We've resumed our "Acts of the Holy Spirit" series going through the Book of Acts. We're looking at how God's gift of the Holy Spirit advanced the Good News of Jesus Christ through the Apostles, from Jerusalem to Judea, Samaria, and the ends of the earth. Watch past sermons here or listen to them at SermonAudio.com.
Online Yellow Card + Check-in

Our address is: 19535 Eustis Airport Road, Eustis, FL, 32736