NHPCA 8/7/22 Newsletter
Sunday: Baby Shower for Becky Sue
It's a girl! All New Hope Ladies are invited to join us for Becky Sue and Baby Frankie's baby shower this Sunday, August 7th, from 3-4:30pm at the church. This is an opportunity to come alongside and love on a new covenant child and her family.
Find Becky Sue's registry here. (She would also be happy with pre-owned items!) See Lindsey Matulia for additional details.
Sunday: Back to School Prayer at EMS

Join us at Eustis Middle School this Sunday, August 7th at 7pm in praying for a safe and productive school year for the faculty, staff, coaches, and students. (Local churches are partnering with schools around Lake County to spend time in prayer for these campuses.) See Matt Matulia for details.
8/14: Appreciation Lunch - Meal Volunteer s
On Sunday, August 14th, all last year's Wednesday Night Meal volunteers (as well as those who would like to serve this year) are invited to join us for an appreciation lunch immediately after the service. For questions, see Barb Hodgkiss (352-409-4377), Anna Williamson, or Mary Worsham.
8/17: Burger Bash (Family Meals Begin)

On Wednesday, August 17th, we will have our Annual Burger Bash to kick off the Fall season of Wednesday Night Family Meals and activities! Join us at 5:30pm for church-provided dinner! Thereafter, the meals will have a cost (TBA) per person or per family.
8/31: Youth & Kids Club Launch

9/15: Bible Study Fellowship Begins
Bible Study Fellowship begins Thursday, September 15th, with a woman's class from 1-2:30pm and classes for women and men from 6:30-8pm.
"People of the Promise: Kingdom Divided" will cover a fascinating period in Israel's history from its split into two nations, through dozens of kings and prophets and ultimately to the exile in Babylon. Join us! For more information, call Verneal (309-530-0002) or Franz Frank (309-310-3479).
Pray for Carolyn's Mission Trip to Peru!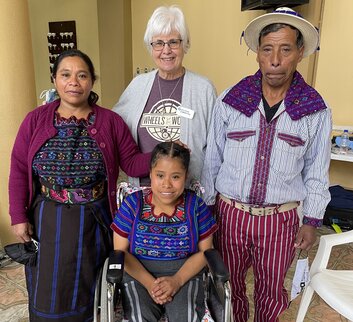 Update from Carolyn: "I leave for Peru in just 4 weeks (Sept. 2-11) . I'll be on a team of 13 from Wheels for the World serving alongside Peruvian volunteers to distribute wheelchairs and share the Gospel in 2 cities, Piura and Tumbes. (As a seating specialist, I will work with recipients and mechanics to make sure each person gets a chair that is just right for him or her.) I will have a pretty intense schedule but I can't wait to see how God works!
Please join me in this mission through your prayer support. This week, you can pray for our travel and for our team. (I will be flying from Daytona to Atlanta, where I will meet up with other team members, then flying to Lima, and from Lima to Piura.) Pray for our health, stamina, and team unity. Thank you and God bless you!"
August Mission: Crates for Ukraine
Worship Guide + Sermon Series: "Acts of the Holy Spirit"

Find this week's Worship Guide here.
We've resumed our "Acts of the Holy Spirit" series going through the Book of Acts. We're looking at how God's gift of the Holy Spirit advanced the Good News of Jesus Christ through the Apostles, from Jerusalem to Judea, Samaria, and the ends of the earth. Watch past sermons here or listen to them at SermonAudio.com.
Online Yellow Card + Check-in

Our address is: 19535 Eustis Airport Road, Eustis, FL, 32736