NHPCA 3/19/23 Newsletter
Sunday: Spring Picnic

Our annual Picnic will be at the Worshams' ranch in Umatilla after church on Sunday, March 19th. The address is 40911 Thomas Boat Landing Road in Umatilla.
Bring your own chair! Please note that if you have children, you will be responsible for their safety during all activities.
We still need a few items (especially drinks). Sign up at this link to bring something. There is also a physical copy on the Narthex table. (Meat will be provided!)
Next Saturday: Walk for Life

Join Life's Choices (a ministry New Hope supports) as they "Walk for Life" on Sat., March 25th in Eustis' Ferran Park and/or on Sat., April 15th at Clermont's Victory Pointe! Go solo or form a Walk Team. These walks are fun for the entire family and there are great prizes for the top fund raising participants!
Both Walks begins at 9am. (Day-of registration begins at 8am.) Register online here for Eustis and here for Clermont. For questions, call 352-357-2202
4/9: Easter Brunch

On April 9th, Easter Sunday, we will have brunch (coffee, juice, and snacks) prior to the service (9:00-9:45).
March is Wheelchair Collection Month!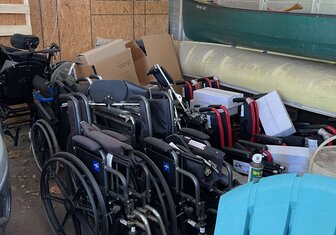 3/17 Update from Carolyn: "Thank you church family on behalf of Joni and friends. Our garage is overflowing with wheelchairs, already we have 21 towards the personal goal of 35 that I set for wheelchair collection month. These chairs will be a blessing for the recipients and their families. To God be the glory!"
As a part of the family of God, New Hope is being challenged to help Carolyn Costello collect 35 wheelchairs this month for Joni & Friends. Used wheelchairs will be refurbished to like-new condition by prison inmates and individually fitted to a needy person impacted by disability. Each person will also be given a Bible in their native language and will feel the love of Christ. Contact Carolyn at 804-615-1117 for more info on how you can be a part of this ministry.
Wednesday Nights: New Members Class

A New Members Class is currently meeting on Wednesday nights at 6:30pm. The final class will take place on March 22nd. See Pastor Richard for further details.
Wednesday Night Family Meals

Join us for our Wednesday Night Family Meals! Meals are $5/person or $20 family (cap). To pay online ahead of time, click here and choose "Family Meals" from the dropdown menu.
Sermon Series | 1 Timothy: "A Holistic View of the Church"

We are currently in our 1 Timothy sermon series called "A Holistic View of the Church." Watch past sermons here or listen to them at SermonAudio.com. Find this week's Worship Guide here.
Online Yellow Card

ONLINE YELLOW CARD: We pray for the needs written on your cards at every Tues. staff meeting. Fill out the online version here.
Our address is: 19535 Eustis Airport Road, Eustis, FL, 32736