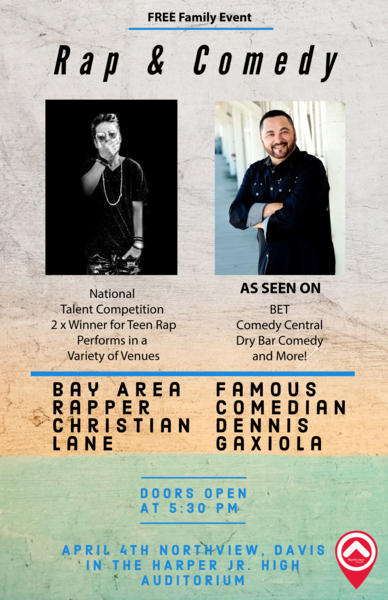 Northview Presents
Rap & Comedy
Dream BIG
A few months ago we spoke about the power of dreaming BIG. It's not only important for us as individuals, but for us as a group at Northview. This is why we are doing big things now. We cannot wait for certain things to happen, bigger numbers, or greater finances to do BIG things--the time is now!
April 4th we will have our second concert-type event. Northview Presents Rap and Comedy will be a night to remember. This FREE family event will have incredible talent. Not only will you enjoy amazing Rap music, but you will be entertained by one of the most amazing comedians you could ever meet.
The details are in the flyer posted at the top of this newsletter.
Don't forget to mark this event on your calendars and bring some friends with you. Everyone needs a little fun in their lives and this will certainly do it for you!
Inspire others to know Christ
Our address is: 4000 E Covell Blvd, Davis, CA 95618, USA