Oxlip Church Weekend Update
January 20, 2023
Oxlip Events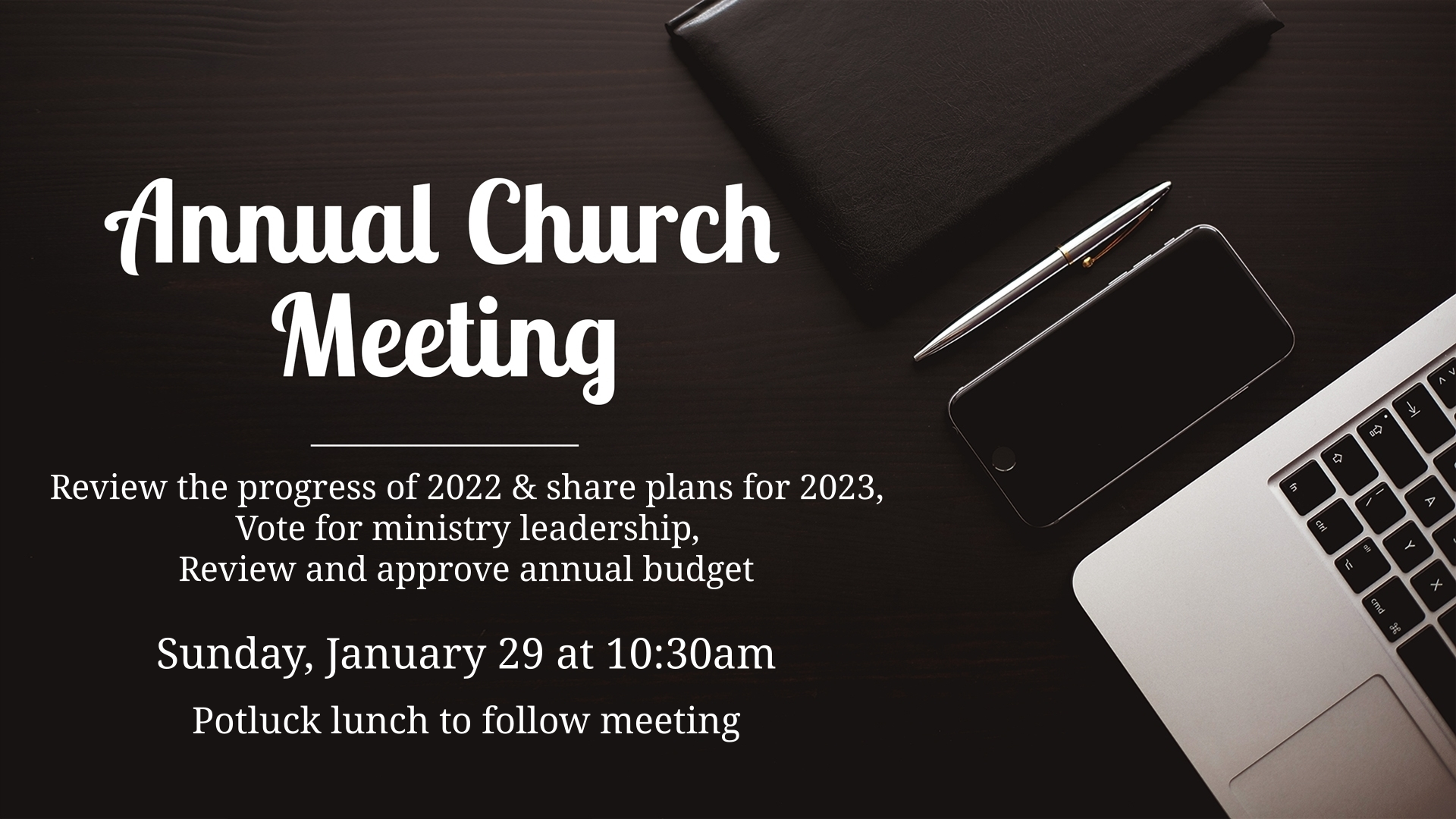 Sunday, January 29th  •  10:30 am – 12:00 pm
Sunday, January 22nd, 6 pm – Sunday, March 5th, 9 pm
Download
A weekly study digging into the Gospel of Matthew learning and sharing how God has revealed himself through Jesus Christ.
Friday, January 27th  •  10:00–11:30 am (CST)
Download
Our annual family meeting will be held Sunday, January 29 at 10:30am with a potluck lunch following.
We will:
Review the progress of 2022,
Share plans for 2023,
Vote for ministry leadership,
Review and approve annual budget.
We want to be in fellowship together, pray for one another, and work together as God's people to share Jesus.
**Children's Sunday School classes will take place as scheduled
Sunday, January 29th  •  10:30 am – 12:00 pm (CST)
Thank you!
Thank you for all the thoughts, prayers, cards and phone calls while I was hospitalized and during my recent recovery.
I appreciate my Oxlip Church family.
Jeff Anderson
2022 Giving Statements
If you have donated to Oxlip Church in 2022 and your email address is in your Faithlife profile, you should have received an email with a link to download and print your statement.
If you have issues, please ask Karen in the office for help (karen@oxlip.org)
If you do not have your email address registered in Faithlife, a printed copy of your giving statement will be in your church mailbox soon.
Dear caring Minnesotan
Abortion advocates have won a narrow majority in the Minnesota legislature. Now some state lawmakers want to pass bills that would:
Create a new law (or constitutional amendment) allowing the abortion of any unborn baby, for any reason and done any time until birth;
Establish that Minnesota law giving parents no right at all to know if their minor daughter is undergoing an abortion, even though parental consent is required for all other medical procedures;
Establish in law a requirement that even those with deeply held pro-life convictions must pay for the killing of the unborn with their tax dollars.
Only 7 countries in the world have an abortion law so extreme, among them China and North Korea.
Please help stop this evil from happening in Minnesota by filling out and mailing the postcards, available in Fellowship Hall, to your state Senator and Representative. It is vitally important that Minnesotans mail their legislators, even if you believe you know how they will vote.
If the addressed postcards available to us by Minnesota Citizens Concerned for Life are not addressed to your representative, see Karen in the office and she will help you find your representative.
This week's birthday
Jan 22 Carter Larson
Jan 24 Trudy Fickle
Jan 28 Neil Alm
Jan 28 Dylan DeLeeuw
A place to belong, believe and become more like Christ
Our address is: 29237 Roanoke St NW, Isanti, MN 55040, USA