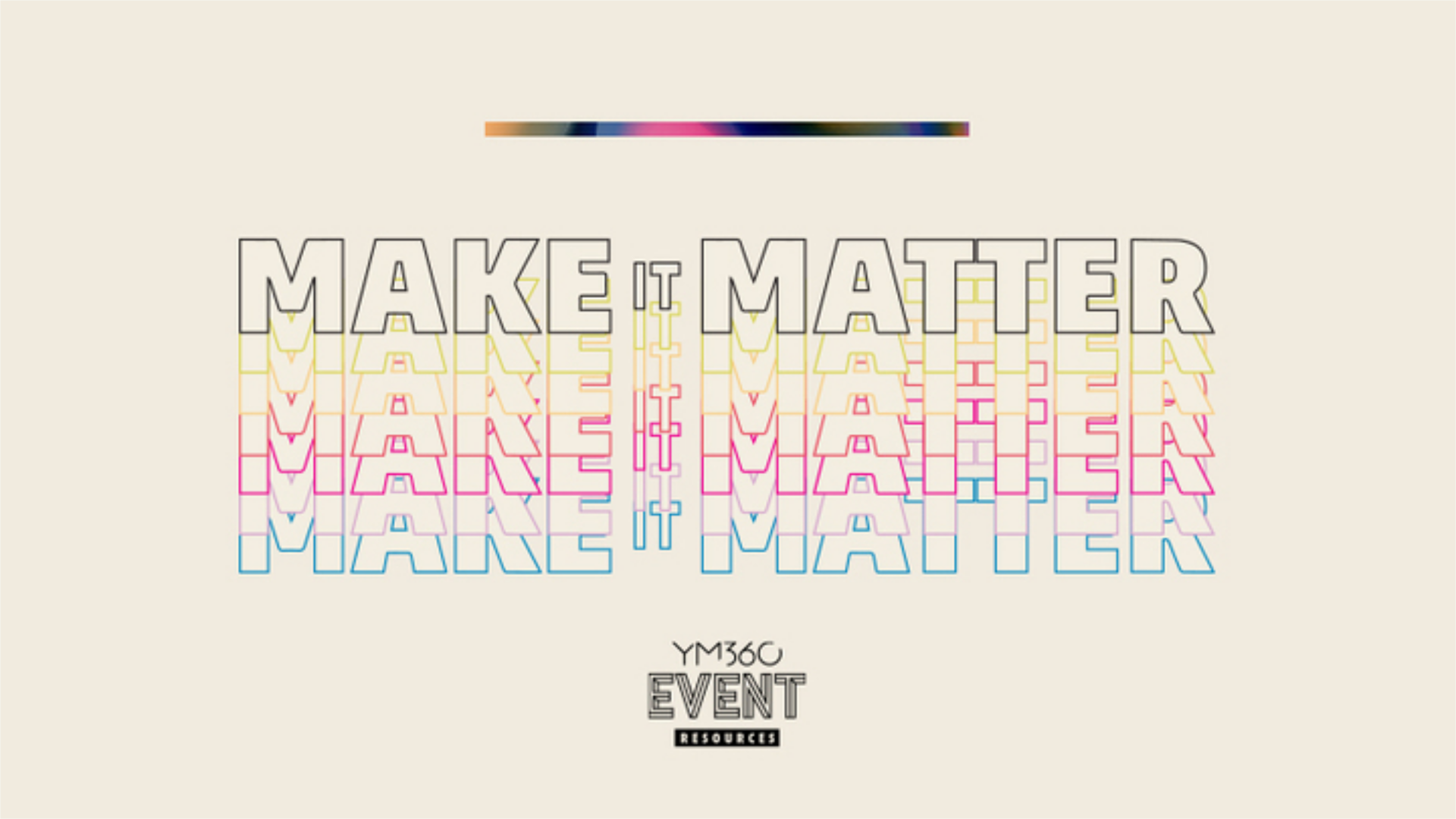 D-Now 2022 - Make it Matter
Wednesday, February 2nd, 6:00 pm – Sunday, February 6th, 11:30 am (CST)
Join us for a powerful weekend of worship, teaching, and fun! We will challenge your students with this truth...
"For we are his workmanship, created in Christ Jesus for good works, which God prepared beforehand, that we should walk in them." —Ephesians 2:10
Everyone wants to change the world. But how do you define real impact?
Do you define impact by the total number of followers or likes? Do you define impact by being invited to the right places with the right people? Or maybe you define impact by achievements, where your contribution to the world is measured in trophies or scores. If so, here's a hard truth: trophies and likes can make an impact, but not truly matter.
Real impact happens when God works through us. And when we grasp this truth, the way we see our lives and the world around us changes. Make It Matter shows how much difference a life empowered by the Word can make; how Jesus is the power source for a life that matters; how God designed us to impact the world together; and how trusting in God's plan is the key to real impact.
Extra Days
This year we are excited to extend DNOW to Wednesday and Thursday! These night will be free to all students and we will be meeting from 6:30-8:30pm. We want to encourage you to bring all your friends and classmates to Wednesday and Thursday night! If you would like to participate Friday-Sunday, you will need to pay.
Leaving for Part of the Weekend
If a student plans on leaving DNOW for ANY part of the weekend, there is a form that must be filled out by the student and the parent.
Medical Release
Every student must have a medical release on file. You can find these online through Church Center or you can get a hardcopy from the church.
SCHEDULE
WEDNESDAY
6:30 | Drop off at Journey Youth Building
7:15 | Worship/Activities
8:05 | Dismissal for snacks and pick-up
THURSDAY
6:30 | Drop off at Journey Youth Building
7:15 | Worship/Activities
8:05 | Dismissal for snacks and pick-up
FRIDAY
6:00 | Check In at Journey
6:30 | Dinner
7:30 | Worship
9:00 | Small Group 1
9:40 | Late Night
10:30 | Pick up/Hot Homes
SATURDAY
9:30am | Check-In
10:00am | Morning Show
10:30 | Sermon 2
11:15 | Dismiss to Small Group 2
12:00pm | Lunch
1:00pm | All Church Rec
2:15pm | Mid-Day Gathering
2:35 | Sermon 3
3:10 | Dismiss to Small Group 3
3:50pm | Free Time at Homes
6:00pm | Dinner at Journey
7:00pm | Worship
9:15pm | Late Night
10:30pm | Pick up/Host Home
Sunday
9:30am | Meet at Oak Grove for Breakfast
10:30am | Worship
11:30am | Pick up from Oak Grove